Getting the balance right: The inside track on the eSkootr Championship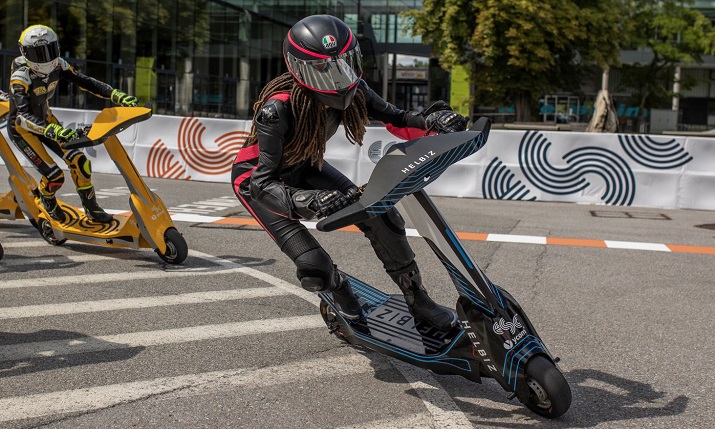 The first stage of the new eSkootr Championship (eSC) takes place in London on Saturday (14 May), which is a fitting location given that co-founder Khalil Beschir came up with the concept while in the city. "Someone arrived at a meeting in London and said they just saw two people on scooters racing each other, and something in my head just clicked," he says. "I was sitting next to my partner (eSC co-founder and chief executive) Hrag Sarkissian, and I said, 'why don't we do a racing scooter?' He thought I was joking, but it grew from there."
That idea has now evolved to a six-stage championship, with races in London, Switzerland, Italy, France, Spain and the US. In each location, thirty riders from 10 teams backed by the likes of F1 driver Nico Hulkenberg and former heavyweight champion Anthony Joshua will race against each other in a series of short heats.
The riders, who are from a variety of sporting disciplines such as speed skating, BMX biking and snowboarding, will race specially designed electric scooters that can reach speeds of over 60mph, on inner-city circuits.
"We wanted to look at production from a completely different perspective. What we didn't want, was another slightly different version of motorsport."
Sharon Fuller, ex- global head of central content creation for Red Bull and a former BBC Sport exec, is responsible for the creation of all eSC content. Her remit also includes overseeing distribution, media partnerships and production partners, including outside broadcast and production services provider NEP and production firm Boombox.
Fuller says that one of the things she has most enjoyed about her role at eSC is the "joint vision" of the organisation. "What can happen [when you work on sporting events], is that as content person you are asked, 'here is an event, can you cover it?' But with eSC, I have been involved in much wider conversations from a very early stage."
Being involved in the start has allowed Fuller to ensure that content and broadcast plans were considered from the start and as the sport was developed. The placement of cameras on the scooters is a prime example of this, with the fittings and cabling integrated into the design of the scooters rather than retrofitted.
"We have a fully integrated content and sport plan," says Fuller. "We're as much of a tech business as we are a sport, and we have the unique opportunity to consider the tech, sport and the content all together. I'm not sure that anyone else has done that in the same way as us."
"The Electrik City created in Unreal Engine will help us to blur the boundaries between real life racing and esports. It's really breaking new ground."
NEP was selected to provide broadcast and technical services, and Fuller says eSC has pushed them to do things they haven't done before, for example with regards to the onboard cameras. "That's why they're such a great partner, because we know we can do that," she says.
Using the BSI miniTX UHD for onboard coverage, up to six scooters at one time will have up to three live pictures each during each race, including a forward, rear and rider-facing HD Minicam Marshall cameras. An onboard mic will provide feedback from the riders, plus noise from the scooters.
NEP director of sales Brian Clarke says the BSI transmitters are key to the onboard coverage. "They can be configured to send 4 x 1080p signals, so you can send all signals from one very small form factor transmitter," he says.
"Given the size of the scooters, weight and power consumption are very important, so we together with our BSI division have worked closely with the eSC team to make sure we have the right form factor integrated into the scooter. You have to do that; you couldn't strap this stuff on."
With Fuller opting for a "belt and braces" approach for the first event in London and a lack of fibre at the venue of the second stage in Switzerland, the first two races won't be remotely produced.
That means in London, NEP's Caspian and Mercury trucks will support the outside broadcast, with NEP Connect sending a dual dish truck transmitting five feeds, four in a MUX. These will be received by the Media City UK operations centre and passed on via the Anylive network to NEP Oslo for Mediabank and to NEP's London production centre at Gray's Inn Road.
There will be a shift to remote production for the rest of the season, in keeping with eSC's commitment to sustainability and the constraints of racing in city centre locations.
Clarke explains what a remote production for eSC could look like further into the season. "Talent could be on site or offsite; you might have some production that are producing on site, but you've effectively moved the bulk of people including EVS operators, graphics and so on.
"All signals will be taken back, via connectivity, so they can be used to produce full shows but also additional content and individual angles along with various broadcast and OTT and streaming formats.
"As we progress, remote racking of the cameras will be back at Gray's Inn Road as well. People will always need to build and connect things on site, but you can get the footprint right down and maintain the sustainability and ethos of this new sport."
Electrik City
Boombox has created content across several Olympic Sports and X Games, as well as with esport leagues and Red Bull. It was selected following a tender process, but despite its list of credits the choice of the Canada-based company for production of live coverage and highlights may have surprised some, says Fuller.
"We wanted to look at production from a completely different perspective. What we didn't want was another slightly different version of motorsport. We had to start with a totally blank sheet of paper, and that's where the idea for the Electrik City came from.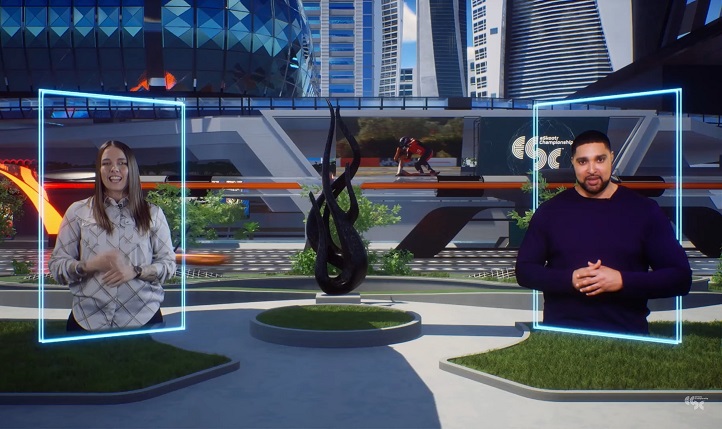 Electrik City is the name given to the Unreal Engine-generated environment that provides a setting for presenters and guests. However, it is intended to be more than just a recreation of a regular studio setting. Fuller describes it as "a cross between gaming and a virtual environment".
"It wasn't exactly part of the brief that we gave [to Boombox], but it's what they came back to us with; if anything, my problem was reining them in rather than pushing them, which was refreshing because it's usually the other way around with production partners. They have really delivered with the Electrik City concepts."
For Boombox lead producer Andy Fox, Electrik City is arguably eSC's biggest innovation and "an imagination of what a futuristic, sustainable and micro mobility driven city may look like that we can utilise as a broadcast environment".
He says: "We can use this virtual environment in the same way as a regular studio if we need, but it is also so much more than that. Not only can we add in presenters from anywhere in the world, but it also provides opportunities for branding and exposure and will help us to blur the boundaries between real life racing and esports. It's really breaking new ground."
Establishing the narrative
With responsibility for live race coverage as well as highlights packages for broadcasters such as the BBC, Fox Sports Australia and MBC Action, Fox's task is to get viewers up to speed on the eSC values, the racing format and the scooters. But they also need to "create heroes", he says.
"All of the racers come from different sporting backgrounds, and part of my job to get these personalities across and follow them through into the racing. A lot of our content for the first race is an eSC 101 lesson, but we also need to make sure that we establish the racer's backgrounds and stories with viewers."
Fuller says that eSC has adopted a strategic approach to the types of content Boombox is producing, with Little Dot Studios also selected to produce content specifically for social media.
"What we've tried to do is create differentiated editorial products that give us the opportunity to reach a wider audience," says Fuller.
"We will produce a live feed on a Saturday, which is intended to be an interactive live stream for streaming platforms. We're also producing a 90-minute show, which is specifically designed for more traditional broadcasters who aren't necessarily interested in the live race. And we have a 52-minute highlight show which is also a 'follow doc', with highlights in.
"Each episode will follow one rider's journey through a race weekend. Within that, we can target the content to specific different takers. So, for one of our broadcast partners, we will make them a bespoke highlight show that focuses on the sport, because sport is what works for them. And then we give them loads of flanking content, so they're getting a whole digital package of social content that goes with one highlight show. Whereas the BBC want to take the world feed, and then others might send their Tik Tok producer to races, so it's really different in terms of what broadcasters want. It's a balancing act which we've tackled editorially and strategically."
ESC will be also be piloting a 9:16 live stream. "We're in the world of Tik Tok, and if the live stream works in the same way as other content people engage with on those platforms, they are more likely to stick with it," says Fuller. To support this, at NEP's Grays Inn Road facility, there will be a live pan and scan production, changing 16:9 content into a 9:16 aspect ratio.
"When viewers turn their phones around, they will get the full broadcast feed in landscape, but we're going to have a bespoke 9:16 feed, and we will have somebody directing the window to make sure that it matches the action," says Fuller.
A raft of broadcasters have been announced by eSC over the past few weeks, with races to be shown live by the likes of BBC via its iPlayer service, DAZN and MBC Action to homes across the Middle East and North Africa region. Coverage and highlights will also be shown by broadcasters and streaming services such as free on-demand service Segi TV in the US and Canada, Marca Claro in Latin America and Fox Sports in Australia.
A live stream will also be available via eSC's own OTT platform, which has been built by Ostmodern. Says Fuller: "Ostmodern has created a data lake where we're driving data from [data provider] Al Kamel to supply various parts of our infrastructure. And this is part of what we're going to need to do in the future as we add more elements and build games and virtual racing experiences as part of what we're doing with the Electrik City."
Live Like is powering a chatbot in the OTT platform for polls and quizzes. "There's a lot of integrated stuff that we're doing with all the data that we have in the back end. Ultimately, it's Al Kamel race data that other series or championships might have, but we've put in F1 levels of data into the scooters, plus biometric data from the riders, and we've thought about the potential applications through the whole system."
Inclusive approach
ESC has adopted a sustainable and inclusive approach, not only in terms of its coverage but also the structure of the championship. A minimum wage combined with a salary cap for riders is intended to make the sport both accessible for riders and sustainable for teams, while the scooters – apart from a carbon fibre chassis – are built from natural materials. And races will not be split according to gender, with male and female riders instead racing together.
Says co-founder Khalil Beschir said: "From day one it was obvious this is a sport for females and males to compete against each other. It was organic; from the start, we had both testing the scooters and it was obvious they were as fast as each other."
However, Fuller is candid in her assessment that such a balance has been tricky to replicate across the entire production team.
"Our team needs to represent the audience that we want to attract," says Fuller. "Our riders come from a variety of different backgrounds, and they see them reflected in the in the team behind the scenes at eSC. Having said that, probably the one area which is not living up to that is our broadcast engineering team because there just isn't enough diversity in that area. We will proactively do something about that, together with NEP."
All of eSC's suppliers also have a sustainability code that they must sign up to but Fuller says a pragmatic – and honest – approach to sustainability has to be adopted. "Not everything in the industry is where it should be when it comes to sustainability, because either there isn't a solution, or it's more expensive, or perhaps it doesn't quite work. So it's important to be honest about the fact that not all the solutions exist yet."
Fuller gives the example of hydrogen generators which might only be available in certain locations. "If you're having to transport a hydrogen generator, then on the one hand, your power source is sustainable, but the way you've got it there might not be."
ESC will favour rail and ship to transport equipment, but there is likely to be an element of air freight which will then be carbon offset. "While we want to lead the way, we also have to be honest about the solutions we use. And if the right solution doesn't exist, then we want to help develop, prove and test it."
Sharon Fuller will be speaking at SVG Europe's Sports OTT Summit in Paris on 15 June. To find out more and to register, please go to https://www.svgeurope.org/sports-ott-summit-2022