Three Euro Media innovations for the Critérium du Dauphiné cycling race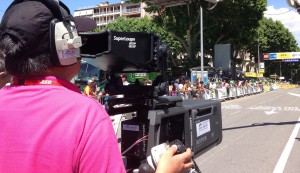 Euro Media France has introduced three RF innovations at the Critérium du Dauphiné, which is broadcast on France Télévisions. The first concerns complete coverage of a 1,750m tunnel; the second is the use of a SuperloupeTM camera installed on a motorcycle; and the third is the installation of a Superzoom, a first for a cycling race.
Continuous coverage inside the tunnel
Coverage of the race inside the 1750 m long 'eco-friendly' Croix-Rousse tunnel in Lyon was made possible thanks to the special receiver system installed inside the tunnel. The efficiency of this new generation of LiveTools links has effectively provided the public with continuous underground images, the likes of which have never been seen before.
RF Superloupe on a motorcycle
For the fourth and fifth stages of the race, EMF and its subsidiary, Digital Vidéo Sud, used a dedicated motorcycle for the SuperloupeTM, a high-speed camera offering slow-motion recording that captures 500 frames per second. Combining the RF Superloupe with a motorcycle has revealed technical aspects that had never been seen before and were invisible to the naked eye (eg. the style and pedal stroke of the favourites during the mountain stages).
The editorial interest and the high quality and crystal clear pictures produced in HD of this live 'dual streaming' convinced France Télévisions journalists and consultants as well as the production director Jean-Maurice Ooghe to broadcast this footage although it was a first attempt.
Superzoom on touchscreen tablets
EMF and DVS also set up the Superzoom on touchscreen tablets, a first for cycling races. Perfect for content enhancement, a slow-motion technician or the chief editor can use the Superzoom to replay or crop a shot with a simple finger movement on the tablet. This image-stitching process makes use of all the camera angles including helicopter images.
Euro Media, which participates in the broadcasting of several international cycling races (including the races for the ASO group, organisers of the Tour de France), wished to point out its expertise in the field with these three major innovations.