Top hat and tails: NEP uncovers the drama and excitement behind the production of ITV Racing's Royal Ascot
"Ascot is probably the most prestigious horse racing venue. It's owned by the Queen and it is just onto a different level; it's the most sophisticated race event you could go to," says Jon Harris, technical projects manager at NEP UK and Ascot expert. "It's all high-end racing, attracts horses from across the world to compete for the big prize money, and it's a massive event."
Harris is something of a horseracing guru. In 2001 he started working on horseracing, and this is his tenth Royal Ascot in his capacity as technical projects manager. He notes: "I know the ins and outs of horseracing TV coverage pretty well now."
NEP and Harris work at Ascot to provide ITV Racing with all the camera angles it needs to give viewers an in-depth experience of each race – all the drama and excitement and analytics – plus everything else going on around the event, with the coverage bridging both sport and entertainment.
"ITV very much want to engage with the viewers, make them feel part of the event, and give them that Royal Ascot experience"
The technical services specialist works alongside RaceTech, which covers the integrity coverage for the core angles of each race as they happen, as well as providing stewards with various replays. "They're your nuts and bolts, if you like, of the horseracing coverage," says Harris.
"What we do at NEP with ITV is we work alongside [RaceTech]," he goes on. "We'll take those race cameras from them because if they've got a camera at the far end of the course on a cherry picker watching the horses go past, there's absolutely no point in us putting one alongside it – we may as well just have a feed from it and that's part of the deal, they are obliged to give us those camera feeds – but what ITV do is they put the fancier cameras in. They put the stuff in that the viewers want to see – the lower angles, the high motion replays – the stuff that's less fundamental to the coverage, but they give the artistic view of what goes on."
Those beauty shots and replays are what provides the broadcaster with its main content, as most races take only one minute to a minute and a half from start to finish. Notes Harris: "The actual racing bit is really short, so it's the bit in between you've got to fill. So ultimately, for ITV's approach, they have a big presentation team, with around 18 presenters at Ascot in total across the course. It becomes like an entertainment programme almost; you're interviewing the winning jockey, showing replays of what's gone on, giving some analysis on the racing of what's gone on, and that's where the digital camera angles that we've put in decorate and tell the story."
Huge presentation team
NEP supplied two large production trucks for Royal Ascot 2022, with over 50 camera sources, which are split across the two trucks. Out of those 50 camera sources, over 20 of them were wirelessly linked, which, says Harris, "enables us to have flexibility to move across the site because, as well as capturing the racing action, we've also got to capture the event because the race is only a couple minutes long".
"We see a lot of the footage from these stalls cameras being used in the social media strands that ITV do because, whilst we'll cut to them briefly in the build ups of the race, they're all recorded independently back at the truck and you can get a really interesting insight if you can see the whole clip of the horses being loaded"
He adds: "ITV very much want to engage with the viewers, make them feel part of the event, and give them that Royal Ascot experience. So from the royal procession arrival that starts at two o'clock at the beginning of the day through to the end of the day, when we're around Ascot's bandstand with the communal singing that goes on there, they want to give a flavour of all of that. Ultimately, it's a massive course and site and we need to have maximum flexibility so the reliance on the RF cameras is really important for us.
"ITV has a large presentation team covering the show, all headed by Ed Chamberlain. He's our lead presenter on this," continues Harris. "Ed is based in the middle of the parade ring where we have our presentation set up, and he's joined by a number of racing experts and, over the five days, the whole show is anchored from there in the middle of the parade ring, amongst the owners, trainers, jockeys, and horses, so really bringing the viewers into the hub of the whole event. Outside of the parade ring, we have a weather position, so another presentation position that, if it starts to rain or even if you need shade, Ed and his team can move during an ad break from one press area to the other, and we can pick up the presentation from that side."
Says Chamberlain: "NEP's efficient work covering a huge event, spread over one of the world's biggest sporting arenas – in extreme heat – makes my life easier and the viewers experience one to remember!"
Outside of the key presenters in the parade ring, there are a number of roaming presenters with radio cameras working across the site, covering aspects such as looking at horses for the next upcoming race and talking about their picks for that particular race, and others talking about lifestyle elements of the event, such as fashion and food.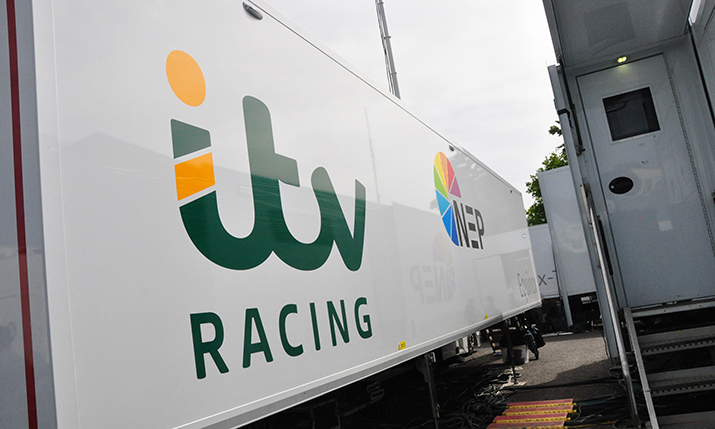 Mini cams and stalled horses
This year NEP increased its mini cam technology that it fits inside the horse starting stalls, and has improved the camera technology it uses for this with a bespoke NEP-developed system. It deploys three systems, which are rigged for each race for selected horses that ITV wants to feature.
"We have a stalls camera team that will rig the mini cams within the starting stalls – the selected number required – so that when the horses are being loaded we can cut to that mini cam and see the horse and jockey entering into the stalls. We have stereo microphones on them to capture the sound as well, so we can hear what the jockeys are saying to each other, and just put the viewers in a really unique position that you wouldn't see otherwise. We also have a camera that looks along the starting stalls, so you can see all the jockeys lined up, waiting for the stalls to open for them to break out."
On the NEP stalls cameras, Harris goes on: "It's been a really good thing to do; we see a lot of the footage from these stalls cameras being used in the social media strands that ITV do because, whilst we'll cut to them briefly in the build ups of the race, they're all recorded independently back at the truck and you can get a really interesting insight if you can see the whole clip of the horses being loaded."
This year those cameras came into their own when Frankie Dettori was unable to remove the blindfold from his horse, Lord North in the Group 1 Prince of Wales's Stakes at Ascot on 15 July [see ITV Racing Twitter video below]. The pair were left in the stalls when the race started.
https://twitter.com/itvracing/status/1537086970920587269?ref_src=twsrc%5Etfw%7Ctwcamp%5Etweetembed%7Ctwterm%5E1537086970920587269%7Ctwgr%5E%7Ctwcon%5Es1_&ref_url=https%3A%2F%2Fpublish.twitter.com%2F%3Fquery%3Dhttps3A2F2Ftwitter.com2Fitvracing2Fstatus2F1537086970920587269widget%3DTweet
States Harris: "Our camera was right next to him when he got stuck there, so you could see what went on," says Harris. "He couldn't get the blindfold off the horse. It was quite interesting that by luck more than anything had the camera right next to him and captured that. The starting stalls is a big thing."
Additionally, Harris adds that the stalls system, "has to be deployed quickly and derigged quickly because the starting stalls often have to get moved out of the way to allow the horses to run around that bit of the track when they've done a circuit, so the team have to work with the stalls handlers and the officials down there [at the start] to ensure we don't get in their way of what they're doing.
"We've put a lot of focus on the stalls technology, both the mini cameras that we have fitted within them, and we'll also have one of our vehicle-mounted jibs as well, which is deployed down at the starts, as well as a handheld radio camera, which will have an ITV reporter down at the stalls, talking about what's going on down there. We've really increased our coverage down at the starts to capture the build up before the race," he continues.
Keeping up appearances
There are challenges to working at a venue with such strict dress and behaviour codes as Ascot, notes Harris: "One of the challenges we have with Ascot is that the compound space where we build the broadcast facilities and where the vehicles park is essentially an island that's surrounded by hospitality on all sides. The whole OB unit is hidden away at the back of the race course, out of sight. So the logistics of moving equipment is really limited during racing.
"Our camera operators and our sound assistants, who are working out in the field, are required to wear top hat and tails every day and women have to wear dresses and fascinators which comply with the dress code"
"Before our trucks arrive, that space where they park up is used for the delivery and distribution of the stock for catering and bars and all those kind of things," he continues. "So it's almost a bit like a building site, in terms of there's pallets and machinery and forklift trucks all over the place. It's a real turnaround to change it from a working area into an outside broadcaster area.
"The other challenge we have is that our broadcast trucks for ITV are in use on the Saturday before Royal Ascot," notes Harris. "The event starts on Tuesday at Royal Ascot with the first programme going on air at 9am on the Tuesday. On the Saturday, we're up in York doing horseracing up there during the day. We finish that programme on the Saturday, pack the trucks up, they drive down to Ascot and park up late Saturday night, and that gives us just the Sunday and Monday to rig and test all these broadcast facilities for the Royal Ascot week."
Harris adds: "Ordinarily, a job of this scale would have far more build time than what we allocate to it, but we're able to achieve this because we have a loyal team of engineers and crew who work on the racing regularly with us. They're familiar with the course, they're familiar with the equipment that we're rigging, they know the routine. So with their hard work, we're able to build and deliver the set up in the available time scale that's there."
The crew is all-important for Harris, who says, "I love the team that work on this. They're like a family. They're an extended family for me on our side, on the NEP side, and it's their hard work that makes it all happen, really.
"So for me, those two days, the Sunday and Monday, are critical to us because it's not enough time and it's a big old set up to get working. Then we go on air Tuesday morning and then, after that, we find a good routine for the five days, but they're long hours; we do over 30 hours of live television over the five days. We have the opening show each morning, which is a magazine programme discussing up and coming racing for that day from 9am until 10am, and then we're on air at approximately 1.30pm through to 6.30pm, which is a normal programme."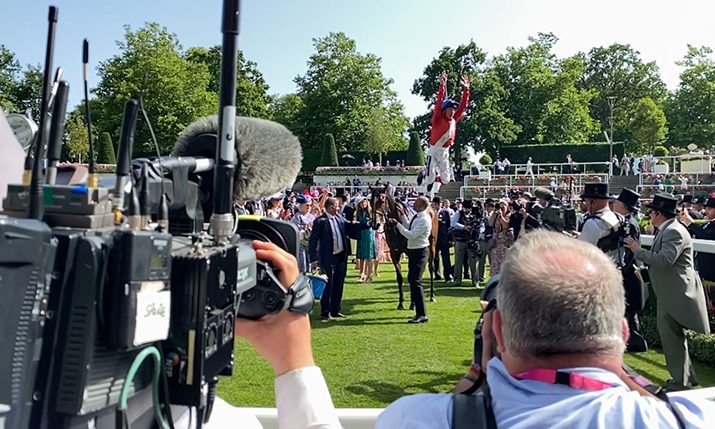 Top hats and tails for all
One unusual requirement for crew working at Ascot is that they too must adhere to the dress code. That means wedding-ready outfits for women and top hat and tails for men.
Notes Harris: "For us and Ascot, it's really important that the crew who work in and around the course fit in and blend in with the racegoers as much as they can. This very much includes the dress code, so our camera operators and our sound assistants, who are working out in the field, are required to wear top hat and tails every day and women have to wear dresses and fascinators which comply with the dress code.
"We have to hire over 40 suits for the crew and you'll see our steady camera operators wearing top hat and tails, running around the parade ring, which whilst it's not always that practical, especially in the heat, we totally understand, from Ascot's perspective, the importance that we blend in as much as we can."
Even aspects such as RF antennas need to fit into the surroundings, says Harris: "The practicality of building things like camera platforms or how we rig the placement of antennas and aerials and things like that have to have additional consideration to ensure that it fits into the surroundings. We work very hard with Ascot to try and head off any things that may stand out and ensure that we do stuff in a way that Ascot will be happy with, because they spend a lot of time and effort with their set up and the racegoers' experience. We want to ensure that we don't detract from that."
"We have a good rapport with Ascot now and we understand what they're trying to do," adds Harris. "Equally, we've got to put some stuff in, practically, for our coverage. Obviously, they understand we've got to make our TV set up work, as well. So sometimes there's a bit of compromise, but on the whole, I feel we get it right and we are supporting Ascot rather than being a hindrance to them."
Hamster wheel of horseracing
The horseracing does not stop for NEP, says Harris: "In terms of the rest of this year, it just goes on and on. We're doing over 100 transmission days a year now for ITV on horseracing. There's no break in the schedule at all. It's not like football, which has a couple of months off or whatever they do inbetween.
"This hamster wheels just goes around and around and there is no opportunity to step off, which is great, but it would be really good if we could just have an end of season wrap party! But there's no opportunity. You finish the flat season, as we will September-ish time, and then you're straight back into the jump season and all the tweed is coming back out again. It really does go around and around and, before you know it, you've done over 20 years of it, but it's good."
Royal Ascot 2022 took place from 14 June until 18 June at Ascot Racecourse.