Tour de force: Discovery Sports' Guy Voisin talks data, The Cube and the emergence of women's cycling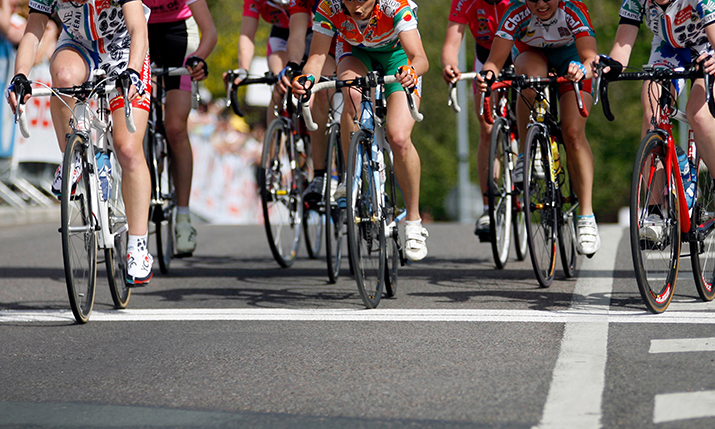 Discovery Sports will bring more women's cycling to TV viewers than any other broadcaster in the world this year having added new rights in territories outside its Europe-wide offering, including the inaugural and much anticipated Tour de France Femmes.
And this increased focus on women's cycling is no accident. It's been several years in the making, as Discovery Sports director of cycling Guy Voisin told SVG Europe.
SVG Europe: Where are we with women's cycling, in general, but also on TV? With the Tour de France Femmes starting this year, have we reached a tipping point?
Guy Voisin: I think it's over the edge. When I came in 2019, to take over the pillar of cycling at Discovery, the first thing I did was look at the calendar while looking at my budgets, and ask: "Where are all the women's races?" Then, I had long conversations with my rights guys. We actively went out to buy them.
Did you get strong support for this initiative from within Discovery?
We've taken a real step forward here and the company has shown a real commitment to women's cycling. Both through the breadth of coverage and stories we share across our platforms, as well as the new live rights we have secured – the Tour de France Femmes and Paris-Roubaix Femmes to name only two.
Beyond the rights themselves, it's important to us that we give equal treatment to the presentation of all our events. This is why it's particularly exciting to be showcasing the Tour de France Femmes from the award-winning Cube studio, just like we plan for the Tour de France.
Whether through investing in rights or delivering compelling coverage through our platforms, we've seen a major opportunity to tell the story of the riders and help grow the audience for women's cycling over the coming years.
What have you been doing with women's cycling up to now?
In our weekly show, we actively went out and covered the women's cycling, and the women's cycling stories, which are so freaking interesting because you've got doctors, and nurses, and concert pianists. There were women who were leaving the racing during COVID to go into the COVID wards to help. They just had these great stories. It was really easy to get all the producers and all the crew aligned [after that]. Now it's just become like business as usual. It's great racing and they're incredible cyclists and incredible stars of the sport.
Does the way you cover the races change if it's a women's competition?
We do cover them differently, but not technically. Production-wise, we cover them the same, but we cover them differently in the storytelling because there are a lot of stories that haven't been told on the women's side, that have been told a million times on the men's side. With the Tour de France Femmes, which is a new one, we have the responsibility of creating what the men's tour had for a hundred years already. They've got that history, the women's tour, doesn't. The women's tour had a failed tour in the 80s, which was a great tour, publicly, super well-liked. Then, it was let go by the producers. This tour, we have the responsibility of creating that history so that it makes it impossible for the production of it to let it go.
Does Discovery Sport have a part to play in its potential success, particularly with the scheduling?
We're by far the biggest cycling broadcaster in the world. We have to play our role in making sure that we make it a huge space for the women's tour and for all women's racing. We learnt something during production with the Flanders Classics: the Ronde van Vlaanderen, Omloop Het Nieuwsblad and Gent-Wevelge.
After chatting with them, and experimenting with them, we discovered that if we start the women's race in between [the men's race] and finish it an hour later, I can cut straight from the men's live race to the women's live race. We don't do any podiums or anything, direct hit: the viewership goes crazy! The viewership stays there. If I hit that peak, when the guys cross over at 1.8 million or 2 million, and it goes to the women's, I will retain those viewers on the women's race. This is super important to give that visibility to that race. If you can get that peak and hook them in, they stay longer. And that last hour of the women's race actually gets better viewership sometimes than the last hour of the men's race.
There is a common misconception amongst the public that men watch men's sports and women watch women's sport. Which is generally not the case. The demographics are often the same, just the audience size differs. Is that the same with cycling?
We don't ever think we're broadcasting the women or we're broadcasting the men. That's a 1990s way of thinking. But there are people who actually do that. I guess some people do it in other [genres] but in sport, you're broadcasting to sports fans and cycling sports fans are super knowledgeable. They really know their sport, they love their sport. They spend hours talking about their sport on [social media]. I don't see a difference, honestly, in our viewership. It's heavily viewed by men still as a sport, but they watch both men's and women's racing.
How about the pundits? Are they happy to analyse both?
Not always. The professional women who retire and want to participate or work with us, such as Iris Slappendel, she's very honest. Iris is such a good commentator. She goes on the bike for the women's races for us. She gives us really insightful opinions. I asked her to do the men's racing and she just said, "No, I don't know it. I don't know them and I can't commentate on them." The same with Bradley Wiggins. We asked him if he would do "Brad on the Bike [during a women's race] last year. He said, "I'd love to, but I'd be horrible at it. I don't know how they race. I don't know them and it would be unfair to do it."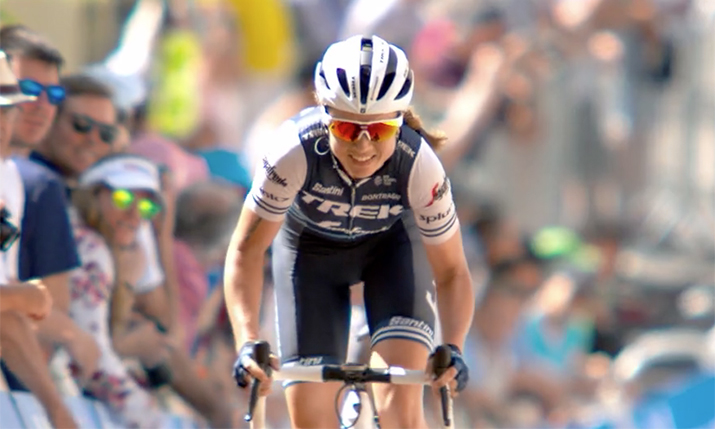 Cycling is a data-heavy sport. With the history of the men's Tour de France, you've got lots of data. You've got very little women's data. How do you overcome that?
Well, we're going to have to dig into the rest of the world tour events. And work with the cycling teams themselves. We have some blockers in the men's with data, because it's a very protected asset by certain teams. They talk to the rights groups and it's not directly with us as the broadcasters. Then, that eventually bleeds down to us. With the women's events, we have a closer relationship with the teams so we can work with them directly. On the Tour de France Femmes we'll definitely do data and there will be freedom to do it because they won't be working with the same restrictions.
It's intensely data-heavy, but for all historical data stats and such like, we have the Global Cycling Network (GCN). We have the stats guy, Killian Kelly, who works with various websites directly for pro cycling stats. Also, our lead producer for the pan European feed is actually a commentator on the women's cycling quite regularly. He's become sort of our expert on women's cycling. We've got this real inside knowledge of the women's that when he's producing, he can bring and link that in, so that's cool.
On the subject of data, are there any new data sets for the Tour this year, either men's or women's?
Not on the road cycling that I know of. There will be on the Track Champions League though. We're definitely going way deeper with our relationship with data there. We're going to be talking about recovery a lot more. Because on Track Champions League, they'll do a sprint, and then they have just 15 minutes before they have to do another sprint. What's the level of recovery and strain? We'll be bringing more of that kind of deep dive in our own events where we own the link to the data. We have a lot closer relationship to the Track Champions.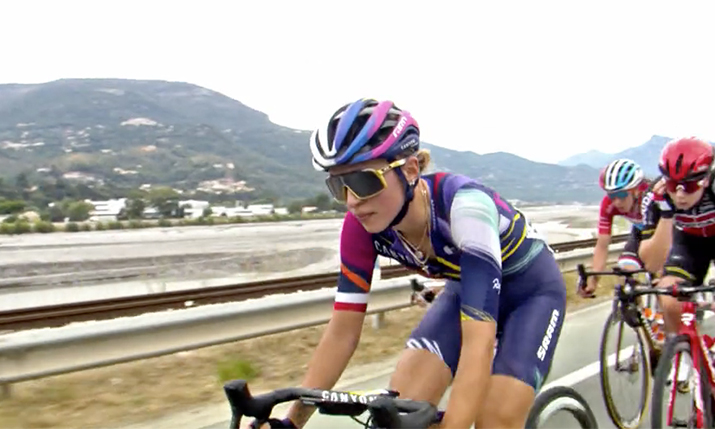 In summary, what does success look like for you with women's cycling on Discovery?
Just lifting the level of the sport itself. I mean, yes, as a broadcaster, I want to get ratings. I want to make sure that we're offering the entire package. My overall goal has always been to be the number one destination of cycling. Overall, men's, women's everything and all verticals of cycling, mountain bike, BMX, you name it. In as many territories as possible so GCNs a big key for us there. In women's cycling, if we grow the sport, it's kind of one of those things, yes, the rights become more expensive for us because we don't own them all. At the same time, our viewership grows and our subs grow on our digital platforms. That makes the races more valuable, hence the riders are getting better, pay better prize money, better conditions. I think it's just one of those, it's the ecosphere of women's sport just goes up. It sounds like we're being really nice about it, but it's just ridiculously good business. Everybody wins.
That desire to succeed also takes the form of 'Home of Women's Cycling' campaign, doesn't it? This is an initiative created to raise awareness of lower salaries and gender bias. The campaign, to air on Eurosport and GCN, will feature interviews with some of the biggest names on the UCI Women's WorldTour including Annemiek van Vleuten, Lizzie Deignan and Audrey Cordon-Ragot. Why is this important for you and for Discovery?
[The question is] how do we relate cycling into the community? You want to get to the men, you want to get to the women, the girls, the boys. The goal is basically, again, it's not charity or great will, it's just good business. I'm trying to ensure that I have a community, that's going to listen to and watch the cycling races in 10 years. I want to bring up people going, "I'm going to watch cycling. It's going to be on GCN and Eurosport and Discovery Plus."
You can watch the 'Home of Women's Cyling' campaign video below:
---
Entering The Cube
SVG Europe: The Cube will be used for cycling presentation for the first time this year. How did that decision come about and how are you going to use it for cycling?
Guy Voisin: It has been a rather rapid decision. We said, "Okay, tennis, Wimbledon, won't be in the Cube this year." I was like, "Well, hey, July, I've got the whole month!" I got the Tour de France. Then the Tour de France Femmes right after, can we get it? We threw around budgets and played around with it. Yes, we got it. It's going to be readjusted into the cycling vertical. We're throwing around ideas now about what we want to do but I see group profiles, maybe a little more interactivity.
We'd like to do what we were doing on the touch screen before on our analysis. We'd like to do it within The Cube. Obviously, because we don't want to lose that touchscreen analysis it's really important. We have talked about 3D versions of certain climbs too. We gave the engineers a list of what we'd like to do. Then, they ran off and they're going to come back with what we can get done on time
Will it look very different?
I always like to say cycling has to be a little more coffee shop-ish. Because it's one of those things about cyclists. We like to go on coffee rides. But I don't think the aesthetics need to be much, much different. I think it's to represent Eurosport so it's going to be a Eurosport studio and GSN-ish studio. There'll be some red in there. Then, it's got to have a coffee machine.
---