Trailblazer: Behind the scenes of Europe's first esports channels eSports1 and eSportsOne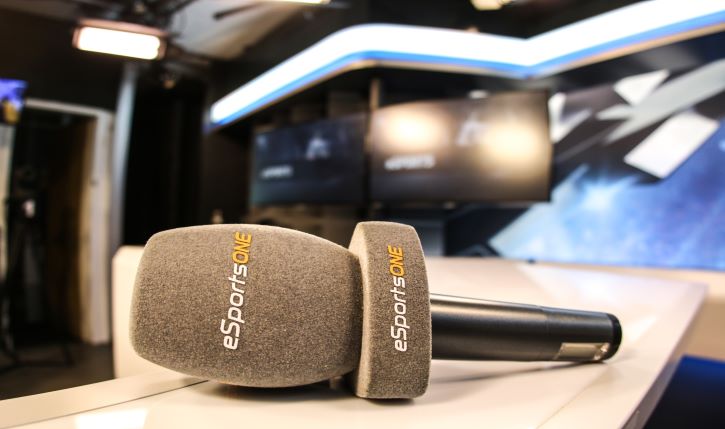 The German media company, Sport1, will extend the reach of Europe's first dedicated esport channels – eSports1 and eSportsOne – globally, following a European regionalisation plan.
The eSports1 channel was launched in January 2019 as the first linear TV channel for esports in the German-speaking region across Germany, Austria and Switzerland. It shows 1,200 live hours per year of international and national esports events, as well as highlight shows and in-house produced magazine shows.
After the successful launch of eSports1, Sport1 implemented a pan-European channel project with the start of eSportsOne on 3 November 2020 that currently broadcasts in English, although Daniel von Busse, COO TV and member of the management of Sport1, told SVG Europe that there are plans to offer regional languages across Europe going forward.
"We don't differentiate today whether it's the Champions League football or a major esport event; it's all about good content and how we present the content and that's what [our content partners] really appreciate"
Central content partners at launch and today for both platforms are ESL, Blizzard, EA Sport, the NBA 2K League and Psyonix with the esports titles Dota 2, Starcraft 2, Warcraft 3, NBA 2K, Overwatch and Rocket League.
Says Busse: "In January 2019 we launched the German version for Germany, Austria and Switzerland. This is a dedicated platform, so we have an app – eSport1 app – and you can go directly to the app store and download it. Within this app, we have articles, VoDs, and also the linear channel. This model in Germany, Austria and Switzerland has been very, very successful and we got a lot of demand from the rest of Europe, so we [now] have this European version of the German language version."
The 24/7 programming for eSportsOne now comprises of over 1,200 to 1,400 live hours per year of international esports events as well as exclusive, self-produced analysis formats and VoD.
"We believe in live, and I think this is the key driver of the channel," Busse says.
The driver to create the wider European version of the German language platform came from both the streaming platforms and sponsors, says Busse. "The interest came from two sides. The business model is we are working together with the platforms, so we are putting our channel on certain platforms like A1, Swisscom, and Amazon and we have talked with DAZN and so on. We had a lot of pan-European platforms coming to us saying, "this is a great idea and we want to have this channel in our portfolio".
"The other demand came from the sponsors like Mercedes and the big brands. They came to us and said, "this is really nice because we want to get into the esports environment so can you present us with a pan-European version of this, because we want to have pan-European distribution?".
Not Twitch or YouTube
eSports1 and eSportsOne are the first dedicated esport channels in Europe, notes Busse. "There are some successful [dedicated esports platforms] in Asia where esport has actually come from, but in Europe, I think this is the first dedicated esports channel.
"The idea of this is having a premium platform dedicated to esport. This is something that is differentiating us to platforms like Twitch or YouTube; they are more streaming platforms and they are doing a great job in that, but we have a different approach. We're working with a huge editorial team so it's more premium TV with a high editorial approach."
Today eSports1 is distributed on all the major platforms in Germany today, and Busse says, "we are working on the distribution situation regarding the rest of Europe [for eSportsOne], but this is just the beginning".
Busse says these platforms are not Sport1's first foray into esports: "We have a long history with esports; we started in 2010 or 2011 with our first moves and we tried it out a little bit. We had it on our digital platform, some articles and some VoDs, and we figured out it is actually something that is fitting to our platform."
World domination
On where the pan-European platform is going next, Busse laughs, "on all major platforms all over the world". He adds: "We secured the [content] rights on a pan-European base, so we are in the position to go to all territories across Europe right now and these talks are ongoing, but due to the actual [pandemic] situation it is a little bit slow. Even though we have a huge demand from the rest of Europe, it's different to talk about this project in person than on Teams or something. I would expect we would have been even quicker [to expand the platform] without COVID-19."
As for the future of the two platforms, Busse says: "We want to have an even better distribution situation in Europe with talks to other territories; this is the first step. The second step is to have a more regional approach, not just an English speaking version but we want to have a focus on each of the major territories, not only in regards to the language, but also in regards to the titles and the athletes. For example, in England there is the cricket, but you wouldn't be successful with a cricket channel in Germany.
"With esport it's pretty much the same; it's not one sport, it's like the Olympics with many different sports. The titles are differently successful in different territories. You want to have an editorial approach to certain athletes and more regionalised product in the territories. That would be the next step for us."
Content and distribution partnerships
The channels are distributed on Sport1's own app and via third-party platforms, which it works with on an individual basis. With Blizzard, for instance, "it is pretty much a promotion deal," Busse says. He goes on: "We're actually promoting their product, Overwatch, but for the ESL, it is much more a content deal, so they are much more focused on being paid than other partners. The market is pretty young but it is developing [in terms of what esports partners want from their rights deals with the platforms]; it's a mixture of distributing, promoting, money, everything."
It is Sport1's editorial approach to esports that is aiding the growth of the platforms, notes Busse: "What [our content partners] really appreciate is we care about the content. The approach is pretty much what we've learned over the last 25 years in sports, and we took this to esports," states Busse. "We don't differentiate today whether it's the Champions League football or a major esport event; it's all about good content and how we present the content and that's what [our content partners] really appreciate."
eSports1 is currently distributed via the pay TV platforms of Vodafone, Unitymedia, Deutsche Telekom, 1&1, T-Mobile Austria, A1 Telekom, UPC Switzerland, Swisscom blue TV, Amazon Channels, Zattoo and Waipu.tv. On each of these platforms, the channel is offered in selected programme packages. In addition, eSports1 can also be viewed as a live stream in the eSports1 app.
eSportsOne is currently offered in Belgium, the Netherlands, the Czech Republic and Slovakia via the M7 pay-TV platforms, TV Vlaanderen, CanalDigitaal and Skylink, as well as in Norway and Sweden via Telenor, which it announced in March this year.
Sport1 Medien is a media company based in Ismaning, near Munich, Germany. With its subsidiaries Sport1, Magic Sports Media, Match IQ, Plazamedia and Leitmotif Creators, it covers the entire value chain in the sports sector, with Sport1 as a key 360° sports platform in the German-speaking region with its TV, online, mobile, audio and social media channels.