Turner Sports to offer bevy of technology for 'The Match: Tiger vs. Phil' coverage
Turner Sports has pulled back the curtain on its production technology plans for coverage of Capital One's 'The Match: Tiger vs. Phil' – the winner-take-all, $9 million PPV match in Las Vegas on Friday 23 November.
The production will incorporate a number of innovative technologies into the live golf presentation, including first-of-its-kind integrations centered on predictive data. Turner will also deploy mics both players and caddies, drones for course coverage, Toptracer shot tracking, Virtual Eye real-time golf animations, and more.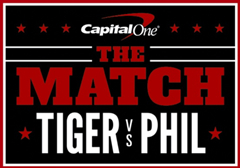 The broadcast will include real-time, hole-by-hole statistics that will be displayed on screen to forecast the probability of certain outcomes during the match.  The data is based on a model and algorithm that combines ShotLink Intelligence with characteristics of the Shadow Creek golf course to calculate the likelihood of various scenarios to occur.
Separately, after a hole has concluded, the broadcast will integrate a proprietary data stream provided by the MGM Resorts Race & Sports Books – in association with the MGM/GVC Interactive Gaming Joint Venture – to deliver odds, moneyline and other information associated with the golfers' performance.
This story first appeared on Sports Video Group US. To read more, go to: https://www.sportsvideo.org/2018/11/09/turner-sports-to-offer-bevy-of-tech-for-the-match-tiger-vs-phil-coverage/