UEFA Euro 2020: The host broadcast facts and figures for the TV coverage of Europe's biggest football show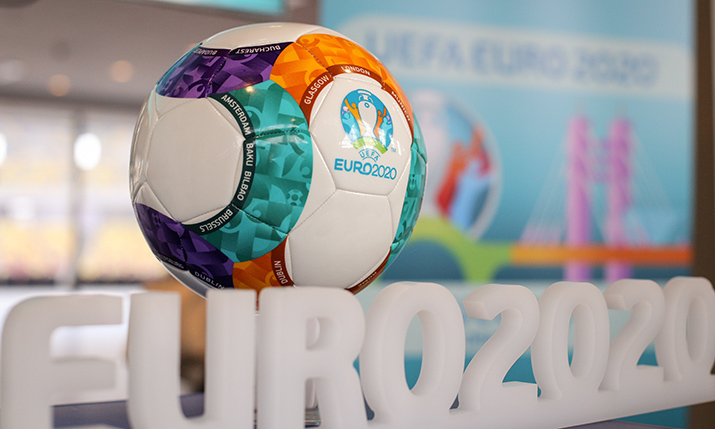 The 2020 UEFA European Championship (Euro 2020) kicks off today (Friday 11 June), 12 months after it was originally slated, but with an extensive match coverage set-up and vast contribution, distribution and content options for rights holders.
1.9 billion individuals are expected to tune in to Euro 2020 live matches via official TV and streaming platforms, with a total live event audience in the region of 4.7 billion projected for the entire competition.
Available in 229 territories via 137 broadcast partners, this is one of the world's, let alone Europe's, biggest sporting events.
As a result, the host broadcast operation is, as you would expect, extensive.
Output
Over 3,500 hours of total content (including all feeds and additional programming) will be produced over the course of the tournament, which runs until the final at Wembley Stadium in London on Sunday 11 July.
HD, UHD, SDR and HDR will all be catered for.
There will be 14 multilateral feeds per match: live stadium feed (HD-SDR, HD-HDR and UHD-HDR), Team A & B feeds, tactical feed, Camera 1/Helicopter, aerial camera system, stadium beauty shot, Player A and Player B, Clips Channel 1 & 2 (produced remotely at the IBC), 180-degree camera.
There will also be four ISO feeds per match: 16m camera left, 16m camera right, high behind goal left, high reverse stand.
Of those 18 feeds per match, there will be selected feeds being offered in multiple formats including HD-SDR, UHD-HDR, 1080i50 and 1080p50, although not all feeds will be available in all formats.
Match coverage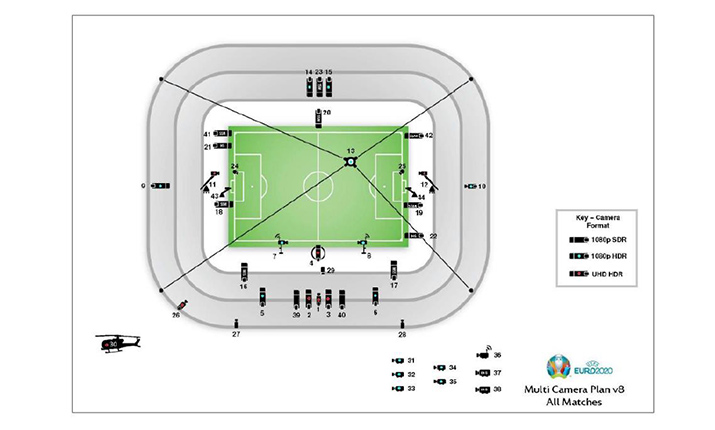 The standard configuration for all Euro 2020 matches will comprise a minimum of 36 match coverage cameras.
An additional eight cameras will be used to cover other events surrounding the match, such as team arrivals and fan coverage, providing a variety of supplementary content for all feeds.
The camera line-up for each game includes:
Eight super slow-motion triple-speed cameras
Two high-speed cameras
One aerial camera system
Two in-goal cameras (one at each end)
Two camera cranes with hotheads behind the goal (one at each end)
Two Polecams (one at each end)
Two Steadicams (one in each half of the pitch)
Five handheld cameras
One RF helicopter camera
There will be eight native UHD-HDR cameras at each match and UEFA will use a variety of camera suppliers, including Sony and Grass Valley. All EVS replays will be produced in 1080p 50 SDR.
For sound, Lawo mc² 96 consoles produce the international audio while there is also a Lawo digital commentary system; Schoeps 3D ORTF mic array; and Dolby Immersive Audio on the UHD-HDR feed which will be mixed centrally in the IBC.
The set-up is the same for each of the 11 stadiums being used for the tournament. A dedicated production team will be onsite at each ground, with each team responsible for a venue, and the Budapest team covering the quarter-final in Baku.
OB units will be assigned to multilateral production at each stadium across the tournament, provided by: EMG (Bucharest, Budapest, Baku, London, Rome and Glasgow); NEP (Copenhagen, Munich, Seville, Amsterdam); and TVN (Saint Petersburg).
Eurovision Services are responsible for the contribution and distribution of all signals worldwide, including venue SNGs and at the IBC. Redundant fibre network, also provided by Eurovision Services, is also included plus satellite back-up at each venue and off-site in case of bad weather.
The IBC
The IBC is in Vijfhuizen, near Amsterdam. It will be the working home for more than 1000 people for the next four weeks and the hub for 929 feeds across the 51 matches.
Inside the IBC will be an EVS-based server and media asset management system that will house content from Euro 2020 and from past tournaments that can be accessed remotely by rights holders.
Dedicated host city beauty shots will be offered from each host city and made available via the IBC in 1080p HDR. All match highlights will be produced at the IBC and delivered to venues for inclusion in the multilateral feed.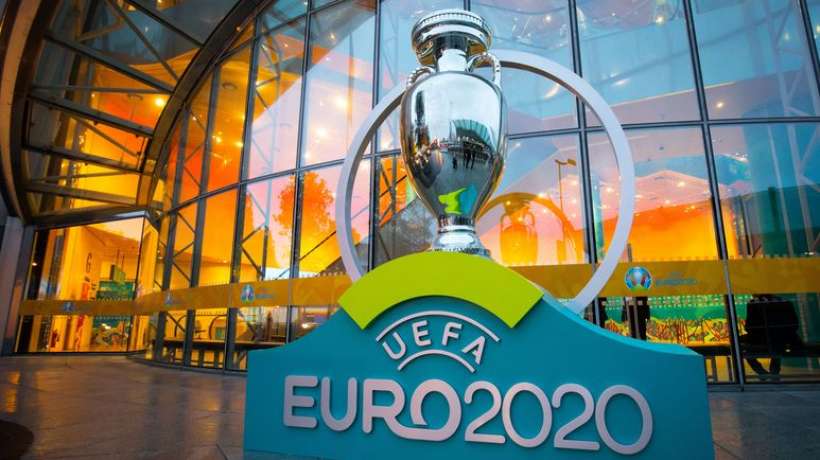 Graphics
All Euro 2020 graphics have been prepared and delivered by deltatre. UEFA says that they will reflect the tournament's "strong brand look and feel and deliver key information to fans." The graphics are designed natively in UHD to comply with the live stadium feed LSF delivered at the IBC.
There will be eleven HD graphics trucks at Euro 2020 – one at each venue.
During the match, graphics data will be delivered to the live OB van at the venue, to the IBC via the technical operations centre (TOC), operated by Gravity Media, and to the on-site commentary positions.
Standard graphics for goals, bookings, shots and substitutions will be included in the match feeds. These will be complemented, where editorially appropriate, by additional graphics incorporating statistics generated by the in-stadium data collection team.
Graphics are always double-checked by the match director and the UEFA live producer through a preview feed.
During a match, an average of 40 graphics will be broadcast.
The numbers:
3,049 total Host Broadcast staff working in the 11 stadiums, the IBC, the Nyon Hub and in London
36 match coverage cameras per game
8 native UHD-HDR cameras at each game
1000 people at the IBC
70,000+ km of fibre; the longest single distance is from Baku to the IBC (6500 km)
11 HD graphics trucks
2,000 hours of production
11 production teams
UEFA Euro 2020 takes place from 11 June to 11 July 2021 in stadiums across Europe.