Videe brings Fencing World Championships to biggest ever audience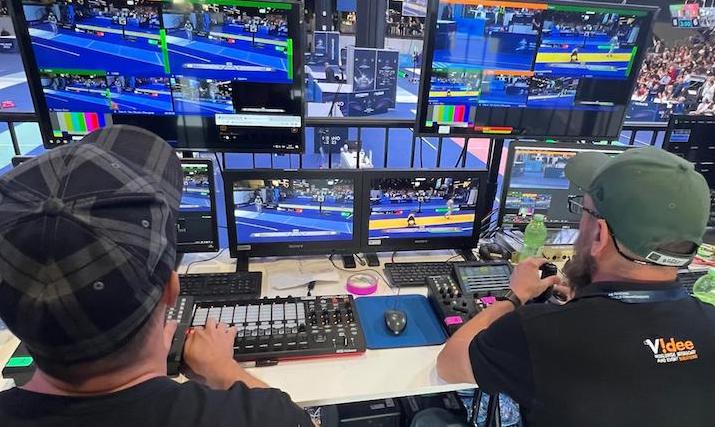 The art of fencing, where speed of action, technique and muscular strength offer a unique and elegant combination, has been practiced for hundreds of years. To capture that perfect moment when the saber, the foil and the epee touch the target is magical and requires top-end broadcast equipment featuring wide dynamics, great realism and a cinematic look to let the public really experience all of fencing's emotions, from the fencer's gesture and the concentration on their face, to the final lunge, and the happiness or the disappointment it brings.
Nowhere was this more clear than during the 2023 Fencing World Championships held in Milan from 22-30 July. High-level national and international TV coverage enriched with an unprecedented number of live clips, details and highlights of each assault and fencers' action took the championship to a new level in sport production.
Thanks to its cutting-edge project experience and its proven capacity to provide creative and innovative solutions, Videe won the bid to be host broadcaster of the event, held at the Allianz MiCo in Milan, the largest convention centre in Europe. A synergistic approach with the Local Organizing Committee, the Fencing Federation and Master Group Sports was key in guaranteeing a top-end production from every point of view.
Marco Fichera, president of the Organizing Committee Milano 2023, remarked: "The Fencing World Championship returned to Italy 12 years after the 2011 edition in Catania. More than a month later, we still receive congratulations and praise for a competition that was a proven all-round success. We courageously believed in our dream and, overcoming many people's initial scepticism, we made it come true. We've been working hard for more than two years to reach such a result, which didn't surprise us at all. We brought a new idea and a new conception of sports event management. A fencing World Championship has never had such visibility with all nine days sold out. The credit for this success belongs to the whole team. In particular, when talking about TV coverage, a key role was played by Videe, the company we entrusted the TV production to for the LOC. Thanks to their cameras, their experience and the quality of their service we made 62 hours of live broadcast in Italy, in addition to many repeats thanks to RAI, Sky and Eurosport, not to mention the international TV coverage."
Figures confirm that this world championship had the highest levels of media coverage and the greatest national and international visibility ever.
"Since the beginning we have shared the ambition to produce an unforgettable and high-quality event. Thanks to their great experience, our team showed flexibility and the skill to perfectly understand and respond to all the LOC expectations," said Bruno Mercuri, president and founder, Videe.
Videe relied on its 4K HDR OB truck OBX to manage the two parallel and contemporary productions in the preliminary and the central pistes each day.
To cover the 'coloured' pistes, workstations featuring PTZ cameras, VAR graphics with NDI (supported by Swiss Timing) and vMix systems were set up.
"We selected vMix software after a careful analysis of the market since it complied with the need to ease the workflow and make live remote production more efficient. Live streaming on the FIE [International Fencing Federation] channels and Olympic channels was managed via SRT protocol. We relied on this open-source protocol for its security, reliability and quality. In particular, if compared to RTMP, SRT proved to guarantee a lower-latency and a higher-performance stream," said Andrea De Bortoli, broadcast engineer and R&D manager, Videe.
Semi-finals and finals were contested in the central piste. Videe was responsible for AV filming, live streaming and live satellite transmission to various national and international TV broadcasters. The technical equipment and camera provision and positioning was attentively studied by Videe to best convey the magic and the essence of fencing. It included not only a god's-eye-view PTZ and a jimmy jib, but also 3x super-slomo and 8x hypermotion cameras, perfectly integrated in the OBX, to ensure no action was missed.
Videe was also in charge of the commentary positions for a number of broadcasters. The separate working areas in the OBX proved to be strategic in managing both the international audio feed and the commentary positions: the technical and editorial teams were therefore hosted in the same comfortable and healthy working environment where all resources were concentrated.
"Teamwork was essential. Our multidisciplinary, well co-ordinated and close-knit team of 40 people was able to deal with the complexity of the event and also to cope with unexpected situations with high professionalism. For example, as a consequence of a storm, a severe night flood in the congress centre partially affected our equipment; at 4am our team was already onsite to reactivate it thus guaranteeing the live transmission starting from early morning," said Arianna Censani and Nicola Degano, Videe production co-ordinators onsite.
"I would say that we've been a strategic partner to the LOC. In addition to providing the broadcast services, we collaborated in the co-ordination and the management of the event. Together, we planned each and every aspect. Our support in the logistics and organisational aspects was highly appreciated and eased the LOC's job. Videe brought a real added value, indeed. This is how we make the difference," said Paola Montanari, CEO, Videe.