Vislink and Movicom team to enhance refcams for Champions Hockey League and Tipsport Liga plus other sports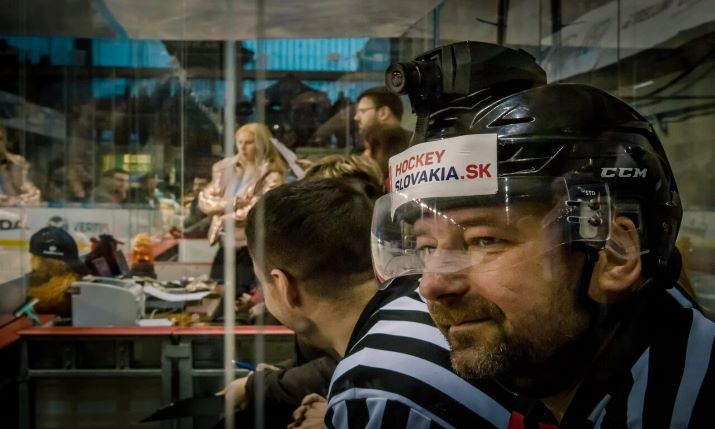 Building on their successful collaboration in providing helmet-mounted cameras worn by referees, also known as refcams, for last year's Champions Hockey League, Movicom and Vislink have announced they have continued to expand their joint line up of ultra-small wireless wearable cameras for use in live sports production.
The most well-known refcam kit includes a mini-camera, Movicom's specially designed and engineered camera mount plus Vislink's IMT Dragonfly wireless transmitter, which can be quickly mounted on almost any type of protective gear including referees' preferred personal helmets.
The kit weighs just under 190g and has no external wires, which speeds and facilitates mounting and dismounting. This year's innovation is the addition of cameras with C-mounts which opens up the lens options for the system, providing higher quality optics and thus better quality images.
The upgraded kits were again used by the Champions Hockey League this year and its use expanded to the Tipsport Liga for ice hockey in Slovakia.
On the receiving end in the OB van, a Vislink 2 input receiver with H.264 capability was used to process the video signals. The refcams can be fully painted and controlled in the OB van from an RCP panel that comes with the kit.
Beyond the standard refcam kit, Movicom was asked to develop an even lighter and smaller system for summer sports, so Movicom again turned to Vislink's IMT Dragonfly transmitter technology.
The new system, dubbed 'Earcam', consists of an Atom mini Air camera mounted on a simple comfortable headband, with the transmitter and battery pack embedded in a belt pack. The system can be employed by officials in sports that may not require head safety equipment such as soccer, field hockey, American football as well as many other sports, including indoor sports like basketball and boxing.
"The main goal here was to get right into the action, to capturing the athlete's emotions in close up, if possible; almost from their point of view," said Victor Pakhomov, CEO at Movicom. This pushes the shot options available to directors across the sports gamut, enhancing their ability to tell the game's and athlete's story.
Along with the Earcam, Movicom has developed an 'UmpireCam' specifically for baseball umpires. Designed to be attached on top of any type of umpire mask with a 'quick-detach' mount, the camera is designed not to interfere with the umpire's line of sight, and also to 'break-away' if hit by a ball without compromising the official's safety.
The all-in-one all steel unit attaches to any existing umpire mask and because of its feather weight it is virtually unnoticeable to the person wearing it. The ability to use any mask, including custom ones, marks an innovation that will hopefully enable more widespread use of the cameras and thus make for more exciting shot options for directors and fans, where they can really see the game from the umpire's point of view.
Technically the system functions almost identically to the Refcam kit, with an IMT Dragonfly wireless transmitter incorporated in the UmpireCam body, and Vislink receivers in the OB van. UmpireCams have been tested and will hopefully be rolling out to baseball diamonds in the near future.
Rob King, EMEA sales director at Vislink, said: "The IMT DragonFly is the smallest, most power efficient mini COFDM video transmitter on the market today. At 34g and less than 4 W power consumption, it permits Movicom to fully integrate the unit without fear of overheating the unit, or the person wearing the unit. With a choice of DVB-T or LMS-T modulation, the DragonFly is a remarkably versatile product."