VR and AR create new storytelling dynamic for SuperTennis studio coverage
Supertennis, the TV channel of the Italian Tennis Federation, is visible on Sky Italia, the national DTT mux, channel 64 on TVSat and on its supertennis.tv web channel.
The TV production studios in Rome, from which transmissions are aired, often employ virtual reality and augmented reality: but, contrary to what one might think, it is not just a matter of 'spectacle'.
Alfredo Nardoni, production director, gave SVG Europe some details. "First of all it is good to underline that SuperTennis in studio transmissions often uses a mix of AR and VR. The main reason for this choice is that our commitment is aimed at integrating the best technologies to support spectacle, but above all information for tennis fans.
"In fact, we offer the viewer a more complete experience thanks to the presence of advanced integrated AR and VR graphics, rather than simple billboards with 2D and 3D captions as in traditional graphics.
"It is undoubtedly a leap forward for the understanding of stories and concepts and not just the aesthetic," said Nardoni. "In general, the graphic notions supporting the typical image of the talent or the journalist or commentator in the studio contribute to increase the degree of empathy of the viewer and make the story clearer, reaffirming certain concepts and making them immediately visible.
"Often, rather than simply commenting on a sporting event to which we sometimes do not hold the live broadcast rights, we devote ourselves to in-depth analysis thanks to a journalist on-site who describes what is happening before, during and after a match. So we propose a channel full of insights that are highly appreciated by our audience," he said.
Inventing more studios in the same studio
"It is good to emphasise, in fact, that the SuperTennis audience is largely well informed and therefore appreciates the insights that must be journalistically balanced and correct and from the point of view of the image very likely and carefully realised. On the one hand, virtual reality allows us to create synthetic worlds that propose different backgrounds to make a studio transmission more attractive and different," said Nardoni.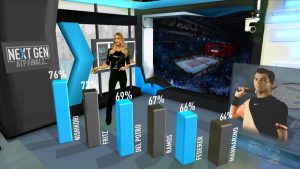 "On the other hand, augmented reality allows us a language in the story really different and more complete — and even more spectacular. Talent or commentators can move and walk in the studio, while they are followed by our four Panasonic cameras.
"Of these, three are remotely operated and perform tight and 'static' shots of the two journalists or studio talent, usually at least two; a third one proposes larger images in 'beauty' style in soccer. The fourth camera attached to augmented reality is positioned on a Ross Video dolly and moves elegantly, creating dynamic shots synchronised with the dedicated equipment, graphic computers that create objects and the virtual backgrounds.
"As well as Panasonic cameras and Ross Video dolly and gallery we also have Brainstorm graphics, Dalet newsroom and Yamaha audio mixing. We use this mix practically everywhere and also in the recent Next Gen ATP Final, international BNL Italy, he said."
The SuperTennis studio is 55 square metres wide, 25 of which are covered by an LED wall and the
rest is a special background for the virtual reality that allows the team to "invent more studios in the same studio. The journalist faces the virtual part and interacts live, 'triggering' interactive graphic content — which is augmented reality — created from scratch, coming out of the floor and walls. This process can be considered as a natural evolution of the chroma key but with 3D content," said Nardoni.
"The graphic engine that makes these games possible is Brainstorm, which we have chosen for the operating interface, cost and ease of management. We can create 2D and 3D virtual scenes and objects with peace of mind in After Effects and then import all the projects that create the various necessary VR and AR scenery."