Weavr consortium unveils latest project milestones with updated mobile app and new VR experience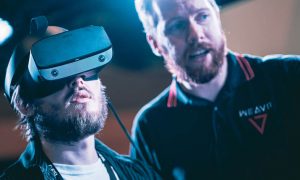 The Weavr consortium has today unveiled its latest release of the technology platform that allows eSports fans to immerse themselves in matches like never before.
Weavr is a government funded project to create a technology platform that uses live and historic data to create meaningful and personalised mixed reality fan experiences, and at SVG Europe's FutureSport event in London on Tuesday 26 November the technology will be demonstrated on stage by James Dean, CEO at ESL UK and CEO at Weavr.
Weavr's updated mobile app and new virtual reality (VR) experience were recently unveiled to thousands of fans who gathered at ESL One Hamburg to watch the live Dota 2 action.
For the first time ever, the consortium made the app available for public download on the Google Play Store, where it was downloaded and used by fans watching in the arena as well as those following the matches from home.
In another first, the consortium broadcast live in VR to some of the ESL Play community in the UK.
The updated app and introduction of VR into the platform represents a major step forward towards the consortium's goal of creating a truly immersive and highly personalised experience for eSports fans.
This ambitious project is on a tight schedule. It started in March 2019 and will run until the end of December 2020. Speaking to SVG Europe, Dean said: "We have four key milestones throughout the length of the project which are the four ESL One events that include Dota 2 tournaments as well as securing a second IP, which we're hoping to be a traditional sport."
At ESL One Birmingham in May 2019 the Weavr team demonstrated the first version of the second screen mobile app and live 360 event broadcast.
At ESL Hamburg which took place in October 2019, the team demonstrated the second version of the mobile app, the first version of the virtual reality (VR) experience, and ran closed tests to a UK community who could view the live 360 degree event broadcast.
Following the evaluation undertaken at Hamburg the Weavr team will be working on the next versions for Birmingham 2020 in May.
Alongside the demonstrations, the team are working on funding options with the aim of launching a business in 2021.
The consortium were thrilled with the reaction in Hamburg from fans and talent alike, and were delighted to see broadcast analysts in Hamburg starting to use the Weavr dashboard which helped them to  formulate their narrative.
Of those who downloaded the app, 82% used it on a repeated basis, clearly showing how useful a tool it is for fans wanting to know more about the performance of players and teams, as well as win predictions.
On how the clubs and federations of 'real world' sports will benefit from the virtual world of Weavr, Dean said: "Weavr is about creating an agnostic platform that can serve statistics and narrative to several touchpoints with different types of sport's historical and live data. It'll absolutely attract a younger viewership, provide new levels of personalisation, interaction and immersion, develop new relationships with wider audiences and strengthen relationships with hardcore audiences, and ultimately in the interest of providing significant added value which can be monetised on an incremental revenue.
"Who knows, it could take over media rights as we know them today! It's not quite possible today apart from looking at some existing examples of our discovery within eSports, but in future that is an obvious move."
As to how Weavr can help broadcasters right now, Dean said, "it's all about heightening the experience with the audience, which many broadcasters are exploring anyway".  He went on: "Ultimately this could be the way in which media rights will evolve."
He added: "The virtual studio can provide post-match analysis that delves into deep high fidelity stats, enhancing the pundit's narrative and ultimately the overall experience and knowledge for the viewer. New levels of depth [are possible] with a holistic digital approach, utilising a blank canvas to immerse the viewer with the linear feed."
Broadcasters will be able to reach a broader viewership through a very new concept of live 360 and VR event broadcasting, integrating Weavr unique statistics, for a, "context first approach rather than technology first", said Dean.
Weavr will provide eSport commentators and casters with a high fidelity dashboard giving them live statistics about matches, to enhance their live narrative and quality of commentary.
The team are also working on the development of OTT overlays for live broadcast feeds on Twitch, YouTube and other over the top (OTT) platforms, that includes Weavr statistics that can be personalised for individual viewers, which has not been available before. This will enrich the viewer's experience and knowledge.
Dean noted: "We said at the start of this project that we wanted to move away from linear 'one for all' coverage towards hyper-personalised experiences. At Hamburg we have just taken a huge step towards reaching that goal. Experiences are tailored to each viewer's interests, they are fully interactive, and provide individualised insights into matches in real time."
The newly-released app detects extraordinary moments and performances, and serves users with a story feed that is tailored to what matters to them most. They are able to track and compare the performance of their favourite players in real time, including unique stats. The app also includes Weavr's brand new tool, Performance Index, a new statistic driven by machine learning that shows how each player affects their team's chance to win.
Whilst in Hamburg, the consortium conducted detailed research with fans and feedback will be incorporated into the future development of the platform.
In 2017, HM Government announced its Industrial Strategy, which is a blueprint for how it intends to help businesses create better, higher paying jobs with investment in the skills, industries and infrastructure of the future.
The Strategy addressed four 'Grand Challenges'; the first of these being the area of artificial intelligence and data. In 2018, the Government announced it was to invest £18 million into this area through the Industrial Strategy Challenge Fund audience for the future programme to support immersive technologies. Through this, the Government called for industry-led consortia from within creative industries to come forward to form new immersive experiences and test them with large scale audiences. The Weavr consortium came forward to answer that challenge and was awarded £4 million in match funding in the sports entertainment section.
The members of the Weavr consortium are: ESL, The University of York, Focal Point VR, dock10, Rewind, and Cybula.
The app can be downloaded from the Google Play Store for free, but will only be fully compatible at selected live events where the Weavr team are present.