Women's Euro 2022: Facts and figures for the host broadcast match coverage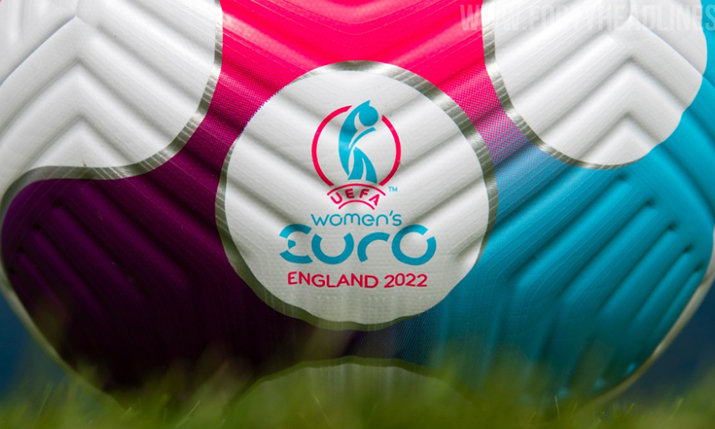 With less than a week to go before the start of the 2022 UEFA European Women's Football Championship in England, the host broadcast plans for the tournament have been unveiled.
UEFA itself is the host broadcaster for the tournament, working with EMG who are supplying four large OB units, one per production team. EMG has subcontracted Sound Credit to provide fully-equipped commentary positions and Telegenic to provide cabling.
Each production team will work on a specific 'beat', led by a director. The production teams are being led by:
Rob Levi – Old Trafford, Manchester City Academy, Wigan and Leigh
Gemma Knight – Rotherham and Sheffield
Sarah Cheadle – Milton Keynes (group stage), Brighton & Hove
Jamie Oakford – London, Southampton and Milton Keynes (semi-final)
---
Output
There is no HDR included in the tournament output. Instead, the group stages will be HD with SDR with the latter stages also available in Ultra HD with SDR. Dolby 5.1 audio will be available throughout.
Eurovision Services will act as the transmission supplier.
---
Cameras
The standard configuration for all Women's Euro 2022 group stage matches will comprise a minimum of 15 match coverage cameras with additional cameras used to cover other events surrounding the match.
This will increase to a minimum of 16 match cameras for the quarter-finals while the semi-finals and final will feature a minimum of 17 and 19 match cameras (see camera plan below), respectively.
Included in the camera armoury will be:
2 super slow-motion triple-speed cameras per group stage match, 3 for quarterfinals and 4 for the semi-finals and the final
1 aerial camera system for the final
2 in-goal cameras per match (one at each end)
2 Polecams per match (one at each end) as of semi-finals
1 Steadicam per group stage match, 2 as of quarterfinals
3 handheld cameras – (non-Steadicams), 4 as of semi-finals
EMG will supply all of the cameras.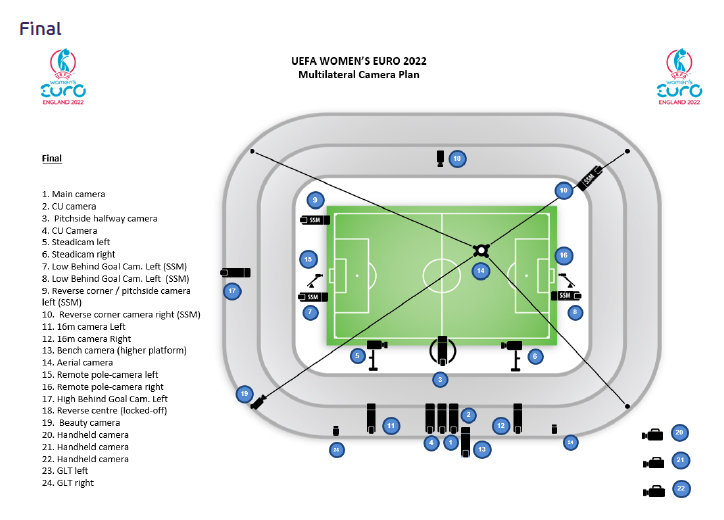 ---
Graphics and VAR
All match graphics will be supplied on-site by Boost, a subsidiary of EMG. The TV match graphics will be keyed in the multilateral feed based on the overall Women's Euro 2022 brand design concept.
Hawk-Eye will supply Video Assistant Referee (VAR), Goal-line Technology (GLT) and Electronic Player Tracking System (EPTS) football technologies at all matches
---
Facilities for unilateral coverage
Rights holding broadcast partners will be able to book camera positions on the main camera platform, the reverse camera platform, or behind either goal. One pitch-view studio is being made available per venue throughout the tournament, and two for the final at Wembley.
Three partially-equipped tribune presentation positions will also be available at each match, with five available for the semi-finals and six for the final.
There will be two fully equipped and six partially equipped unilateral pitchside presentation positions at each venue.
A minimum of 20 3-seater commentary positions available at each venue
---
UEFA Women's Euro 2022 will take place in England, starting with England vs Austria at Old Trafford on Wednesday 6 July and culminating with the final at Wembley on Sunday 31 July.