World-first RF UHD HDR coverage provided by Euromedia at Paris-Tours
French one-day classic cycling race Paris-Tours was broadcast live for the first time in 4K HDR using RF with help from Euromedia, a subsidiary company of Euro Media Group.
Taking place on Sunday 13 October, the event was won by 2014 champion Belgian Jelle Wallays (team LTS) in a gripping chase to the cathedral city of Tours on the outskirts of Paris.
The host broadcaster was France Télévisions, which broadcast the UHD-HDR PGM race coverage live on its French digital terrestrial television 4K channel (in Paris, Nantes and the Toulouse areas) simultaneously with an HD-SDR broadcast to its regular HD channel and all rights holders. Euromedia also collaborated on the event with French organiser, ASO, which manages Tour de France.
Native UHD-HDR long range RF
François-Charles Bideaux, co-CEO at Euro Media Group, told SVG Europe: "Last Sunday, the vineyard roads of the 113th Paris-Tours welcomed a new kind of wireless broadcast production. In collaboration with France Télévisions, the Euromedia teams have provided a full and native UHD HDR long-range RF production."
Euromedia's RF department was instrumental in making this long-distance broadcast happen.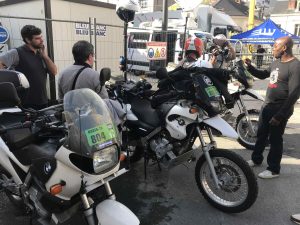 Speaking to SVG Europe, Bruno Gallais, department manager for Euromedia RF, commented: "This year and for the first time we have broadcast a long-distance RF coverage cycling race in 4K HDR, live. This ProTour Cycling race, Paris-Tours, which is scheduled annually on France Télévisions, has become the first race fully covered in 4K with RF transmissions (Euromedia RF's speciality) and an OB van."
The innovation employed by Euromedia RF to achieve the broadcast was with the help of fellow Euro Media Group subsidiary, Livetools Technology, which created new UHD RF links named FusionRx, plus transmitter, FusionTx.
HEVC-based, this new generation of RF links gives Euromedia the capability to double the bit rate of each picture within the same bandwidth channel compared to the previous generation of COFDM links. Thanks to XPRO, its new proprietary home-developed modulation, Livetools Technology links brought outstanding UHD-HDR pictures without any compromise on the robustness or delay of transmission to the finish line.
Fusion connected the camera operators on three motorbikes and a helicopter covering the race live with the Euromedia RF truck at the finish line, six finish line UHD cameras, and to France Télévisions' OB van, which is called Strasbourg.
Explained Gallais: "For the first time the new UHD RF links of Livetools, [which they have named] FusionTx and FusionRx, were deployed. Fusion transmitted all UHD signals during the race from the motorbikes and the helicopter towards the finish line and Euromedia's C42 RF truck (the main RF unit of the Tour de France coverage), and the France Télévisions UHD OB van in the TV compound in Tours, which managed the finish line cameras and the final mix, directed by Anthony Forestier."
Technical know-how
Euromedia motorbike camera operators were provided with LDX86N 4K RF cameras using Fusion UHD RF links. A Cineflex Pro UHD camera Sony P50 from Papasierra with Fusion UHD RF links were used for shooting from the helicopter. Relaying the RF transmissions from the centre of the action to Euromedia's C42 RF truck was a fixed wings aeroplane, also fully equipped with Livetools Technologies' FusionRx and FusionTx.
Bideaux said: "Three motorbikes equipped with Grass Valley LDX86N 4K RF camera heads and one helicopter equipped with a Sony P50 were shooting live UHD-HDR pictures on the last 100km of the race up to the finish line in Tours, where a dual PGM (UHD-HDR and HD-SDR) production was made inside the France Télévisions OB van," he added.
The four live pictures (from the motorbikes and the helicopter) were decoded inside the C42 EM OB van where colour shading was handled at UHD-HDR level and, after down-conversion, at HD-SDR level. The four UHD-HDR pictures and the four HD-SDR pictures were then provided to the France Télévisions OB van.
Said Gallais: "This broadcasting live experimentation was a commercial project and a world premiere for long-distance outside race coverage."
Gallais added the challenges involved were, "a major increase of the RF sources bit rate for achieving an outstanding UHD HDR quality, and managing simultaneously UHD HDR and HD SDR workflows," but added that the team managed to solve all issues successfully, "thanks to XPRO modulation and the new generation of Livetools' links".
Next up, Euromedia will be using this technology to provide RF coverage of world-class sporting events in Europe and Asia in 2020, concluded Gallais.