IBC 2018: European debut for new Slomo.tv server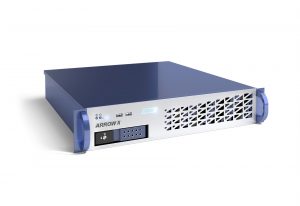 At IBC (booth 8.B40), Slomo.tv will provide a European debut for its cost-effective and compact Arrow II server. First introduced in the US at NAB 2018, Slomo.tv is offering a special price for the basic 442 model, providing four record, four search and two playback with transition channels of Euro 20,000.
"The Arrow line is our entry-level solution, setting a new standard in cost-effective production and replay servers," commented Michael Gilman, CEO of Slomo.tv. "The servers are based on our successful server platform, with eight bi-directional 3G/HD/SD SDI video ports, which makes it possible to remotely upgrade the basic 442 model to a 662 configuration. With built-in storage of up to 533 hours of HD video as a standard feature Arrow II offers a uniquely cost-effective option in the professional broadcast market."
For more demanding applications, the Arrow II 662 model provides six recording channels with simultaneous search on all channels and two playback channels with transition effects. If necessary, the 662 server can be used as a seven recording channel replay system.
Arrow II is the first budget server to provide a DMR option for direct recording in NLE file formats. This option includes an external 1U device that records video on standard 3.5" SATA hard drives installed in four racks, enabling the recorded video to be used immediately for NLE. The server also has 10 GbE interface, which allows recording of NLE files on any Network Attached Storage (NAS) system.
The DMR option supports ProRes 422, DNxHD, DVCProHD, XDCAM 422 codecs. Also, the new server includes a free of charge Transfer (networking) option for exchanging clips and playlists, as well as telestrator (Game Analyzer), which allows operators to draw on the video being played.
Arrow II possesses a number of space-saving features that make it ideal for small OB vehicles and fly-away installations. It is presented in a 2U, 9 kg form factor. Its distinctive intuitive user interface with built-in multiviewer and remote control facilitates instant access to frequently used functions enabling search, clip creation and editing during replay.
Arrow II has a redundant power supply option. Also, the videoReferee option of Arrow II can be used as an eight-channel video judging system in different sport leagues, including, soccer, ice hockey, basketball and handball.
Arrow II will make its European debut at IBC (booth 8.B40).