IBC 2018: IBC TV and EVS to roll out full live IP remote news production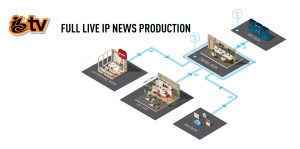 By Carrie Bowden
IBC TV, the official channel of the highly influential IBC show, will be rolling out a fully IP-connected live production workflow driven once again by EVS technology. This is the tenth year running that IBC TV partners with EVS to deliver IBC-related news and interviews live to screens throughout the RAI exhibition centre and to the IBC TV website. This year IBC TV and EVS will go a step further in showcasing the latest live production technologies, as the entire network will operate using the SMPTE 2110 standard.
The IP live production workflow will be deployed across several locations within the immense venue. The production team will operate from the master control room in hall 13, controlling live video feeds captured on Grass Valley LDX 86 cameras connected to ST-2110 via a GV IP enabled XCU base station and transported from the conference venues and main studio over a 10Gbs/s and 40Gbs/s connected fiber network. The room will also be equipped with EVS' IPDirector live PAM system, providing a centralized application for content browsing, control, edit and playout. Editors will use EVS' IPLink plugin to instantly access any media available on the EVS nearline media bank within their Adobe Premiere Pro CC editor suites. Grass Valley's GV Korona K-Frame V-series switcher and multiviewer will also be connected on the IP network.
The IP data center will be installed on the EVS stand in hall 8 hosting the XT-VIA live production servers managing live feed ingest and program playout alongside a central XStore nearline storage system, an Arista switch as well as the EVS XTAccess file gateway system. Other vendors' equipment adding to the workflow are IHSE KVM solutions and Embrionix with its emSPF SDI/IP gateway solution to streamline remote IP production.
Orchestrating the live IP flows between the network's SMPTE 2110-compliant end-points will be SCORE MASTER – EVS' IP routing system. It will sit on top of the Arista IP network, and act as centrepiece for the entire production workflow. Its software-defined architecture will guarantee per-flow routing across the network and provide operators with a second-by-second status overview of the entire network throughout live operation.
"We knew that adopting a full IP system meant it was crucial to choose live production tools that would enable the simple management of the overall infrastructure," said Matthew Tomkinson, Technical Director at IBC TV. "With SCORE MASTER, we'll be able to monitor the entire network and manage its IP flows with ease. Other than the valuable on-site support we receive from the EVS team, it's this kind of practical innovation from the EVS team that has made the last ten years working together so effective" he added.
The speed and reliability of EVS' technology is perfect for the fast-paced nature of news delivery as IBC TV will once again showcase. Visitors to the EVS stand 8.B90 will be able to deep dive into the newsroom market application with demonstrations that will include instant media sharing across multiple sites, fast turnaround post-production and instant social media delivery using EVS' industry-leading IPDirector live PAM system. DYVI, EVS' live production switcher, will show how its software-driven architecture makes it easy for newsrooms to achieve their needs for fast, simple and intuitive operations.
"Newsrooms are an incredibly important part of the live production environment. More than ever, they need to operate at full capacity for 24-hour a day, seven days a week. That's why we introduced the newsroom market application area to our stand at IBC," said EVS' SVP Marketing, Nicolas Bourdon. "We want to show visitors how they can deploy a newsroom infrastructure that combines EVS' Connected Live technology and Creative Live solutions that integrate tightly with other systems for a seamless and robust workflow."
The IBC TV workflow and newsroom market application area can be found on EVS stand 8.B90 and will run throughout IBC2018, which takes place between
14-18 September
at the RAI Amsterdam.