ARRI equips new €100 million HFF building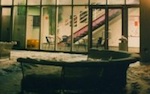 Germany: With training across the industry as much of an issue as ever, it's interesting to see that Munich's Academy of Television and Film has relocated to a new, state-of-the-art €100m building in the centre of the city – much of which is equipped with the latest ARRI lighting and camera technology.
Designed by Cologne-based architect Peter Boehm, the new facility is constructed in concrete and glass, and houses teaching resources that include auditoriums and professional studios.
In order to educate its students in current technologies and practices, the Academy has built two film studios and two television studios, which have been equipped with up-to-the-minute ARRI lighting products. In fact, the HFF studios are the first in the world to be fitted out with ARRI L-Series fixtures. Combining the efficiency of LED-based lighting with the versatility of traditional tungsten Fresnels, the L-7 lights from ARRI represent a milestone in the integration of LED technology into the film and television lighting industries. They will allow the Academy to make huge energy savings while providing students with the best possible tools with which to learn their craft.
The studios are also equipped with ARRI Daylight fixtures, LED backlights and automated systems, all supplied by ARRI Lighting Solutions, which was responsible for planning and installing the entire lighting setup in these four studios.
In addition to these state-of-the art lighting installations the HFF has purchased three ARRI ALEXA cameras.