BBC targets connected TVs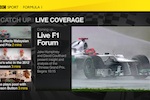 The BBC has today launched its new sport app for connected TVs, enabling audiences to access the BBC's interactive coverage of major sporting events via the BBC Red Button. This is billed as the BBC's next generation TV experience, seamlessly integrating linear TV with online and on-demand content at the simple click of a button, and stars with F1 before ramping up to Olympic coverage this summer.
Initially focusing on Formula 1, the BBC Sport app will bring all the race action together in one place, with live streams, on-demand video and additional content. During races that are covered live on BBC One, fans won't miss a second of the race, with access to alternative options such as on-board cameras which take the viewer to the heart of the action and the 'driver tracker' that shows where each car is on the circuit. As well as the races themselves, there will be full coverage of practice and qualifying sessions.
Over the next few months, the BBC Sport app will also include coverage of Euro 2012, Wimbledon and London 2012 Olympic Games for sports fans across the UK.
The BBC Sport app will sit alongside the award-winning BBC News app, which includes the best of BBC News on TV, online, and on-demand along with the BBC iPlayer app for connected TVs. The BBC News and Sport apps both launch today on Virgin Media's TiVo service, bringing BBC Red Button to around 500,000 Virgin Media TiVo homes, for free. The BBC Sport app for connected TVs will be made available on a range of additional devices.
Launching BBC Sport on connected TVs is another important step in the BBC's strategy to bring its content to audiences across four screens: the PC, mobile, tablet and connected TVs, states the Corporation.
Phil Fearnley, General Manager for News and Knowledge in the BBC's Future Media division said: "We are very excited to be launching our new BBC Sport app and Red Button service for connected TVs. Today's launch will ensure we bring our next-generation TV experience to sports fans across the UK, integrating TV and online content seamlessly at the click of a button. With predictions there'll be almost 36 million connected TVs installed in UK homes by the end of 2016*, the new BBC Sport app is a great new way for these audiences to access the best of BBC's content."