BSI expands European team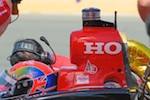 Broadcast Sports Inc is expanding its UK-based staff with additional RF engineers, R&D associates and product designers. The company has been recruiting technical staff throughout January and February and has already taken additional office space within Arliss House in the centre of Watford.
BSI opened its UK office in August 2011 to springboard the company's expansion outside the USA. BSI provides its own, POV cameras that range in size and functionality and can be positioned to capture dramatic sports action in full high definition. For example, cameras may be moving at speed or they may be immersed in water. Several of the POV cameras also have 360 degree capability and remote controlled pan and tilt functions.
BSI's camera systems are provided with a full engineering crew, and until very recently, were not available outside America. The company's UK office has already won some major contracts in Europe – for football and the Barclays ATP World Tour tennis – plus a string of successes with wireless POV cameras. BSI attached POV cameras to the surf boards for the French Surfing Championships in Biarritz, and put onboard cameras in place for the Supercross and the ERDF Masters Kart finale from Paris (GoKarting). For some events, BSI has provided RF links for 3D camera rigs.
Back at home in the USA, BSI is most famous for enabling on-board coverage of motor racing, especially NASCAR racing, for which the original on-board POV camera systems were created. BSI still dominates American race coverage today, and has evolved a series of rugged, reliable RF products which have been shaped by this unforgiving sport.
Tony Valentino, Technical Sales Director for BSI UK, says: "2012 is not for the faint hearted, we are very excited about being involved in the major events for 2012 including the Sky Sports motor racing live coverage kicking off  in Melbourne Australia. We have a great team of RF Engineers and some unique RF systems which we plan to deploy for 2012.
Dave Remnant, Business Development Director for BSI outside the USA says: "2012 will probably be the UK's biggest ever for live events, as broadcasters head for London to cover the Queen's Diamond Jubilee and the London 2012 Games. We are offering fantastic Point Of View cameras which can get unforgettable coverage of these events."
BSI's CEO, Peter Larssen, adds, "We are only just starting to operate outside the USA, but there is no doubt that everybody – broadcasters, production companies and viewers – loves the unique shots that make the viewer feel they are actually there – right at the centre of the picture."