Encompass selects Signiant for playout business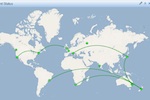 Encompass Digital Media has deployed Signiant software at its European playout facility based in London's Stephen Street to support significant new playout business ahead of the Olympics, which is impressive as it already has transmission contracts for more than 400 television network channels.
Encompass UK will employ Signiant Manager+Agents as part of an integrated workflow solution to receive secure, time-critical material from its global client base.
"We involved Signiant very early in the planning stages of this expansion, initially working with them on technical design. Completing this piece in advance enabled us to go forward quickly after we were able to 'green light' the project," said Gary Finnerty, Head of Solutions and Architecture for Encompass UK. "The installation process was fast, efficient and most importantly, painless. The Workflow Designer in Signiant Manager+Agents gives us an automated and consistent workflow solution for new channels, and removes reliance on our engineers for bespoke scripts."
Signiant Managers+Agents is a powerful software solution designed to handle the administration and execution of all file movement activity — including workflow modeling — in a single platform. The Manager's Automation Engine supports the creation of flexible workflow templates as simple as moving a file from one Agent to another, or as sophisticated as directing a package for transcoding and watermarking before playout. Signiant's onboard Workflow Designer models manual tasks and business logic for a specific job using required components, and then publishes the template to the Signiant library. Using these templates, jobs can be scheduled by package submissions or via system triggers such as timelines, business logic or SOAP API calls from third-party applications.
"As its client's channel portfolios grow, Encompass is ready to help them meet the challenge of ever-decreasing timeframes for getting new services to air," said Gavin Tweedie, Principal Consultant at Signiant. "Working with Encompass to support its content-transfer requirements is the start of a growing partnership between our two companies. By investing considerable consultative time with our client base, we are able to gain a deep understanding of their workflow challenges to deliver secure, high-performance file transfer automation solutions that integrate seamlessly into the digital media supply chains."