IBC 2019: Riedel Communications assists FC Barcelona, Germany's DFL, ESL One Cologne, PUBG Mobile Club Open, and Austria's Uppercut Broadcast
Riedel Communications (stand 10.A31) has had a busy IBC so far in Amsterdam. Here is a breakdown of what the company has released on the show floor.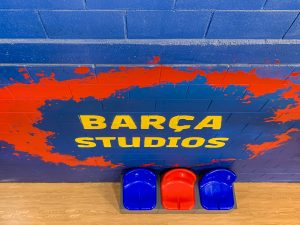 Barça Studios
Riedel's MediorNet real-time signal network has been recently installed in Barcelona, Spain, to enable the sharing of video resources between Barça Studios (FC Barcelona TV and Media Center) in Sant Just Desvern, just outside of Barcelona; FC Barcelona's Camp Nou Stadium in the center of Barcelona; and FC Barcelona Sport City, located in Sant Joan Despí. The MediorNet network not only connects Barça Studios with the Camp Nou Stadium and Sport City, but also facilitates decentralized signal acquisition, processing, and routing between different areas of the stadium using several Riedel MediorNet MicroN and MediorNet Compact PRO units. Barça Studios is the official broadcaster of FC Barcelona and is owned and operated by the football club.
The setup consists of a Compact PRO frame and nine MicroN app-driven devices equipped with the Standard and Processing Apps that handle connectivity between all three locations. CWDM optical multiplexing allows the connection between Barça Studios and Camp Nou to function redundantly on just two dark fibers. Five of the MicroN devices are used in the stadium: one on the pitch; one each in the TV compound, data processing room, and video scoreboard control room; and one as a mobile node that can be flexibly positioned anywhere in the stadium. The remaining four MicroN units, also equipped with the Standard and Processing Apps, are located in the Barça Studios and FC Barcelona Sports City.
"The built-in signal processing capabilities of MicroN allow us to take advantage of the device's onboard embedders/de-embedders, frame sync, frame store, and a timecode generator," said Xavier Fontoba, Audiovisual Operations Supervisor of Barça Studios. "The Processing App adds color correction in the RGB and YCbCr color spaces, up/down/cross-conversion, and two multiviewers — all of which streamline our workflows and eliminate single-purpose devices."
For control and operation, Barça Studios uses Riedel's MediorWorks software on its corporate network. For authorized users, 2300-Series SmartPanels loaded with the MediorNet Control App allow routing of signals directly from the panel.
"Ensuring total reliability and flexibility were the biggest challenges of this project," said Adrián Lorenzo, System Consultant for Southern Europe at Riedel. "With MediorNet we were able to deliver the perfect solution, providing the essential redundancies that the client required for their critical live TV and sports production environment."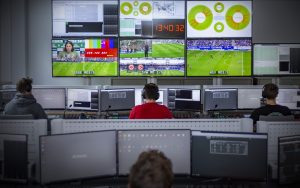 Germany's DFL
For the 2019/20 season, the Riedel Bolero S referee communications system will be used in all 306 2nd Bundesliga games and in the final 15 DFB Cup matches. As a result, league referees can experience all of the benefits that the 1st Bundesliga referees have already been enjoying for more than a year, including high-transmission security, significantly improved voice and sound quality, and guaranteed quality assurance from the Riedel Remote Operations Center (ROC) in Wuppertal. The ROC further expanded its capacity and equipment at the start of this season in order to provide sufficient space for the rapid expansion in remote management services.
The Bolero S wireless intercom system, with remotely monitored VOX voice activation, was developed by Riedel's Managed Sports Services division in close cooperation with experts from the DFL (Deutsche Fußball Liga) and DFB (Deutscher Fußball-Bund). The solution enables superior communication between referees, assistants on the pitch, and video assistants in the Video Assist Center (VAC) in Cologne. From the ROC in Wuppertal, Riedel's operators remotely control, configure, and calibrate all system components in real time, ensuring maximum security and optimum sound quality.
"After the successful premiere in the Bundesliga last season, it quickly became clear that we would also be using the Riedel solution in the 2nd Bundesliga and for the DFB Cup," said Ansgar Schwenken, DFL Director Football Affairs & Fans. "Riedel's tailor-made technologies and comprehensive system management from the ROC in Wuppertal have considerably enhanced both the referee comms and the integration of the video assistant. The cooperation between the DFL and Riedel is a perfect example of how innovative technology and the emotion inherent in football can be perfectly harmonized."
With the introduction of the Bolero S systems in the 2nd Bundesliga, the 18 2nd league stadiums are now equipped with the appropriate Artist and Bolero hardware, and the Riedel support capabilities in the ROC have been raised to an entirely new level. The ROC now offers space for 12 audio specialists who can monitor up to 10 matches simultaneously on any given Bundesliga Saturday.
For the improved room concept, Riedel relied on the processing power of the new RSP-1232HL SmartPanel, whose user-friendly interface enables the Riedel team to optimize their workflows. The ROC operators benefit from the patented Hybrid Lever Keys and the phase-accurate stereo loudspeakers of the highly customizable panel. In addition to 12 RSP-1232HL SmartPanels, 12 RCP-1028 panels, and six RCP-1128 panels, the team also uses 12 2300-Series SmartPanels equipped with the MediorNet Control App.
"With the MediorNet Control App we can access the video signals from the Cologne VAC from here and distribute the live images to our screens. At the same time, we can quickly reconfigure the panels to customize each monitoring position to the operator's needs," said Carsten Voßkühler, Project Manager at Riedel Communications. "With panels from the 1000-, 1100-, 2300-, and 1200-Series, we have absolute flexibility for any scenario."
The new ROC also sets new reliability standards because every component is completely redundant. The core technology is located in the Riedel data center, which operates independently thanks to a backup power generator. Even in the event of a major power failure, the real-time monitoring of the football matches remains completely unaffected.
"For us, the future of sports production lies in managed sports services and remote management. The ROC significantly reduces the personnel and logistical production effort for us and our partners, while enabling unrestricted transmission security and the highest service quality," said Voßkühler. "The incredible response to our cooperation with the DFL empowers us to apply the concept of central control management to other applications. With our expanded ROC, we are already prepared for future projects."
ESL One Cologne and PUBG Mobile Club Open
Two recently completed, high-profile esports tournaments in Germany — ESL One Cologne and the PUBG Mobile Club Open (PMCO) in Berlin — relied on Riedel's MediorNet real-time network, Artist digital matrix intercom, and Bolero wireless intercom solutions for sophisticated and reliable signal transport and communications.
Before a capacity crowd at Cologne's Lanxess Arena on July 8, Team Liquid defeated Team Vitality in the championship round of the ESL One Cologne tournament and completed the prestigious Intel Grand Slam in a record time of 63 days, taking home a total of $1,115,000 in prize money. ESL was able to leverage an Artist-based intercom infrastructure that had been recently installed as part of a technical overhaul of the Lanxess Arena. In addition, NEP relied on a Riedel Artist frame with 11 Desktop Control Panels deployed to in-game directors and front-of-house engineers to support the broadcast.
ESL tournament organizers used Riedel-provided 2-way radios that seamlessly linked to the intercom backbone via Riedel RiFace interfaces to enable fast and reliable comms between crews in the Lanxess Arena and the nearby Hyatt Regency Cologne hotel, which hosted the group stages. In addition, ESL gaming experts and commentators used Riedel keypanels via the Artist system to provide color commentary for viewers. NEP deployed numerous Riedel MediorNet MicroN high-density media distribution network devices and MediorNet Compact Pro stageboxes to facilitate signal distribution between the production van, in-game director, front of house, stage/backstage, partner lounges, the expert studio, and the commentary set.
On July 28, the PMCO Spring Split Global Finals wrapped up at the Estrel Congress Center in Berlin with Top Esports winning the championship match. The event was the year's first global esports competition for the mobile Battle Royale game, and 27 teams from across the globe qualified for the prelims and finals. Organizers deployed an Artist mainframe with 30 SmartPanels and 30 Bolero beltpacks to facilitate crew communications for this marquee esports tournament, which was streamed in 10 languages via YouTube, Twitch, and other streaming platforms.
"Our advanced signal transport and communications solutions are perfectly suited to the rapidly emerging and exciting world of esports. Like other large arena-based sports events, esports tournaments require clear and reliable communications between all members of the production team," said Niklas Rautenberg, Account Manager at Riedel Communications. "We're honored that our Artist, MediorNet, and Bolero systems played such a key role in the ESL Grand Slam and PMCO events, two of the most important tournaments on the global esports calendar."
Austria's Uppercut Broadcast
Uppercut Broadcast GmbH, a division of the Austria-based Uppercut Group, has adopted Riedel's Artist digital matrix intercom and MediorNet real-time signal transport, processing, and routing technology for its two new OB trucks. These two smaller-footprint trucks are capable of covering events that larger OB trucks simply could not access. By leveraging the scalability of Riedel technology, they can operate independently or combined, connected with a single fiber optic cable.
The larger of the two OB trucks is a 12-ton vehicle that was launched in April of 2018. It has the capacity to handle productions with up to eight cameras. Its state-of-the-art communications equipment includes an Artist-32 node with 12 panels, a Performer digital partyline, and a RiFace radio interface. Video transport, processing, and routing are accomplished by two MediorNet MicroN software-defined media devices. Replacing a traditional monolithic router, MicroN is able to reduce system complexity and weight by allowing I/O to be placed where it is needed, while the use of Apps allows users to load exactly the capabilities they need. Uppercut Broadcast employs the MultiViewer and Control Apps to simplify its workflows and avoid single-purpose boxes.
Typically deployed for four-camera productions, the smaller truck is a 3.5-ton van with an Artist-32 node and Performer digital partyline, plus two MicroN devices in similar configuration.
"The real elegance of our solution is that we can combine these two trucks by connecting them with a single Lemo hybrid fiber optic cable," said Daniel Brandstätter, CEO and Founder of Uppercut Broadcast. "We chose this cable type because it is a broadcast- and SMPTE-standardized assembly that we also use for our cameras and that many venues have pre-installed."
Uppercut Group is a family-run group of companies that provides services ranging from marketing to advanced media throughout Austria and the surrounding countries. Events covered by Uppercut Broadcast include Golden League Volleyball, Champions League Volleyball, and Field Hockey tournaments, as well as Opera in Erl and ORF 3's Politics Live.
"Uppercut is a great example of how MediorNet and the concept of decentralized routing can scale down to handle events of all sizes. It's not just for the Eurovision Song Contest," said Jürgen Diniz-Malleck, General Manager, CEE at Riedel Communications. "Uppercut gets all of the routing capacity they need, plus integrated signal processing, and they can control it all from the same panels that they communicate over."