ITV taps Miranda ahead of Red Button launch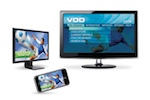 UK: When ITV begins Red Button interactive video services towards the end of the year, it will also streamline its distribution chain using an integrated IT-based content delivery system based on Miranda's iTX.
Paul Dale, Chief Technology Officer, ITV, said: "We are delighted to have entered an agreement with Miranda Technologies to support a core part of ITV's technology platform."
All the key playout processes will be simplified, using a tight integration of Miranda's systems, including NVISION routing, Kaleido multi-viewers, and iControl Playout Manager facility monitoring.
With this high level of facility integration, a single ITV operator will be able to monitor the entire content delivery chain, and quickly respond to any faults in the system to improve the Quality of Service, using advanced signal path and facility monitoring.
Miranda's iTX system uses enterprise grade IT servers and software to unify and streamline ingest, media management, schedule management, asset management, automation, signal processing, master control, graphics and multi-format playout.
The IT-based architecture reduces the complexity of facilities and simplifies maintenance. By handling all stages of the production and delivery process under a consistent user environment, iTX also delivers unprecedented increases in efficiency, scalability and speed of response for media businesses.