Rivella AG uses Riedel at the Ski Worldcup in Adelboden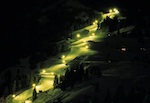 Switzerland: A system comprised of MediorNet, Artist and RockNet equipment from Riedel Communications was used to distribute video, audio and communication signals for the renowned alpine skiing competition at the Swiss "Chuenisbärgli" in Adelboden.
Rivella AG was the on-site technical partner for the event. The World Cup race in the Bernese Oberland, a major event in the FIS skiing tour, is one of the most difficult giant slalom courses in the world. The demands of the event in Adelboden included establishing a reliable communications infrastructure as well providing a fail-safe distribution of the event's video and audio signals.
For the first time Rivella used a MediorNet system to distribute live video signals on-site and to the video wall at the finish. "In the past we always connected the video wall and the main PA via copper cabling. Due to larger distances, the cabling got more and more complicated and was prone to failures. Thanks to MediorNet we were able to distribute all video and audio signals without any problems. I was especially surprised how easy it was to set up a complicated system such as MediorNet. The whole system was installed and running within a short period of time," said Mark Sturzenegger, Events/Sports Manager at Rivella AG.
To establish a communications infrastructure for the event Rivella used two Artist 64 Digital Matrix Intercom mainframes; one Artist 64 was installed at the "Chuenisbärgli" and the other at the town square where the award ceremony was held. Rivella also used Artist CCP-1116 commentary control panels at the finish. The Artist CCP-1116 combines Artist intercom functionality with two commentator units in a single module, providing commentator audio in broadcast quality plus direct integration into the Artist intercom infrastructure. Two Riedel RiFace universal radio interface integrated the radio network into the Artist intercom system.
To distribute the event's audio signals to the live PA system, Rivella used a versatile RockNet installation. The digital audio network connected the finish area with the town square. In addition to the CAT5 infrastructure, RockNet fibre interfaces helped bridge the large distances between the individual RockNet devices.