Sony sets out NAB stall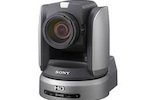 Sony has broken the seal on a few NAB launches, with new entries of interest in the sports field in the categories of slo mo camcorders, remote production and a video network unit that can transfer multiple HD image signals, audio signals and control signals over a single network cable.
The NEX-FS700 Full-HD Super Slow Motion camcorder is the latest in Sony's line-up of NXCAM interchangeable E-mount camcorders. The new Super 35mm model is designed for high-speed shooting and is capable of capturing footage at up to 960 frames per second. The camcorder also features a range of capabilities such as 3G HD-SDI output and built-in ND filters. Additionally, it also offers several creative options, shooting styles and enhanced ergonomics – all based on customer feedback – to deliver a flexible production tool that fits seamlessly into a variety of shooting applications.
"The NEX-FS700 opens the door to a new world of creative shooting," said Bill Drummond, Strategic Marketing Manager, Sony Europe. "You can record beautiful high speed Full-HD movies with the freedom of choosing interchangeable lenses. The NEX-FS700, with its super slow motion mode, is ideal for pop promos, commercials and documentaries as well as sports and a variety of events productions."
The camcorder delivers Full-HD quality images at 120 and 240 frames per second in an 8 or 16 seconds burst mode respectively. The NEX-FS700's high sensitivity and low noise shooting capability makes super slow motion shooting more convenient without additional equipment.  480 fps and 960 fps rates at reduced resolution are available for faster frame rate recording.
The manufacturer is also planning a future firmware upgrade that will enable the NEX-FS700 to output 4K bit-stream data over 3G HD-SDI when used with an optional Sony 4K recorder.
Elsewhere, the new BRC-H900 remote camera sets the bar high with the three ½ type CMOS sensors, each with an effective pixel count of 2.07MP (x3) to deliver stunning picture detail. With powerful 14x optical zoom and an innovative image stabilization feature, the BRC-H900 meets the demands of capturing superb quality footage in full-HD resolution even in large venues such as auditoriums, large meeting rooms, studios, concert halls and sporting arenas.
The ultra-sensitivity of F10 and remarkable illumination of 4 lux will be a huge advantage in low light situations and can utilize its innovative technology to compensate in shooting environments with extreme variable lighting – such as outdoor shoots as well as concerts where lighting situations are never constant.
And as part of Sony's continuing effort to bring IP technology into the world of video production, the company is introing the NXL-IP55, a video network unit that can transfer multiple HD image signals, audio signals and control signals over a single network cable. These units may be used, for example, when filming in a theatre or stadium, whereby images are transmitted simultaneously from multiple cameras with as minimal delay time as possible. The NXL-IP55 can keep latency to within a single field while sending data streams from multiple cameras over the network cable.
Live multi-camera HD production typically requires image transmission through coaxial cables that are compliant with the serial digital interface (HD-SDI), together with numerous other cables to carry syncing and control signals. However, with the NXL-IP55, only a single standard network is required to interconnect multiple cameras, resulting in simpler setup configurations and greater operational efficiency. As the NXL-IP55 supports bi-directional IP image transfer, any output switches made in the AV room propagate back to the stage-side NXL-IP55 with ultra-low delay, making high-quality large-screen projection possible.
The NXL-IP55 also works in harmony with the IP transmission features built into Sony's new HDC-2000 broadcast camera. An HDC-2000 setup consists of a camera head and a camera control unit (CCU), connected by a Gbit network transmission line. By connecting an NXL-IP55 unit to each line, it becomes possible to transmit image signals from as many as three cameras. This in turn enables transmission of up to four HD images over a single composite fibre-optic cable, running between the separate cameras and CCUs. These capabilities can significantly enhance dynamic scene shooting when transmitting from sports and stage events.