Timeline opts for Custom Consoles desks for Ealing Broadcast Centre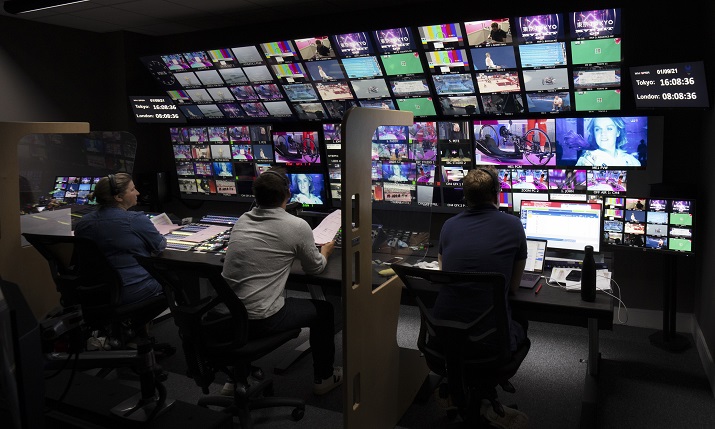 UK-based technical services provider Timeline has chosen eight Custom Consoles Module-R desks for its recently opened Ealing Broadcast Centre.
The desks have been installed in the newly completed Production Control Rooms 1.1, 1.2, 1.3 and Sound Control Room 1.2.
"Custom Consoles technical furniture has a well-deserved reputation for robust build quality and ergonomic excellence," says Timeline chief executive Daniel McDonnell.
"Back in mid 2021, we specified desks from the Module-R series for a video production gallery, MPX suite and audio control studio. Module-R gives us the freedom to select the design parameters we need from a standard set of modules.
"This is price-efficient and allows relatively fast delivery. We also appreciate the ability to modify or expand the desks to match future workflow. Module-R was the logical choice for the three new PCRs and for SCR 2.
"Once again, Custom Consoles were able to install promptly and effectively. All eight desks in this latest project include downward-facing LEDs located under the worktops. These provide eye-friendly ambient lighting in otherwise dark control room environments without creating reflections in or near the various monitor screens."
Largest of the eight desks is the 5.4-metre-wide PCR 1 front desk which spans 10 bays and is configured for use by four operators. A video production switcher is embedded in the desktop across bays 5-7, supplemented by 3U-high sloping-front equipment pods positioned at the rear of the desktop above bays 1, 3, 8 and 10.
Located behind this is an eight-bay inline three-operator design with 3U-high equipment pods above bays 2, 4, 6 and 8. Rearmost is a seven-bay wide three-operator desk of almost identical design, again with a 3U-high sloping-front equipment bay for each operator.
PCR 2 is equipped with two desks in a similar arrangement to PCR 1. The forward desk spans eight bays with a video production switcher across bays 4-6 plus four equipment pods. In parallel behind this is a six-bay two-operator desk with a trio of 3U-high equipment pods.
For PCR 3, Timeline specified an eight-bay three-operator multi-role desk with a video production switcher spanning bays 3-5 plus an audio production mixer across bays 6-7. The eighth bay is a 13U high floor-to-desktop equipment cabinet supplemented by one of the desk's two desktop-height 3U sloping-front equipment pods.
A shared resource for the three production control rooms is a 10-bay inline MPX desk which is used for EVS replay. Designed for use by up to four operators, this desk is equipped with 10 3U-high sloping-front equipment pods.
The sound control room, SCR 2, is equipped with a single-operator desk comprising left and right 13U-high equipment cabinets coupled by a dual-bay bridge which supports an audio production mixer. 3U-high sloping-front equipment pods are located above bays 1 and 4.