A grand Première: SVG France kicks off with successful Studio Gabriel event
SVG Europe officially launched SVG France under the spotlights of the iconic Studio Gabriel on 16 November, with the support of two major partners, Gravity Media and AMP Visual TV.
There was no Michel Drucker's red couch, often the symbol of the place, but the cast was high-flying nonetheless. A few streets away from the Champs-Elysées, 100 participants took part in The French Première which marked the arrival in France of SVG Europe.
Joe Hosken, general manager of SVG Europe, said at the event: "We have been in business for 15 years in the US and eight years in Europe. After England, Italy, Germany and Spain, it was time to come to France."
Taking the helm of SVG France is Lise Cosimi, head of SVG France and external head of SVG Europe. She said: "There is no communication on broadcasting and sports multimedia in France. With SVG, we have the opportunity to have the reference in this field. My ambition is to federate all the energies of this universe. I invite this community to join SVG France for our next events."
The two partners who made the evening possible were Gravity Media and AMP Visual TV. Gilles Sallé, founder at AMP in 1986 and today CEO and majority shareholder, used the occasion to confirm to the audience the acquisition of Euromedia's mobile video business. 
He also confirmed how much the launch of SVG France was needed: "The community federated by SVG is important," he said. "France is the second-largest TV market in Europe, and certainly one of the countries where TV is among the best produced in the world. The work we all do on major world and French sporting events is a reference. So having an SVG Group entity in France, which allows all the actors who make this television to meet without having to go to London or elsewhere, bodes well for a resounding success."
After the speeches and announcements, the first members of SVG France were able to exchange ideas and network.
Here Hosken reiterated his pan-European message: "We want to be strong in all European markets and, for that, we have to establish ourselves in France. As in other countries, our ambition is to organise events which will be places where professionals can meet, exchange, share networks and skills, but also work on case studies that we are putting forward. We have already planned eight events in Europe in 2022. Each of our members is fed with a stream of content that concerns them directly."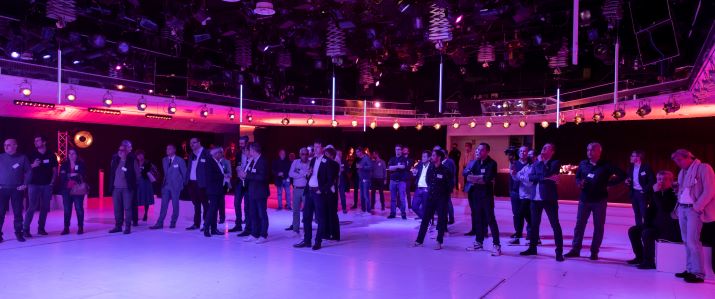 Cosimi added: "I am already working specifically on a second event that will take place by the summer of 2022. And, because it is important to me, I hope that many French women will join us, because we are still far from parity. We also want to help the younger generation to join an industry that is undergoing profound change, to share the job offers available in advance and to be the meeting point for your expertise and ideas."
Usually at Studio Gabriel, we say 'See you Sunday', but this time the audience clearly opted for a 'See you in 2022′!