Access All Areas: How (and why) Sky Sports took viewers 'behind the scenes' on the EFL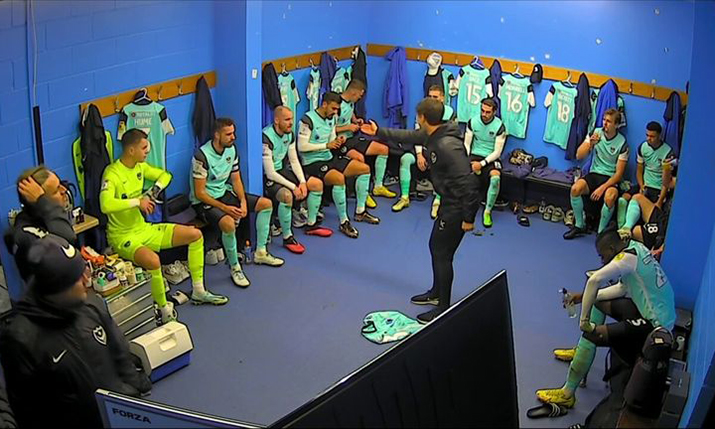 Sunday's English Football League (EFL) League 1 match between Wycombe Wanderers and Portsmouth saw two teams with promotion ambitions go head to head in front of the live TV cameras on Sky Sports. The home team won the game 2-0 but the match was perhaps as noteworthy for the way it was covered by the host broadcaster as it was for the result.
Rather than just do its usual presentation and match coverage, Sky Sports initially named the occasion the 'EFL Innovation Game' before renaming it to 'EFL Access All Areas'. Irrespective of its moniker, the purpose was the same: to try out a host of televisual enhancements that provide viewers with new insights and things they hadn't seen before and, in turn, look at ways to further improve the broadcaster's football output.
The trial features included on-pitch audio of players talking during the game, footage from the team changing rooms, and club personnel performing co-commentary duties.
The respective team managers, Danny Cowley of Portsmouth and Wycombe's Gareth Ainsworth, were also interviewed during the match, and even the referees' pre-match pep talk was captured (see below).
Ever wondered what the match officials say to both managers before the match? 🧐

Wycombe's game against Portsmouth today will be Sky Sports' first-ever 'EFL Access All Areas' with enhanced coverage throughout the game 🎥 pic.twitter.com/DFhgERdQMG

— Sky Sports Football (@SkyFootball) December 4, 2022
Speaking to SVG Europe ahead of the game, Sean Boyle, Sky Sports Football League senior producer, explained how 'EFL Access All Areas' came about.
"A couple of months ago, I was looking ahead to the World Cup and we were obviously aware that we were still going to be showing League 1 and 2 games while the tournament was on. It's such a crowded marketplace for football so I was fretting about viewing figures. So I thought, rather than seeing it as a negative can we try and do something different while the World Cup is on to make this a real positive rather than just another game that might get lost."
Interviews with football managers before and after matches are commonplace. Speaking to them during the game, is not.
"The way that football has been covered hasn't really changed for a long time so we've been asking: is there anything that we can do to add to that? Hearing insight from the managers who are making decisions in real-time was right up on the list," continues Boyle.
"Gareth Ainsworth and Danny Cowley are particularly Sky-friendly. They've done a lot of work with us and they're very media savvy. They understand the bigger picture. In many ways, they were the perfect kind of characters to try this out on.
"It's difficult for them because they're not going to give away their tactical game plan, but at the same time, you might get some unique insight that you wouldn't get from anyone else. The commentators can speculate on why they might have changed [team formation]. But if you can hear it from the horse's mouth, then that's surely going to be much better."
During the game, the two bosses were treated slightly differently, allowing each to feel comfortable with what is a new experience. Footage recorded without sound from the changing room was shown as a replay over the chat to illustrate in part what they were saying.
Importantly, the plan was not to throw to those interviews at heated moments. Passions can run high in professional sport and a furious manager who has seen a decision not go his way is not what Sky wanted for this experiment.
"I wanted to speak to both during the game but Gareth Ainsworth is more comfortable doing it at half time and Danny Cowley's happy to do it in the game. It's a balancing act between getting what we want and not damaging any future hopes. We don't them to look back on this and be reticent about doing it again."
The changing room footage was captured using Marshall minicams that were hard-wired into the OB truck. The agreement with the EFL and the clubs was that there would be no sound and Sky wouldn't take any of the feed live, reveals Boyle.
"This means that the teams and the managers can do whatever they want to do in the dressing room, which we totally respect because we understand the sanctity of the dressing room is a big thing in professional sport.
"For us to be invited in, comes with responsibility. If you can see one of the managers really animated at half-time getting into the team, I think that's great. That is really interesting to see. I think from their perspective, it probably makes [the managers] look good as well. If you're a fan of one of the teams. And you've had a bad first half and you see the manager giving them an absolute rollicking. You would probably be quite happy with that."
"The whole idea is peeling back the curtain and giving [viewers] some sort of insight into what goes on beyond what they may have normally seen."
Where sound WAS captured, was pitchside. Audio Technica mics were used to pick up the sounds of the game allowing viewers to hear what the players were saying. An additional operator and an extra AP were required for this. The sound was not played out live.
"We've got one mic and an associated camera," says Boyle. "The plan is to follow the captain on each side, on each half, and then turn it around as a replay. Or build a wrap of it.
"The mic itself is quite small," he continues. "An operator sits pitchside with it and they can aim it at various points. I'm told they use it on horse racing because it's very good at picking up individual sounds for the horses and it can block out other noise. So we thought it might be perfect for this. But again, it's a bit of an experiment.
"We have tried something similar before but with parabolic mics. We tried them out at an England game at Wembley and it was very loud. We had 80,000 people in there and it didn't quite work. With [less fans], the background noise won't be as loud."
The production team has the option to track other players, not just the captains, he adds.
"[Irrespective of who we follow] I think the actual access itself is interesting. The whole idea is peeling back the curtain and giving [viewers] some sort of insight into what goes on beyond what they may have normally seen. And I think any conversations that you pick up on the pitch that are clean will be interesting."
Current players from both teams also did stints as co-commentators, something that is usually the preserve of an individual club's TV channel, radio or digital coverage.
"Our commentators and co-commentators do all their prep and their research. But who better to get some insight about a certain player from than one of his teammates who you've got next sitting to you!"
The reaction to the new features certainly seemed to go down well on social media. But evaluating how successful these innovations were will not just come down to what the audience thought or how the producers feel. The reaction from the clubs and the league is also crucial, says Boyle.
"We will ask: have we achieved what we set out to achieve? Which is, to peel back the curtain, add some new insight and show viewers things they hadn't seen before. So that would be one thing. I think the other way of measuring success, and this is a longer-term thing, is with getting access in general.
"That's where the balance comes in between making it interesting, informative and entertaining. But also, not stitching someone up and potentially jeopardising some of these things for the future."
"Wycombe and Portsmouth are very amenable and friendly clubs. We're hoping that we can get shots in the dressing room, we hear from managers in the game, we hear sounds of players talking on the pitch, and nothing bad happens. No one's upset. So the reception from these clubs – and from other clubs – to this kind of thing going forward [will be important if we are to do it again]."
Whether the 'Access All Areas' game will become a regular thing remains to be seen, he says. And internally it hasn't been discussed in detail. But the ultimate goal, perhaps unsurprisingly, is for this to be a testbed for new ideas, Boyle concludes.
"I really hope it does become that. Obviously, it's much better to test this out on Wycombe v Portsmouth. The two clubs are very Sky friendly and amenable. You couldn't just dive straight in on Manchester United versus Liverpool with some of these things because everything needs to be agreed upon and signed off.
"Again, that's where the balance comes in between making it interesting, informative and entertaining. But also, not stitching someone up and potentially jeopardising some of these things for the future."
'EFL All Access Areas' Wycombe Wanderers versus Portsmouth from Adams Park was broadcast live on Sunday 4 December 2022 on Sky Sports Main Event and Sky Sports Football.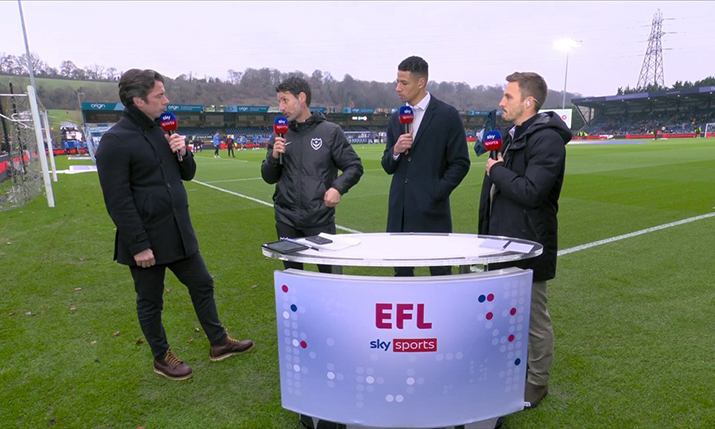 ---