AE Live delivers graphics solutions remotely for The Hundred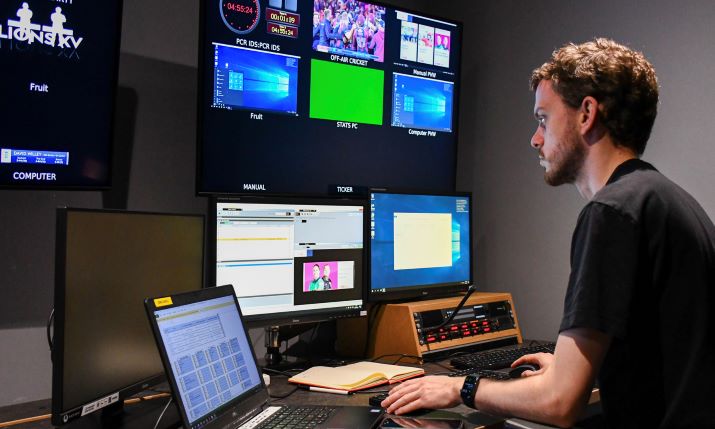 AE Live is providing remote match and presentation graphics solutions for Sky Sports' coverage of the new England and Wales Cricket Board (ECB)-owned and organised cricket tournament The Hundred.
Using purpose-built pods, which are on-net with major connectivity partners, AE is able to deliver its services to any well-connected venue or production hub. For The Hundred, AE will be remotely connected to the Sky Sports' studios in Osterley where Sky Sports' main production crew will be located.
The set-up of the pods replicates the feel of a production room but with the added benefit of removing the visual or acoustic distractions of a traditional open plan working environment. The pods are fully equipped with monitoring, including live camera feeds from venues, and connected talkback with the entire production crew.
From the pods, AE operators will be delivering both match and presentation graphics for Sky Sports' coverage of the inaugural event from newly-built graphics suites based at the AE Live Campus. There will also be an AE presence at the eight match venues with an AE Scorer collecting match data and an AE Operator, in conjunction with Sky operators, delivering a range of data-driven augmented reality content throughout the competition to complement Sky's Avatars.
Dave Gill, chief technology officer at AE, said: "This is a pivotal moment as our new operator pods are being used on this exciting new format of the game. Our pods have already covered some individual live productions as we have adapted to the changing COVID situation, but this will be the first major tournament to be exclusively delivered from the pods.
"We know the future is remote but there is no one-size-fits-all model, so we have designed these pods, as well as the supporting infrastructure, to be as flexible as possible and able to support a range of different remote workflow models. It's been very rewarding to work so closely and collaboratively with the Sky technical teams to achieve the new architecture and workflows required to deliver such an exciting summer of cricket. Connectivity is key to any remote workflow so being on-net to high availability media networks is an essential component of our remote solutions."
Nick Baily, Chief Executive Officer at AE, also commented, "The R&D and engineering teams at AE Live used the sporting hiatus last year as an opportunity to further develop our flexible remote workflows for our clients. As well as the creation of our Graphics Operation Centre in Hemel Hempstead, the teams worked hard to ensure the entire suite of AE Live applications could work in the virtual environment in terms of stats capture, data management and graphics playout.
"The Hundred is a great example of how the business has continued to innovate as the industry changes. Sky Sports Cricket has been a client of AE Live for 28 years and this is the latest in a series of collaborative innovations during that long relationship."
To find out more about Sky Sports' coverage of The Hundred visit: https://www.svgeurope.org/blog/headlines/the-hundred-sky-sports-and-the-ecb-turn-to-gamification-as-cricket-is-freshened-up-for-a-new-audience/
The Hundred continues until Sunday 21 August in stadiums across England and Wales.