And it's live! Sky Sports to bolster Premier League coverage with more AR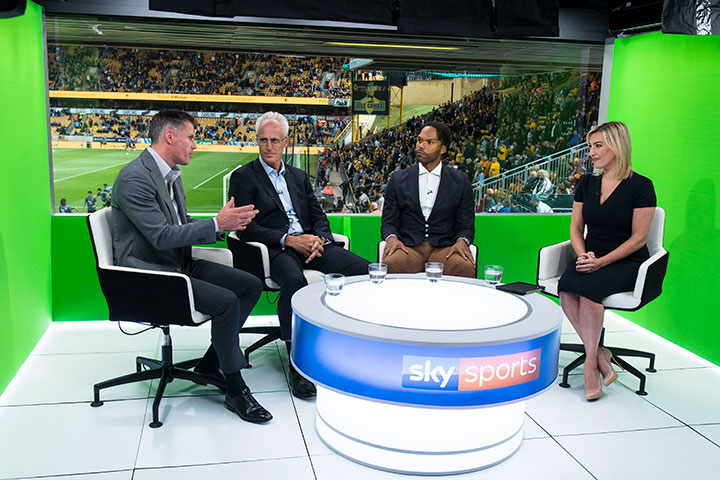 Sky Sports will introduce more augmented reality (AR) elements to its live English Premier League (EPL) football coverage in the coming months after adding a mobile AR studio to its production armoury.
From the start of the 2018-19 season, the Sky Sports Football team have used a green screen set, camera tracking and AR graphics for match presentation on its Super Sunday live double-header and on its Saturday lunchtime live matches.
The initial soft launch of the AR studio has allowed for a virtual expansion of the physical presentation space inside the 20 EPL grounds (see below), providing scale and a fresh studio 'look', and ensuring a consistency across Sky Sports' live match presentation.
"We quickly found out that there are good reasons why nobody has done this before!"
But, as it has only scratched the surface of what is possible with AR, Sky Sports will look to gradually introduce more elements as the season goes on.
"We want it to be a lot more dynamic and we want it to have a wow factor," Sky Sports head of football Gary Hughes told SVG Europe.
"It's in a reasonable place now. But I feel it's got a hell of a lot more capacity and capability so we're trying to constantly evolve it. We're confident that as the season progresses we'll be able to get more out of it."
This could manifest itself in various ways but one of the options is to display AR team formations using player avatars.
"We're potentially looking at displaying formations on the floor of the studio, having them appear right in front of the pundits," said Hughes.
"We can potentially get the pundits to move players around too. We will also look to do more analysis through the set's screens, adding more graphics that help to tell the story of the game.
"These are all the things that we've been told it can potentially do and we're working our way through it. The basics are already there but the big 'wow' hasn't quite hit the viewers' screens yet."
The system
Sky Sports is not new to AR having used it for Ryder Cup golf coverage and on presentation elements during its Monday Night Football (MNF) programme which also features a live EPL game.
MNF takes place in a controlled studio environment in Osterley at Sky's HQ.
This latest project is different as it requires the AR studio to be mobile and for it to be rigged and de-rigged each week, on location, inside the variously shaped 5m by 5m presentation boxes that are provided at each football ground.
Jason Landau, Sky Sports' design director, believes having an AR set on location improves the output "aesthetically, editorially and analytically," describing it as a brave new approach.
He said: "To deliver it, we built a green screen studio with a real window which is our view. The only other things that are real are the floor, desk, chairs and people. Getting it working as part of the OB infrastructure required close and effective collaboration across the business and with our OB partner NEP and Film & TV Services [the power and lighting supplier]."
"It's in a reasonable place now. But I feel it's got a hell of a lot more capacity and capability so we're trying to constantly evolve it.
Camera tracking for the AR studio is done using Stype's RedSpy with keying happening on the Blackmagic Design Ultimatte 12. Environment rendering duties are performed by Epic's Unreal 4 games engine while editorial graphics are produced using Vizrt and an NCam plugin.
'This gave us the finish we wanted on the model, whilst offering the functionality and familiarity needed by the operators," added Landau.
The studio took 12 weeks to devise, deliver and deploy with integration carried out by both Sky staff and the technology suppliers.
All 20 EPL ground were surveyed as part of the planning process and Sky Sports has allowed for additional rigging time and increased manpower to make it possible.
Two sets have been built to allow the AR studio to be used on both live EPL programmes across a weekend.
Sky Sports innovation manager Mike Ruddell said the project required "coordination and a high degree of collaboration".
"[It] was made harder due to the lack of physical space [in the presentation boxes] and having to move the entire setup across the UK to a different venue with a different set of challenges twice each week. We quickly found out that there are good reasons why nobody has done this before!
"From inception, we understood that the timescale meant we would have to develop solutions in parallel using rapid iterations of the testing cycle. Fortunately, the technologies we considered are mature and understood. The innovation was to seamlessly integrate these in a way never achieved before."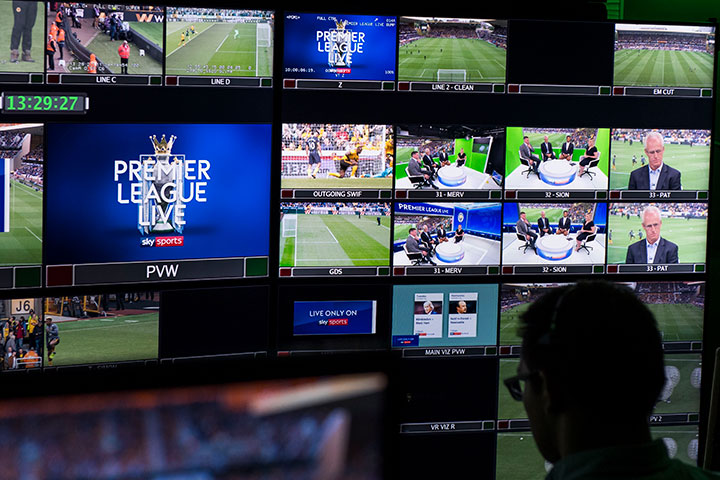 The reaction
Hughes is very honest about the first few live matches, revealing that the AR didn't quite meet his, or Sky's, exacting standards.
"We were keen to get it up and running for week one of the PL season," he said.
"We could easily have decided that it's not quite there and held it over until the beginning of our next TV deal which starts next season. But we're not like that at Sky. We want to always push forward.
"If you compare what we launched with to what we have now, it has fundamentally improved. I'll hold my hands up and say that we were a little bit disappointed in how it looked in week one."
In Hughes' opinion, the set initially looked "very CGI" and "not very real."
This was addressed in weeks two and three by putting additional detail into the set and making it look more like a proper structure.
"That is what you need to do," he continued, praising the work done by everyone from the creative team to the riggers.
"Certainly, in this day and age, with the amount of CGI and video games out there, people can easily tell what is real and what is not. If there is any mystique to it, and people are asking if it is real or not, then I think you've done the right thing with AR."
In addition to Saturday and Sunday live EPL matches, Sky is also using the mobile AR studio for England home games in the UEFA Nations League.
Sky Sports Football's AR studio will be used this weekend (Saturday 3 November) during coverage of Wolverhampton Wanderers vs Tottenham Hotspur, live from Molineux. The game will be shown on the Sky Sports Main Event and Sky Sports Premier League channels.