Basketball World Cup 2019: FIBA Media to add AR, SuperFeed and referee audio to host coverage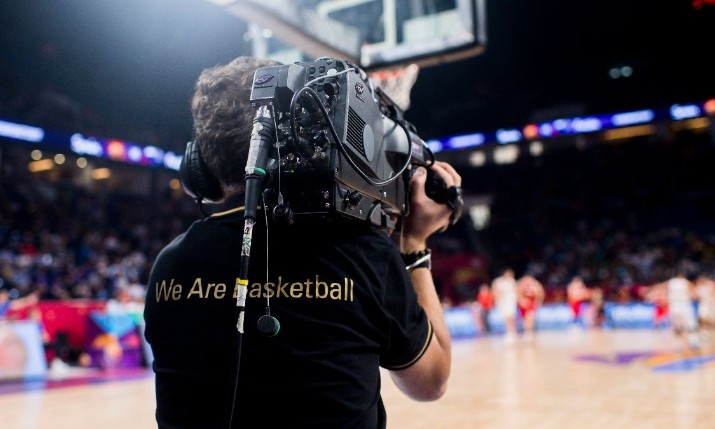 Augmented reality (AR) graphics, referee-audio and a broadcast SuperFeed will all be available as part of FIBA Media's host broadcast of the Basketball World Cup 2019 which will tip-off in China next week.
The live coverage of the 18th iteration of the men's national basketball team finals will feature a number of TV production enhancements, including capturing and relaying audio from the lead referee when reviewing calls, as well as in selected moments during games of the Final Phase.
20 cameras will be used during preliminary round games with 25 cameras from the Quarter-Finals onwards. The live output will be boosted by exclusive content including interviews, slow-motion sequences, replay angles, and highlight reels, clipped and available within an hour of the game.
A daily wrap-up show featuring the very best plays from each gameday will also be available within hours of the last game.
The operation will require eight production teams in total, all managed by FIBA Media, with the help of CCTV, Tencent, Gearhouse and Mediapro.
A broadcast SuperFeed will be made available for the tournament's broadcast partners worldwide and will deliver previously unseen content, Included will be exclusive pre-game and post-game footage, as well as behind the scenes access for every single game.
"This will be the biggest production and distribution operation we have ever done, allowing our partners to use tailor-made and exclusive content."
Additionally, the live feed will be enhanced with 3D AR graphics for the Final games in Beijing.
Discussing the additions, Andreas Zagklis, the secretary-general of FIBA, said: "We are set to experience 92 games of top-level basketball across China in the most anticipated sporting event of the year. This will be the biggest production and distribution operation we have ever done, allowing our partners to use tailor-made and exclusive content. Thanks to these industry-leading innovations fans throughout the world will experience the FIBA Basketball World Cup 2019 like never before".
Extra content produced over the 16 days will be packaged and distributed to both digital and traditional broadcasters for use on all platforms, including social media. This tailor-made content will be distributed to players, National Federations, broadcasters, publishers, and influencers.
Rights partnerships have been agreed with over 60 media broadcasters with at least 160 countries provided with coverage of the event.
FIBA's Livebasketball.tv platform will offer subscription-based coverage. Fans will also be able to follow all the action on FIBA Basketball World Cup channels on Facebook, Twitter, Instagram and YouTube and in China via Weibo and WeChat.
FIBA Media was formed in 2016 through a partnership between DAZN Group (previously Perform Group) and FIBA. The joint venture is a 17-year agreement (2017-2033) which covers various broadcast rights linked to FIBA, including Olympic qualifying tournaments and youth events.
The 2019 FIBA Basketball World Cup in China starts on 31 August