Behind the TX: Bringing QTV's remote production for the Scottish Premiership to life with BT Media & Broadcast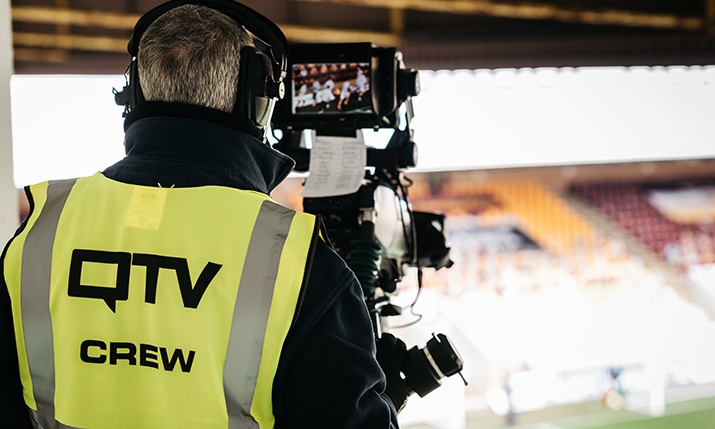 BT Media & Broadcast is providing the network that is allowing Scottish broadcast facilities and production company QTV to provide the Scottish Professional Football League (SPFL) with an innovative new remote production set-up.
QTV's multi-year agreement with the SPFL includes the provision of outside broadcast, production, and distribution services from season 2020-21 onwards. Here, we talk to BT Media & Broadcast's Laura Tressler, head of sales, to find out exactly what the media services company is doing with QTV and its technical partner, ES Broadcast, to enable this project to work.
What has BT Media & Broadcast provided to enable QTV's remote production operation?
Laura Tressler (LT): BT Media & Broadcast enables QTV to deliver remote production by providing services over our TV Outside Broadcast network (TVOB). We offer fibre connectivity to more than 140 sites in the UK and our hybrid fibre-satellite links trucks means we are a flexible partner.
In QTV's case, all the Scottish Premiership Games are on the TVOB network and connected by unmanned cabinets so they can simply plug in and go.
In April 2020, by collaborating with our broadcast customers and partners, we delivered Project Restart; the campaign that got football back on our screens. Delivering this meant we created a solid foundation to build upon and support QTV.
Remote production for QTV means employees are at their studio with vision mixing desks, full vision mixer tops, EVS systems, home mixing consoles and more, all of which must be underpinned by a core high quality and low latency network, which BT provides.
BT Media & Broadcast can support outside broadcasting based on whatever level of equipment and personnel our customers' need; some broadcasters have employees working predominately from home, others like QTV work out of a studio. Camera feeds from a stadium are managed and connected either to our plug and play remotely managed cabinets like in QTV's case, or alternatively to our lines trucks.
Managed visions and data paths are sent from the venue via BT's high capacity, resilient fibre network to the BT Tower, or to our second network monitoring centre. You can also request a backup feed which is sent up to a satellite and downlinked at a location of your choice. Our customers are at the heart of what we do which is why we offer managed remote production, fully managed remote control production and rapidly deployed remote production
How has BT Media & Broadcast innovated on this SPFL project?  
LT: It was a real pleasure to work closely with Jack McGill [CEO at QTV] and the team for this project. Innovation is not only about the technology but also the thought process that we go through before implementation. It's the ability and willingness to try something new.
QTV were one of the first to come forward with such an idea and working with them we were able to minimise risk and bring that innovative thinking to life.
What challenges have you had to overcome to make this project with QTV work?
LT: The challenge faced was to accelerate long term plans to fit such a short space of time, however, this provided an amazing opportunity for innovation and collaboration.
What's also become apparent is that flexibility is the key to innovation. For example, by adopting remote production, QTV broadcasters and production crews can maintain a minimal presence on site and instead remotely manage visions, audio and production from a remote operation centre, either centralised or decentralised. Or they can secure a dedicated data path on our high capacity network back to their studios. We are totally flexible with the operating model, enabling the network to deliver content to QTV's studios.
Contractually we needed to think innovatively. This is the first time we've faced such events in the sporting world and our contracts needed to be able to offer flexibility if another lockdown came or if the technology needed to be tweaked and so we worked with QTV to ensure this was implemented to future proof them.
How does BT Media & Broadcast envisage the future relationship with QTV?
LT: BT M&B's overarching goal is to support QTV's ambitions to remotely produce content for all tiers of sports from domestic to international events. Remote production is the future of broadcasting and we ultimately envision ourselves helping QTV on that journey.
What's more, we've already mentioned flexibility is key to innovation. With the recent announcement of Vena, our world-first, software-defined smart broadcast network, we will work closely with QTV over the coming years to embrace the flexible commercial models Vena offers and start to plan how the orchestration layer can integrate with QTV's workflows and processes to simplify the journey even further.