Boxing gets up off the canvas for COVID-safe comeback on BT Sport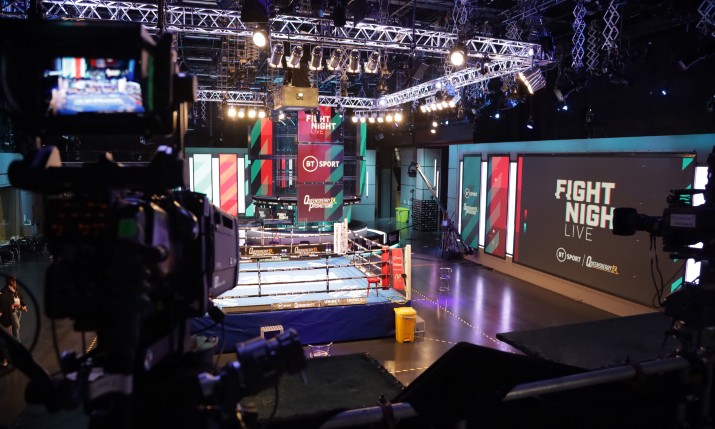 Ahead of this weekend's bout between Joe Joyce and Michael Wallisch, BT Sport chief operating officer Jamie Hindhaugh tells SVG Europe about the extensive work that went into getting live boxing back on the air in the UK.
As boxing comebacks go, it probably doesn't equal George Foreman, who took 10 years off before returning to become a heavyweight champion for the second time at the ripe old age of 45. But BT Sport's return to the ring last week was certainly notable.
More than 100 days had passed since the last UK fight. And we all know why.
When the undercard started on the evening of Friday 10 July, however, ahead of Brad Foster against James Beech fighting for the British and Commonwealth Super-Bantamweight titles, boxing was back, albeit in very different circumstances from how it was last broadcast.
The first of five behind-closed-doors shows promoted by Frank Warren and Queensberry Promotions took place inside BT Sport's studios in Stratford and saw each of the 10 fighters involved isolate for up to four days ahead of the show.
---
Find out more about the isolation bubbles and the preparations for fight night
---
Round 1 – Health and Safety
For the TV coverage, captured in 4K, produced in-house by BT Sport and shown live on BT Sport, the studios are providing a controlled environment which is of huge benefit to the organisers and the production team in their quest to keep everyone safe while also putting on a great show.
"The BT Sport studios are phenomenal," says Hindhaugh, with more than a hint of pride. "And when you're looking to film an event, especially in these current times with social distancing and staff welfare [considerations], then the fact that we're in control of a venue that can support having a full-size boxing ring in it and stage an event, it's a no-brainer."
"We knew it would look good too", he adds.
By using a studio environment rather than a traditional boxing venue, many of the required health and safety elements for the event are already in place.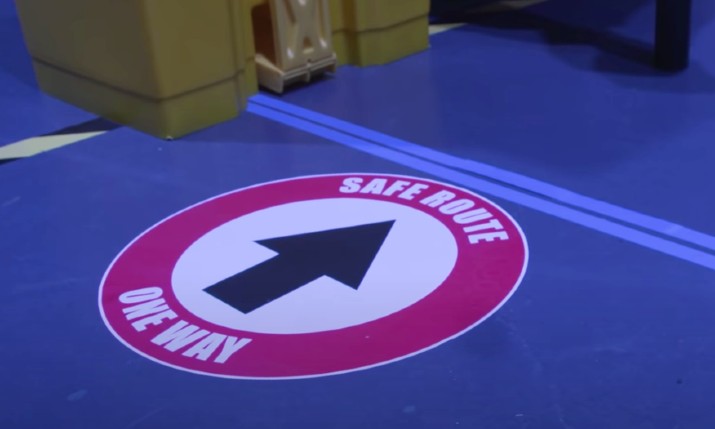 BT Sport's studios have been operating throughout lockdown (to differing levels) which means that the one-way systems are there, as are all the social distancing measures not to mention the remote production options allowing crew and production staff to work from home.
For fight night, the ring is built in Studio 1. The boxers warm-up in Studio 2. And four specially constructed dressing rooms are available so that the boxers can maintain social distancing. The commentary and presentation team operate in a glass-fronted box that overlooks the main production areas.
"It was very clear from day one," continued Hindhaugh, "that the key challenge when doing a contact sport during a time of social distancing is: how do we enable the right number of people to be there to be able to produce the event and manage the numbers?
"Everything was based on two meters social distancing other than the fighters and their bubbles. Even the ring walk was planned to ensure that no one went closer than two meters from anyone in the events team or from the production team."
Between each fight, the ring is cleaned, an activity that was shown on screen for the comeback fights on 10 July. But while the production team did not try to hide the fact that these precautions were in place, and the commentators made reference to them, they were careful not to make too much of a big deal about it.
"It was a combination of a lot of planning, a lot of very tight logistics, but also being very open and blatant – we were happy for people to see the ring being cleaned," says Hindhaugh.
"We tried not to mention it every other phrase though. Audiences get it and we don't need to keep reminding them. But it is important that people know that we are behaving properly and responsibly and working to the same rules as everyone else."
Round 2 – Coverage style
There's been plenty of debate and discussion about enhancing live sports coverage when it is taking place behind-closed-doors. Augmented audio has been used to great effect on football coverage, for example.
For the boxing, however, BT Sport took a different approach. Instead of simulating the crowd, they tried to make the coverage more intimate.
"We sat down with the production team and asked: what do we do for boxing?" says Hindhaugh. "The easy answer would have been to say, 'well, that [enhanced audio] worked in the Premier League let's look at it for boxing. We had a really grown-up conversation about it and thought, actually, with a full-size boxing ring in the studio, trying to get fans into a fan park or a fan video wall is going to be tough. Enhanced sound, you could do it. But it was the production team who took the lead on this and I absolutely support it."
"There are very few people who can be part of the inner circle and take their seats in the front row of a boxing event. And I think [our coverage] gave you a flavour of the sound and the feel of being that close."
"You could hear the punches landing. You could hear the shouts coming from the corner. We made a conscious decision to [accentuate that]. There are very few people who can be part of the inner circle and take their seats in the front row of a boxing event. And I think [our coverage] gave you a flavour of the sound and the feel of being that close. And I think it worked really well actually."
While boxing fans at home were brought closer to the action, the production team were careful not to expose those viewers to anything that would have been inappropriate for TV.
"Obviously, one of the key considerations was where the sound guys were located and where the microphones are," adds Hindhaugh. "You always have the issue of compliance in the back of your head. You've got to be conscious that in the heat of battle people will use swear words. You want to hear it but you don't maybe want the clarity."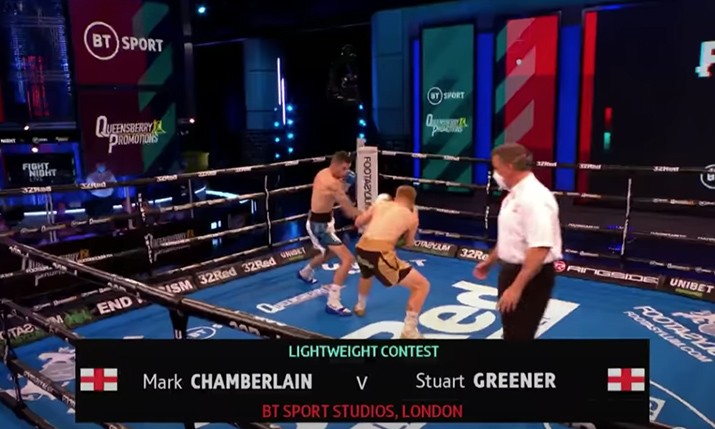 Round 3 – Remote production
Hindhaugh and BT Sport have been very vocal about remote production during the lockdown, revealing how the issues created by pandemic have accelerated the broadcaster's roadmap.
For the boxing, some members of the team again worked remotely within a distributed workflow. Executive producers worked from home, for example, while the prep and planning and the VT inserts were also done remotely.
"Stratford has been operational [throughout lockdown] but with hardly anyone on site so a lot of our production teams already work from home, driving the tools that are in the studios. Those production teams have been brilliant editorially but also because they have adapted to make sure that they're working safely.
"It's not a temporary fix. This is now normal. We will locate those team members depending on what the requirement is and what the set-up is.
"What we're looking at here are new workflows that give you more agility, more creative opportunities and more choice in how you tell your story. I think we'll keep evolving and now it is like a pick 'n' mix. What is the event and what is the best thing to do here editorially? All our roadmaps have been accelerated. And I don't see why it wouldn't continue."
Going to the judges
BT Sport is the first UK broadcaster to show boxing live following the coronavirus pandemic. Which has added a fair amount of pressure, Hindhaugh acknowledges.
"It did weigh quite heavily on us because we were the first UK live boxing event [following the lockdown]. And whilst it's great to do that, you are also on the frontline. If something goes wrong, it'll mess everyone else's plans up as well. We've done all of that and we're very comfortable and very confident going into the next event."
The fight series took about six weeks to plan and the organisers had to get the British Board of Boxing Control (BBBoC) to certify the venue. Hindhaugh has nothing but praise for the partners involved, including Queensberry Promotions and Frank Warren, for the part they have played in this process.
"The key thing is partnerships and who you work with. Our relationship with Frank Warren and his team is really, really strong."
Warren himself was pleased with the outcome, even if the circumstances were not ideal.
Writing on his website he said: "It was never going to be easy with all the restrictions and protocols that had to be put in place to bring the sport back for the fighters and fight public but, I have to say, it was well worth all the painstaking attention to detail we had to apply right from the beginning of the process.
"It was a slick operation and I think this was conveyed by the excellent programme package delivered to subscribers by the superb BT Sport production team."
Boxing on BT Sport continues on Saturday night (25 July) with a heavyweight showdown between Britain's Joe 'The Juggernaut' Joyce and Michael Wallisch of Germany.