German systems integrator Broadcast Solutions launches UK subsidiary
German-based systems integrator Broadcast Solutions has announced the launch of a new entity, Broadcast Solutions (BS) UK. The business will be located in Basingstoke, Hampshire and the team will be present at the BVE Show in London later this month.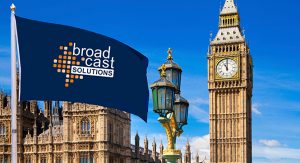 With a dedicated team of broadcast experts, Broadcast Solutions UK will offer the full system integration and products portfolio of the Broadcast Solutions group.
In what is a major step for a German systems integrator, Antti Laurila, the managing director at Broadcast Solutions UK, explained why the company chose to open up shop in the UK.
"The main reason to open in the UK is, of course, to do business," he said.
"With IP and remote production gaining more and more momentum in sports broadcasting we see many opportunities.
"We are experts in the adaption of IP-based and remote productions. Our latest remote production projects for the Finnish Ice Hockey league and Streamteam/Telia and MySports in Switzerland received much attention in Europe and in the UK. We proved successfully to the broadcast community that we can consult, plan, and implement such demanding infrastructure projects."
On the issue of Brexit, Laurila added: "Brexit played no role in our decision; both events are just coincidental. To be present in the UK with a distinctive company could have positive effects after Brexit. However, right now nobody knows how Brexit will come off. For our part, we have a very positive view of the future of the company."
Broadcast Solutions has more than 15 years of experience in planning and developing over 300 broadcast projects in mobile and fixed installations. With a home base in Germany and several companies and offices across Europe, Asia and the Middle East the company fully utilises the expertise and know-how of its international team.