BVE 2015 earns 'phenomenal' feedback, say organisers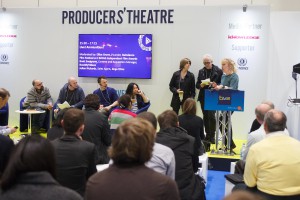 "We're so pleased with the response we've had to this year's BVE," says Alison Willis, portfolio director at BVE organiser i2i Events Group. "We worked hard to reflect the continuing evolution of the broadcast industry by introducing new features and partners from non-traditional sectors including marketing and AV, and also broadened our offering for pre-production and production professionals. The feedback we have received so far has been phenomenal, and strongly supports our plans to create a broader event that will bring all of the UK creative industries closer together."
The show again saw more than 15,000 key industry decision-makers – including leading DOPs, indies, post houses, broadcasters and brands – attend in full force. Some of the leading companies represented included ITV, Discovery, BBC, Absolute Post, Big Bang Post Productions, Clear Cut Pictures, BT Sport, Argos, Westfield, Burberry, Transport for London, Endemol and Arsenal Media Group, among many others.
BVE 2015 also saw record numbers of new exhibitors including Aerialworx, Broaman, Ooona, StypeGRIP, Telenor Satellite Broadcasting, West End Studios, Trickbox TV and Pinewood Studios. Over 76% of the showfloor is already rebooked for 2016, including leading names WTS, Sony, JVC and ARRI.
Show organisers are now building on the diverse visitor and exhibitor profile at this year's show and the continuing convergence of the UK's creative industries with plans for London Entertainment Week 2016, a week-long series of events built around an expanded BVE show. The event will encompass film, TV, commercials, theatre, brands/corporate, AV, live events and gaming. Supporters to date include Raindance, EVCOM, the IABM, Escape Studios, VFX Festival 2016, ABTT and BKSTS.