Camera tech and mobile apps on show at DFL's SportsInnovation 2022 event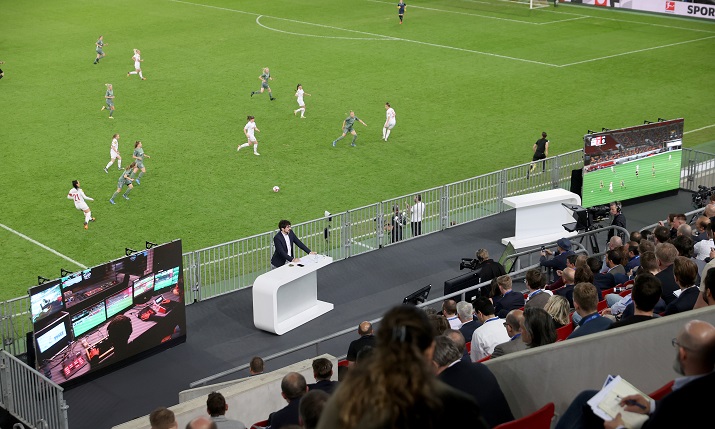 A two-way Spidercam and a remotely operated camera were among the new tools for covering football matches demonstrated at the Merkur Spiel-Arena in Dusseldorf last week during an event hosted by the Deutsche Fußball Liga (DFL).
The centre-piece of the two-day SportsInnovation 2022 event was the 'Innovation Games', where technology was demonstrated in a live environment allowing the DFL and its partners including DFL production subsidiary Sportcast to demonstrate new ways of capturing the live sporting events.
Some of the innovations could then be incorporated into coverage of the Supercup, a one-off match in August between the winners of the Bundesliga championship and the DFB-Pokal, a knockout cup competition.
SportsInnovation 2022: DFL, DAZN, NBA and TikTok on implementing new tech
Tim Achberger, head of innovation and technology at Sportcast, said the aim of the demonstrations was to understand what may be possible away from the restrictions of a live broadcast.
During the first match, a Spidercam system equipped with a camera as well as a speaker, display and microphone was used to interview one of the players immediately before taking a penalty.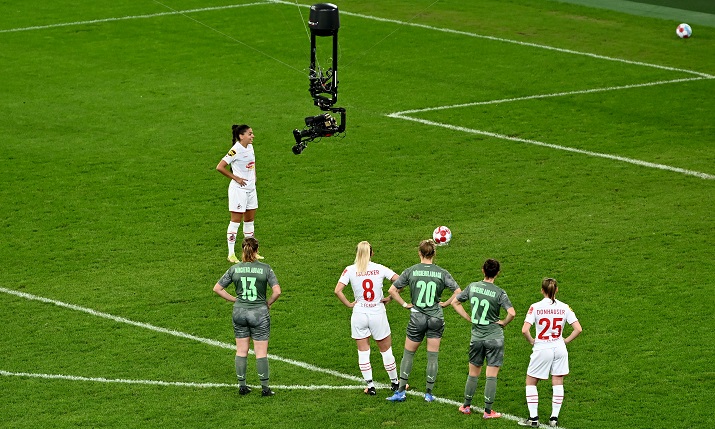 Achberger, who led the presentation, described it as one of the most impressive moments of the demonstration. He said: "I think it worked out very well. It shows us what is possible and how maybe we can open up and give viewers a bit more transparency. That was an "aha!" moment which the audience really seemed to like."
Other technology used during the first match included the use of first-person view drone. "Again, it allows us to show what is possible, because there are usually strict regulations for drones in the stadium. We wanted to understand what a small drone can produce; they were able to fly in between and around the players when they were lining up, and over the spectators which looked really good."
Also on show was a "rocket cam" system installed above one of the stands on a wire, similar to a system used recently at Glasgow Rangers for swooping shots of the crowd.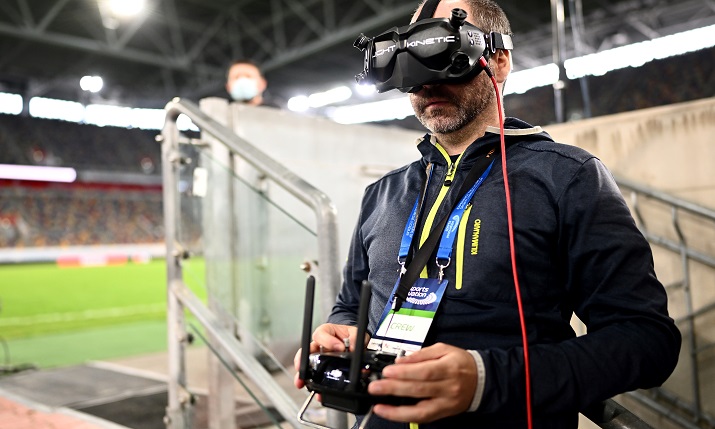 "A question we ask, is how can we produce more dynamic images in addition to our fixed installations, and I think it was a nice element to produce some dynamic pictures. But of course, it depends on the infrastructure of each stadium. But that's something I think our product management team will like, so maybe this is something we can implement."
Also demonstrated was a remotely operated camera, with the operator based in Hannover, some 170 miles away from the Merkur Spiel-Arena.
"That's another aspect we want to understand," said Achberger. "For sure we will continue to produce on site, but do we as an industry have enough camera operators in five to 10 years? So does it make sense to have the ability to operate out of decentralised hubs?"
Content demands
Achberger also spoke of the demands of balancing host broadcaster obligations with request for additional content.
"We are the host broadcaster for 670 matches of Bundesliga and Bundesliga Two, and we have our pay TV partners in Germany, which of course expect the highest quality best feed, we can produce including UHD HDR, which we produce for 180 matches. We have a standard concept of 21 cameras, but some matches are 26 cameras. And so it's a really high standard we have established in the Bundesliga.
"And on the other hand, during the last two years and partly with the pandemic situation, we saw that there's rising demand for new forms of content for additional feeds to put on the OTT platforms."
Part of that demand also fuelled by greater interest in Bundesliga 2 following the demotion last season of some big-name clubs.
"There were demands from, for example, ESPN. They said can you offer us a second Bundesliga with some commentary or some graphics, because we usually just do this for the Bundesliga. So we have looked at cloud-based systems with automised graphics and web-based commentary. Now, we need to understand in which way we can we use elements of the smaller leagues or the cloud-based production as additions for our general host broadcasting.
"I don't think that will we say, okay, next month, or even next year Bundesliga will be permitted to be produced completely automised because this is the highest tier with very high standards, but we can look at how we might be able to bring both worlds together."
In-stadium mobile apps
Two 5G-enabled mobile apps were also showcased against a backdrop of a live football match, with DFL head of digital innovations Moritz M Mücke providing a live demonstration of the Sky 5G Multiview app.
A collaboration between Vodafone, Smart Mobile Labs, Vodafone and the DFL, the app – which was also demonstrated during a Bundesliga game between RB Leipzig and Borussia Dortmund at the end of last year – allows Sky Deutschland subscribers in a stadium to select camera angles and replays.
"We expect in the future via virtual cameras or additional cameras to provide many more options for fans," said Mücke. "More features can be included in the app; this is the first iteration of many more to come."
A second showcase focused on the use of data and augmented reality, with an iOS and Android mobile app that allows users to view information such as lineups and live stats  with graphics displayed next to players as they appear on the pitch.
"We have all the standard stats, such as shots, passes, distance run and so on, but the AR screen gives additional context," said Mücke.
"With the power of 5G, we can render GFX live directly next to the players, which is a game-changer for fans in the stadium. We can provide the speed of the player in the moment and things like 'passing favourites', with information about who passed to who, and with the AR mode viewers can see where those players are on the pitch.
"We love the atmosphere in games and don't want to change it, but we now can give the possibility of additional information on demand," said Mücke.