"Observe and measure" – DFL's Andreas Heyden on adopting new technology
Senior execs from Deutsche Fußball Liga (DFL), DAZN, the NBA and TikTok spoke of the best approaches and priorities for developing and implementing new technology during last week's SportsInnovation 2022 event, with the DFL's Andreas Heyden setting out his rules for implementing new tech.
Heyden spoke at the two-day conference and technology demonstration, which took place at the Merkur Spiel-Arena in Dusseldorf last week.
SportsInnovation 2022: camera tech and mobile apps on show
"You have to invite customers in, conduct proof of concepts and ask for feedback," he said, explaining that during last year's Super Cup, DFL provided some viewers with an at-home experience of AR glasses, virtual screens and a coffee table-style view displaying live data.
"You have to observe, because it's tough for viewers to talk about their emotions, but if you see them smiling, or that they forgot they are wearing glasses, that's a good sign. And you must measure, which is what we did following our 9:16 test with Prosieben and TikTok. And there is also qualitative feedback; these components have to come together."
DAZN senior vice president of media Haruka Gruber underlined the importance of forming partnerships. He said: "Innovation great, but it is hard work for every company. Innovation without partnerships is not possible. Without EVS we couldn't enhance our live broadcasts, while DFL obviously gives us these rights and we work with the like of Vodafone to use 5G; innovation without partnerships isn't possible."
Adding Atmos 
Heyden's DFL colleague, Dr Steffen Merkel also spoke of partnerships while highlighting the importance of sound to viewers. "Of course, we are far away from equipping players with mics, but sound is an underestimated part of the live broadcast," he said.
"One of few things good about the pandemic and stadiums without spectators was that viewers heard players and so viewers felt closer to the action. Sound is an important part, and that is why we announced (Thursday 12 May) with Sky that all Saturday evening top matches from next season will be broadcast in Dolby Atmos.
Atmos will be available from the start of the 2022/23 season. DFL, via its production subsidiary Sportcast, will be responsible for the audio signal with viewers needing a Sky Q receiver and a Dolby Atmos-enabled speaker system.
"The aim is to bring the fans closer to the live action, and that's something we will continue to develop further in the future," said Merkel.
"Apart from that, something we have worked on intensively at the DFL is to see applications of AI on the live broadcast, because there are so many from AI-based systems for virtual advertising which we just approved some weeks ago, to a 'star cam' which follows a specific player based on certain markets to applications to search our archive, which is the largest in the world."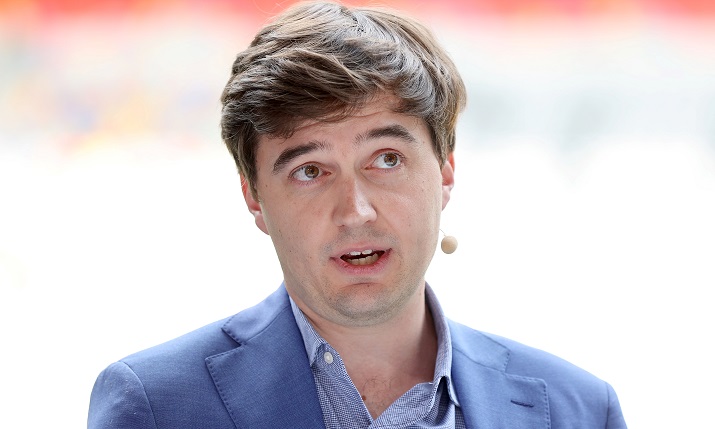 Merkel (pictured, left) added that the DFL also pays close attention to other large tournaments and events. "Whether it's the Olympics or the Super Bowl, we always have a close look at how things were produced and what we can learn from it. Especially for football it is crucial, because the US major leagues are five or six years ahead because perhaps they don't have the rule restrictions from the likes of FIFA, for example when it comes to putting mics on players."
Looking further ahead, Merkel said that over the next few years the DFL will explore ways to make its coverage more interactive. "From market research we know that younger audiences don't want to lean back, they want to consume data and they want different perspectives, maybe even switching between matches. So coming up with products that enable this interactivity is key."
Speaking about fan engagement during a later session, TikTok's DACH head of partnerships and community Dennis Papirowkski echoed Merkel's comments about fans becoming less passive.
He said: "We need to engage fans by giving them opportunities to participate, and not only by things such as hashtag challenges (prompts created by brands for TikTok users to create videos showing themselves performing a specific action), but through real approaches to fan engagement and building relationships. It's important to remember as well that not everybody can be there in the moment, so platforms like ours can bridge this gap and bring the experience to the fans."
Speaking about distribution, NBA executive vice president of media operations and technology Steve Hellmuth said the industry was on the cusp of a revolution in how leagues share their content.
"Right now, we have to send a world feed, we have to send an additional camera, and statistics might be in another location, while announcers might be in a booth and there is expense associated with it because you have to open up a studio," he said.
"So maybe a year from now, it could all be available in the cloud. I could give Sky TV a web interface that has multiple cameras, all the stats in synch, and they can have their own announcers and in effect cut their own game. The huge advantage for me is that I can then acquire a feed back and put it in my direct to consumer app; all the versions and languages can be acquired from the cloud and reincorporated back into our offering. That is a major change."