Echo Sports Network chooses PlayBox AirBox Neo for new sports channel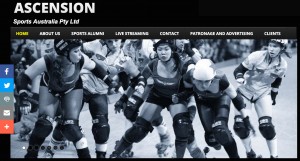 Based in Canberra, Australia, Echo Sports Network (ESN) offers sports teams and clubs the opportunity to promote themselves via innovative media streaming solutions. ESN chose the PlayBox AirBox Neo channel-in-a-box from Redwood's Technology Solutions because of its ease of use and maturity in the playout market.
ESN is all about athletes and sports in Australia. It is geared toward less common or niche sports that do not have access to the kind of media attention and funding other sports enjoy.
"We needed a software solution we could use on our existing servers and something that was cost-effective to kick-off," said Lyle Cameron from ESN. "We have ambitious growth plans and PlayBox has CloudAir, the IP-based remote management system that we plan to introduce in the future."
Making innovative use of internet based technology and PlayBox's advanced IP playout server, ESN is providing a mechanism for amateur sports to reach out to its fans. Whether regular season games, finals series, or elite competition such as national championships, fans can watch all the action on their platform of choice.
"The industry is demanding faster channel startup, higher quality standards and scalable metadata-based content management," adds Brad Redwood, from Redwood's Technology. "PlayBox Technology has years of experience which enable our customers to achieve this within a sensible investment budget."
The PlayBox AirBox Neo content playout system supports UHD, HD and SD in a single server. Features include streaming inputs HTTP, HTTP Secure, UDP, RTMP, MMS, MMSH, YouTube and RTMP streaming output for easy web streaming. AirBox Neo comes with a virtual output which now supports multiple instances. AirBox Neo is designed for 24/7 unattended operation. It can also be operated manually, including the ability to handle live-to-air throughput.