New In Gate Camera from Euro Media brings viewers closer to winter sports action
A new camera system, In Gate Camera, designed and developed in-house by Euro Media Group's technical team for use in winter sports coverage, has been announced. Still being trialled, the camera has already provided rights holders with images of the recent Criterium de la Première Neige event.
In Gate Camera, named as such in reference to the gates skiers pass while competing in Slalom, Giant Slalom, and Super G races, places a mini camera and an RF transmitter inside selected gates. It gives producers and viewers the ability to get as close to the action as possible, appreciating the speed and technique of the racers from close up. The system covers both up and down-slope, allowing viewers to fully accompany the skier up-close as they cross the gate, creating a fast and immersive experience.
As to how this system might be applied to other sports and projects in the future, Lionel Vialaneix, président and CEO at Euro Media, told SVG Europe: "The In Gate Camera can be applied to other winter sports such as freestyle skiing, snowboard and Nordic skiing. We also currently have on-going discussions with different horse jumping event organisers."
Euro Media premiered the In Gate Camera System on 9 and 16 December 2017 during the Men's and Ladies' Critérium de la Première Neige Alpine Skiing World Cup event organised by the International Ski Federation (FIS). Even though the camera was still running trials during Criterium de la Première Neige, the images rendered were broadcast internationally to rights holders. Further trials were held in Courchevel for the Alpine Skiing World Cup in the Ladies' Giant Slalom and Parallel Slalom races.
In partnership with Infront, rights distributor for the Alpine Ski World Cup and producer of the International Feed, and the FIS, this technology allow viewers to experience the 2017 World Cup races up close as well as provide technical material for commentators and consultants covering the events.
Challenges during the December trials were primarily weather-based, noted Vialaneix: "The installations of these cameras in harsh weather conditions, snow, wind, make the In Gate Camera a challenge to set up. The level-shot setting and its axis need to be adjusted simultaneously by the technician on the slope and the director in front of the monitor in the OB truck. Also, the camera sometimes needs to be re-adjusted between racers depending on the force with which the racer hits the gate. Oddly enough, the camera overheated in its protective foam. The problem was quickly resolved by adding openings for ventilation which served as a sort of temperature-controlling system.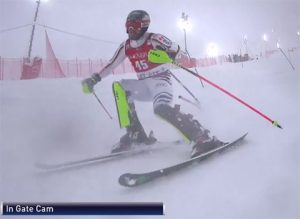 "We have to identify the best portion of the course and obtain authorisation from the organisers (FIS) to equip the chosen gate with the In Gate Camera. Emmanuel Couderc, FIS Race Director, was very open and helpful in making this happen as well as Infront's Team for organising a POC in Val d'Isére," he continued.
Overall feedback has been positive, Vialaneix said: "We have received great feedback; journalists and consultants are interested by this new type of filming and highlighted the added sense of slope steepness and speed of the skiers (which is quite difficult to relay on television), a real feeling of being at the heart of the action. Once the slow motion played, pundits could analyse more precisely trajectory, body position and overall technique, which is less visible on standard footage."
As to what gave Euro Media the idea to create this camera, Vialaneix told SVG Europe: "It all started from discussions with our client Infront, as regards the FIS's high expectations, which led us to look for an innovative approach. How can we bring a sense of speed, agility and immersive feeling to the races through a diverse set of images for this demanding and spectacular sport?"
This technology, designed by Euro Media's technical team, has now been patented. The system covers proprietorial knowledge, research and production techniques. These are areas in which Euro Media specialises, along with high frequency sensor technology used in high movement sports such as cycling. Euro Media's commitment to ongoing research and development, achieved by its specialised subsidiary, Livetools Technology, enables such innovations as well as the miniaturisation of electronic RF equipment.