Eurovision delivers new digital services at European Athletics Championships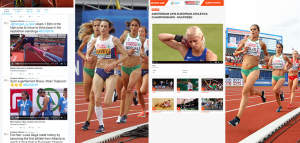 The European Athletics Championships, held in Amsterdam on 6-10 July, provided an opportunity for Eurovision to demonstrate a range of new services which it now offers to its partners. As in the past, Eurovision provided rights-holding broadcasters worldwide with a high definition integrated feed allowing viewers to enjoy the most compelling disciplines of the Championships. Additionally, for the first time, in association with the European Athletics, Eurovision showcased innovative digital services designed to help increase the visibility of the event.
A stream of the integrated feed was provided to viewers on the European Athletics website. Eurovision also offered access to all live isolated production feeds through a multi-feed streaming platform accessible on the www.eurovisionsports.tv platform. Viewers were able to enjoy up to eight simultaneously feeds from the track, throw, shot put, vertical and horizontal jump competitions. This service was built on an innovative software based solution that is part of the Eurovision FLEX family.
Furthermore, in order to support EA's social media communication, a team of staff were on-site to produce tailor made clips raising awareness and promoting athletics though the European Athletics Facebook and Twitter accounts.
The European Athletics Championships in Amsterdam is part of a worldwide media rights agreement between European Athletics and the EBU which includes all major Championships. The host broadcaster, NOS, was present on-site with more than 80 cameras and 7 OB vans to produce this event, providing close to 50 hours of programming to rights-holders worldwide.
Sports fans were able to experience the Championships across all platforms: radio, television, PC and mobile from any location in the world and at their convenience.
Julien Ternisien, EBU head of sports rights, summer sports, confirmed: "We are extremely pleased to be able to offer these new exposure opportunities to sports events. Digital broadcast clearly complements other platforms and it is important for us to innovate in this area. This is only the beginning and I am convinced that we will further develop more of these services in the future."
European Athletics president Svein Arne Hansen added: "We want to work closely with our valued long-term partners EBU to create new and innovative ways to deliver a fantastic spectacle for our major Championships across both television and digital and social platforms. Working together, our teams have produced some great content that I am sure has added to the enjoyment of fans watching the Amsterdam championships on television and at the stadium."