Fight heats up: Ateme looks ahead to sports broadcasting in 2022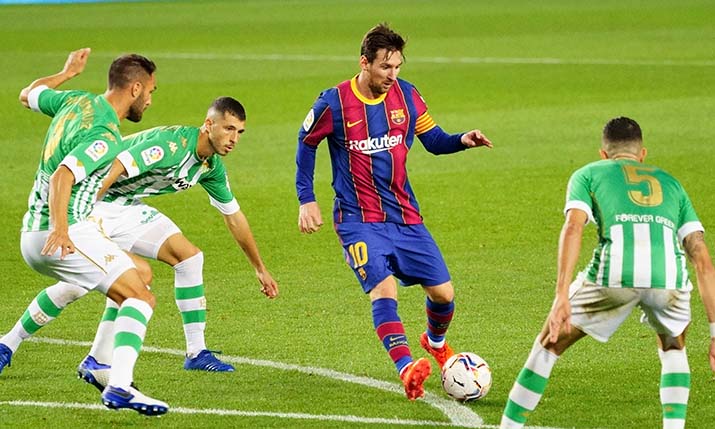 By Julien Mandel, solution marketing senior director, contribution and distribution, Ateme
The last twelve months have seen impressive innovation from the sports broadcasting sector.
This has included the increased use of cloud workflows or greater personalisation, as broadcasters explored new ways of keeping their viewers entertained and engaged.
Some of these were already in the pipeline, but the challenges of the pandemic hastened their arrival, particularly in instances where broadcasters needed to recreate 'live and in-person' sporting experiences for those stuck at home.
Building on this, in 2022 I believe we will see new levels of innovation coming to our screens as we continue our journey into a new era of sports broadcasting.
Continued shift to IP production
Satellite bandwidth is expensive and so, in recent years, there has been a focus on reducing its role in the delivery of live video. This trend will increase in 2022 due to budget pressures, as costly live via-satellite sports links have been harder to justify. This shift will see more broadcasters embracing IP for sports content delivery.
The benefits of IP are its inherent flexibility, its cost efficiencies and the universal availability of IP networks. Previously voiced concerns about its ability to support the stringent quality and resilience demands of real-time video have been addressed. As a result, IP has emerged to be a viable technology, with IP-based networks being adopted by broadcasters and production services around the world.
That's not to say that we are seeing the end of satellite broadcasting – far from it. There will still be a place to use satellite, particularly for live content distribution across a large geographic area, where it provides a simpler and more cost-effective approach.
Moving forward, broadcasters must continue to weigh up the strength of each broadcast method. This invariably means that we will see more hybrid solutions coming to market that can resolve the challenges and budgetary balances that broadcasters face, while better serving their viewers.
Broadening skills gap
The fast pace of technological innovation in the sector brings with it a multitude of opportunities but also presents a skills challenge for those within the industry. To keep pace with the demand for enhanced viewer experiences, engineers need to adapt their knowledge and expertise faster than ever before. For broadcasters, this means balancing their talent pool with those individuals who bring with them the experience of different production environments and those who are up to speed on the latest innovations.
In 2022, we're likely to see a greater focus than ever before on internal learning and development as organisations seek to retain key talent.
Fight heats up
When the pandemic plunged the globe into lockdowns, people became increasingly dependent on streaming services to receive their sports dopamine hits, with new front runners coming to the fore.
The influence and deep pockets of new players such as Disney+, which through its ESPN platform is the world's largest sports broadcaster, and Amazon Prime Video, will continue to be felt across the sector in the year ahead. These include the likes of DAZN, dubbed the "Netflix of Sports", which has been snapping up sporting rights in Europe as it looks to broaden its appeal and audience base.
Moving forward, we can expect to see more established streaming providers looking to capitalise on opportunities presented by live sporting events, by purchasing the rights to show sports content on their own platforms.
MUSO reported that piracy increased by 30% during the first three quarters of 2021, and frustratingly, this trend is set to continue as consumers seek alternative methods of accessing content when faced with mounting subscription service costs. But the financial impact of piracy on broadcasters is substantial. Back in 2016, the cost of online piracy of movies and TV shows was estimated to be $31.8 billion globally. By 2022, this is expected to reach $52 billion.
Broadcasters are equipping themselves with powerful new tools to fight back, such as BISS-CA. This is a protocol that enables real-time entitlement management for content streams over any network and has drastically increased the level of content protection available to broadcasters. The standard has three powerful key advantages over a private solution: it's interoperable, secure, and simple to operate.
Additionally, if BISS-CA is used alongside forensic watermarking solutions, broadcasters can trace where the stream is coming from. A mark detailing the serial number of the decoder, for instance, is added in-stream. Pirates can't see it but the provider can identify who or which organisation is responsible for the leak, and therefore revoke the rights of the decoder.
Enhancing experiences
Sports fans are demanding more than ever from their sports viewing. Real time streaming technology providing ultra-low latency is the gateway for exciting and more immersive experiences, allowing for never-seen-before camera angles, 360-degree replays and multi-camera virtual reality (VR).
New innovative technology is at the fore to keep fans watching at home with co-watching experiences, allowing them to celebrate a team's success or commiserate its losses together in a virtual environment.
Streaming technology will also enhance the in-stadium experience. During the 2021 Super Bowl LV, fans could use the NFL Mobile app to engage with seven different camera angles, while those watching from home had a choice of five angles. The NFL's recently launched Next Gen Stats, powered by Amazon Web Services (AWS), uses machine learning and AI to add a new element for fans, giving statistics and the latest news about the players.
Technology driving engagement into 2022
It's clear that in an ever-changing sports broadcasting landscape, OTT platforms will continue to be key in driving engagement. The technology intrinsically allows for a more interactive experience with more in-game trivia, personal camera angles and even live betting, boosting engagement and offering an opportunity for further monetisation.
With high-profile live events ahead, including the Beijing Winter Olympics and the 2022 FIFA World Cup, the year ahead promises to be another exciting one. The challenge will be for broadcasters and content providers to increase engagement on ever-tighter budgets.