Football Production Summit: Uncompressed 4K remote production, past and future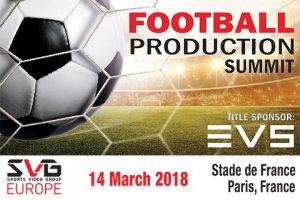 SVG Europe is delighted to announce that UEFA's André Nel, Andy Beale from BT Sport and Gearhouse's Ed Tischler will speak at an 'Uncompressed 4K Remote Production' panel session at our Paris Summit on March 14.
Providing both a flexible and cost-effective solution for the delivery of world-class sporting events, 4K UHD remote production continues to be at the forefront of recent broadcast innovation. This panel will take an in-depth look at the evolution of the solution, including a look back at UEFA's 'SVG Europe Outstanding Technical Achievement Award for 2017' winning test conducted at the UEFA U21 Championship Final.
Fergal Ringrose, SVG Europe, Executive Editor will moderate the panel session which includes Andy Beale, BT Sport, Chief Engineer; André Nel, UEFA, Senior Broadcast Engineering Manager; and Ed Tischler, Gearhouse Broadcast, Managing Director.
The winner of SVG Europe's Outstanding Digital Achievement Award for 2017 was 'UEFA for Remote Uncompressed 4K Production Krakow-Stratford' – a complete proof of concept in IP-based remote production for the UEFA U21 Championship Final. This UEFA project saw transportation of live uncompressed UHD signals over 1600 kilometres, from the Krakow stadium to BT Sport's London HQ. It was a resounding success – and pointed the way to future events, such as UEFA EURO 2020, with large geographic distances between venues.
Places at Football Production Summit in Paris are limited. Please register your own place here.