Formula 1 launches F1 TV for Spanish Grand Prix but experiences some playback issues
Formula 1 announced the official launch of F1 TV in time for the weekend of the Spanish Grand Prix on 12 and 13 May, only to have the service run into issues on Sunday.
F1 TV is Formula 1's new over the top (OTT) platform and marks F1's biggest investment in its digital transformation to date. Formula 1 fans can get commercial-free live streams of each race with multi language commentary. In addition, the service provides exclusive access to all 20 driver on-board cameras throughout every race session. F1 TV Pro offers unique feeds not available on any other platform with the capability of multi-level personalisation.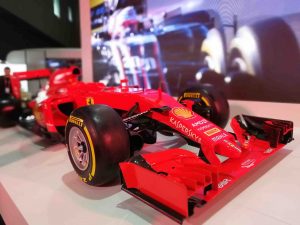 However, according to the site, this past weekend's issues affected customers during live playback. On the F1 site yesterday the company stated, "As you may know, we have experienced some live playback issues during our coverage of the Spanish Grand Prix. Our mechanics have worked around the clock to try to fix the issues with the live streaming but unfortunately, we are still experiencing technical difficulties broadcasting today's race – your viewing experience may be impacted. We apologise for the inconvenience".
All sessions from this weekend's Spanish Grand Prix will be available to view on-demand, including all on-board cameras and full team radio. Full replays are available to F1 TV Pro customers, or F1 TV Access customers in selected territories.
David Bailey, senior research manager at F1, spoke at TV Connect last week on the development of F1 TV. He noted that as far as being technologically up to date, this 60 year old global sports brand, when taken over by Liberty Media in 2017, had only managed to create a Facebook page in 2016, and very little else.
In a move to embrace new media and digital to grow the viewership for F1, particularly amongst younger viewers and those in the US market, F1 began detailed research to find out who its viewers were. The segments were broken down into six types: excitables, purists, sociables, habituals, peripherals and incidentals. Excitables account for around 120 million of the total fan base, are an average age of 40, with a gender split of 50/50, making them the target for new services like F1 TV. Using Reddit, F1 spoke to fans in this group to find out what they wanted from the brand; OTT streaming was the number one request, with pricing and proposition, content ideas and live timing also of interest.
Bailey commented on F1 TV and excitables: "The target for us in this launch is the hardcore fans; this is for the 'avids' really." He added that, "protecting the rights of broadcasters is key for us." He said F1 is working territory by territory, working with its partners individually, to roll this service out.
"This is just the start," added Bailey, commenting on further features to be made available for F1 TV users. "There are many datapoints to come through still, including aerodynamics, and also the heart rate of the driver; putting that in the hands of uber-fans is really exciting."
F1 TV offers all of practice, qualifying and races, live, along with press conferences and pre and post-race interviews. Later in the season subscribers will be able to watch live races of the main support series, the FIA Formula 2 Championship, GP3 Series and Porsche Supercup, among others.
During the season, F1 TV will be made available in four different languages (English, French, German and Spanish) and will appear in well over two dozen markets at launch (including Germany, France, US, Mexico, Belgium, Austria, Hungary and much of Latin America). Access is initially available through desktop and web, with mobile apps and TV apps on and on Amazon soon. Roku and other platforms will be released throughout 2018 and beyond.
Pricing for F1 TV Pro is offered on a monthly basis of $8-$12, and annual rates will be priced according to market. Meanwhile, a less expensive, non-live subscription tier, F1 TV Access will provide live race timing data and radio commentary, as well as extended highlights of each session from the race weekend. It will also be underscored by access to archive video content from the historic archive owned by Formula 1.
CDN and connectivity services to distribute the F1 TV content globally are being supplied by Tata Communications, Formula 1's Official Connectivity Provider.