France Télévisions prepares for Le Tour de France Grand Départ from Utrecht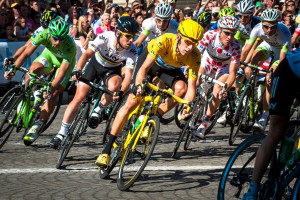 Drone footage over the Champs Elysées, handlebar cams, a new Superloupe…this year's Tour de France promises to bring exciting new images to audiences worldwide, thanks in great part to the infrastructure put in place by French host broadcaster France Télévisions, writes Catherine Wright in Paris.
The world's oldest and most prestigious cycling race is also one of the most gruelling sporting events to cover for France Télévisions. It draws huge audiences to the broadcaster's different channels during the summer. This year, the massive set-up rolls out on 4th of July in Utrecht, with 21 different stages including the last race on 26th of July which finishes as always on the Champs Elysées in Paris.
«After the Olympic Games and the World Cup, it is the biggest sporting event for us in terms of logistics,» indicates Head of Production at France Télévisions for the Tour, Christophe Barrier.
More than 4500 staff spread between 150 OB vans and 2400 other vehicles (motorobikes, cars etc.) from different TV channels around the world gather to follow the race. France Télévisions itself employs around 450 people during the period.
«It could be a nightmare to organise but thanks to the relationships we have with our long-term suppliers we manage to solve most problems,» he adds. One of these suppliers is Euromedia Group: the company provides two helicopters equipped with Cinéflex cameras to capture those impressive wide landscape views of the French countryside.
«Next year we might switch to Shotover cameras because we can to fix two cameras instead of one on the helicopter and hence generate a wider variety of shots. Cinéflex cameras are great but we have been using the technology for more than ten years and it is probably time to move on,» Barrier explains. In addition to the two helicopters for image capture, Euromedia provides two planes and one helicopter to retransmit the footage to the different OB vans.
The company also supplies five motorbikes and their two-man crews to cover different parts of the race, as well as three OB vans, in addition to France Télévisions' own two (France 3 Lille and France 3 Strasbourg), equipped with EVS servers, not only for transmission but also for editing and archiving. «We made the move to digital archiving two years ago», states Barrier. One of the two France Télévisions vans is used to retransmit the international signal to the different TV channels around the world which cover the race.
Another long term partner is Globecast. As in previous years, the Orange-owned company provides the satellite infrastructure to cover the event, with signals captured being sent to the different transmission relays (helicopters and planes) before being transmitted to the vans and production outfits on the finish line.
Tour innovation: drones, handlebar cams, biometrics
Le Tour is also an opportunity to test the latest technology. In 2013, France Télévisions used drone-acquired footage for the first time. Since then, the broadcaster has turned to drones to acquire pre–Tour images of historical French buildings, like the Mont Saint-Michel on the Brittany /Normandy border or the Château de Versailles, near Paris. «Drones are great because they allow us to get unseen footage of classic monuments and buildings. But they are not easy to use, there are a lot of concerns over safety and we have to get permission from the local authorities, before flying them,» says Barrier.
This year, France Télévisions will, for the first time ever, show drone-acquired footage over the Champs-Elysées, thanks to another one of its historical suppliers Freeway. «We have the authorisation to go ahead and film from an area close to the Jardin des Tuileries's terrace, which is deserted and can be used as a safety zone,» he says.
But permission was for instance refused in Belgium, where some of the initial stages of the Tour take place, and the broadcaster is still waiting to get the go-ahead to film parts of the old town of Utrecht with the remote technology.
Another novelty this year is the use of a superloupe camera (from Digital Video Sud, a Euromedia Group company), which will be placed at the arrival of each daily race. «Superloupe cameras are becoming more and more widespread in sporting competitions, from football to tennis matches. We thought that Le Tour could also benefit from the great slow-motion footage they provide,» comments Christophe Barrier.
The 2014 Tour saw the launch of the handlebar cam. Two teams were equipped with Shimano CM-1000 sport cameras to get unique shots from the cyclist's bicycle. The images were not captured in realtime but were edited to form clever footage which went on to be viewed on YouTube. This year, ASO, the tour organisers, are reuniting with GoPro to offer similar bicycle shots, again not in realtime.
But where will the technology on the Tour be going in the future? For France Télévisions, biometrics is clearly an area of interest even if huge hurdles still need to be overcome. «We are looking into it, but the problem is that the different teams want a financial return for agreeing to provide such measurements and we are not ready to go down that route. Sponsors could be a solution but we are far from any sort of agreement,» says Barrier.
A more promising outcome could be on the cards for location technology. «The ASO have been testing it on the Dauphiné Libéré, the race which took place just before, and the results are interesting. We might see some version of it on le Tour,» he adds.
An area that won't be on the cards in the near future is any form of 4K technology. «We don't see that there is any demand for it. There are only a couple of broadcast cameras out there that can provide 4K capture and there are only about 500,000 4K TV sets in France. It is way too early. We are nowhere near switching to 4K,» he concludes.