From stadium to sofa: Augmenting the @venue fan experience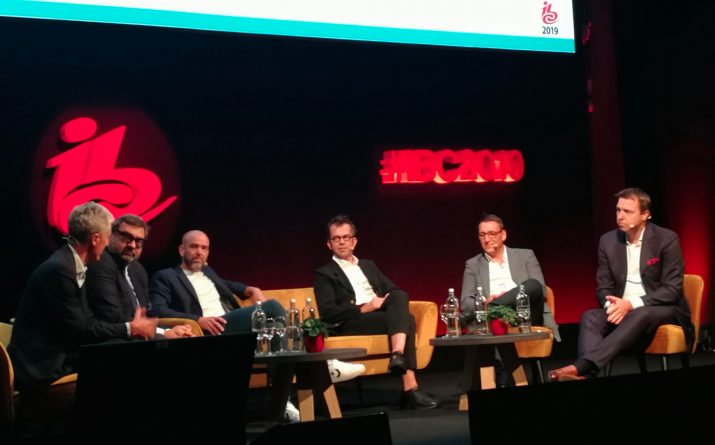 Having neglected the enjoyment for fans of the full digital experience at live sports events, broadcasters and stadium owners have begun addressing the gap with new technology that improves connectivity at venues.
Not only will this enable fans to interact during games, but also to entice them from their living rooms by offering improved ticket flexibility, immersive VR experiences and multi-screen content.
The symbiotic relationship between the in-venue experience and that of those sitting at home was stressed at a session on the topic at IBC.
"Broadcasters have underserved fans in the stadia," said Matt Stagg, director of Mobile Strategy – BT Sport. "For too long we have excluded them. But broadcasters are in prime position to change this. We have the content and the technology that can enable fans to participate even more deeply in the experience. The question now is how we use the tech to enhance their experience."
He pointed to BT Sport's recent launch of an UHD HDR service, which has the added benefit of Dolby Atmos surround sound. "This [innovation] is truly bringing the atmosphere of those in the stadium to people who are not."
Yiannis Exarchos, CEO Olympic Broadcasting Services & executive director concurred, "In Roman times they built huge arenas to host a whole city since there was no means of communication. Now we can deliver the event all over the globe but too often the in-venue experience has not kept up."
He continued, "You can have all the best athletes in the world on stage but if they play in front of an empty venue the value of their achievement somehow diminishes. Conversely, if we can give fans at the event a once in a lifetime experience then it will translate into an atmosphere which can be felt by everyone."
There are still challenges for 4G in ultra-dense environments like stadiums, especially when the demand for data keeps increasing, with fans doing everything from updating social media to streaming replays.
As a baseline, the venue should be outfitted with Wi-Fi – notably incoming standard Wi-Fi 6 which enables greater numbers of devices to be connected simultaneously – and/or a 5G cell on site.
"First and foremost, people want to tweet their friends," said Stagg. "Even that has been problematic in heavily congested stadia. It's a human right."
Fabian Birgfield, founder and director at digital design agency W12 Studios pointed out that eSports is redefining not only notions of a sport's format but also what constitutes a stadium experience.
"eSports is digital yet eSports tournaments in front of thousands of people are broadcast live to millions of enthusiasts on networks like Twitch. The engagement with the sport in the stadia is palpable. There are lessons we can take from there about extending the live event not only in time but also in space to reach wider audiences."
Understandably John Rhodes, design principal & director of sports, recreation & entertainment at architects HOK was on the side of the stadia not the sofa.
"In greenfield stadia designs now we are seeing the convergence of digital and physical spaces. There are a lot of opportunities for digital environments to merge with the physical environment from 360-degree, halo video screens to universal high bandwidth venue connectivity."
Rhodes said he preferred to think of his role as one of experiential designer. "We design spaces where people go to experience something unique but in the company of thousands of other people. Is there a way to help those spectators to become more participatory in the shared endeavour with the other people around them. Can we use technology to augment the theatre of an event?"
The Mercedes-Benz Stadium in Atlanta, for example, features a one-of-a-kind retractable roof composed of eight, 1,600-ton panels that each cantilever to resemble a camera shutter opening and closing.
"Stadium design was historically about showcasing the event," Rhodes observed. "When broadcast came in, everything was increasingly angled toward delivering the best TV viewing experience. Now, we are evolving stadium design to harness the unique energy felt by 60,000 people and translating that to the 99% of the audience which is watching elsewhere."
Daniel Marion, chief of information and communication technology – UEFA, said the organisation wanted fans to be excited about the venue experience since that was also good "for sponsors and money generators in general."
He said, "We have to get back to basics. When we talk to national leagues, clubs or owners when building stadia one of the things they say is "there is no business model for toilets in a stadium so why do I need a business model for connectivity?" But there are a wealth of opportunities to target different groups in your arena with digital services."
He said, "We are having conversations with our members about fan relation management. They have data on ticket holders and fans tend to have a very strong relationship with a club. There have to be ways clubs can use their stadia to better serve their fans."
Delivering on the promises of 5G
This can range from paperless ticketing experiences and a cashless stadium to the way you buy food and beverages at the ground. As we move closer to a world where wearable technology is the norm, the opportunities for augmented reality open up.
"From the moment you arrive at the stadium, your seat will be located by a pop-up map showing the most direct route, and the team line-up will be shown as soon as you sit down," Stagg said. "During the game, you will be able to view multiple camera angles and every seat will be the best seat in the house. No longer will you struggle to see the penalty at the other end of the pitch – with the touch of a button, you will see it from the keeper's view.
"If you want to use the term it's called monetising loyalty," said Stagg. "I am more likely to trust my favourite club, Liverpool FC, than my bank. I want the club to look after my entire journey from buying the ticket to long after I am home, perhaps serving me with match stats on the day and exclusive video clips of the day a week afterwards."
From day one of having 5G in a stadium, fans will be able to reap the benefits of increased speed and lower latency – but we shouldn't get carried away with the idea that it is some kind of panacea.
"5G will deliver on its promises, but it will also be a staged rollout," said Stagg. "At the moment the economics of mobile mean that the first layer is enhanced mobile broadband. It's 5G working alongside 4G. Then, a little further along, we will get network slicing and the ability to service verticals including different groups in a stadia such as broadcast, spectators, operations, IT and press. What I don't want is a camera-operator competing for the same bandwidth with someone uploading a selfie."
Birgfield had the most succinct conceptualisation. He suggested that we look at stadiums as a platform – just like a smartphone.
"The stadium is at the point where the mobile phone was ten years ago. Then, smartphones started to enable many different kinds of experiences. Some stadia may not have all the technology installed yet but tech is not the key challenge. It's about being innovative with the application of it which is where opportunities lie."