FutureSPORT 2018: BBC's Barbara Slater confirmed as keynote speaker
Barbara Slater, director of BBC Sport, will be the keynote speaker at SVG Europe's FutureSPORT 2018 conference taking place on 29 November at Manchester United's Old Trafford stadium.
FutureSPORT will explore the key technology innovations and major workflow challenges that will shape sports production and broadcasting across Europe in 2019 and beyond.
Registration for the free-to-attend conference is open now at https://www.svgeurope.org/future-sport-2018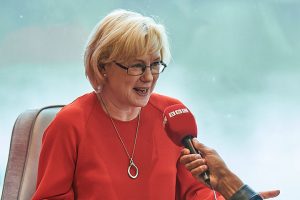 The programme includes dedicated sessions on high dynamic range (HDR), the challenges of moving to live IP production and the rapidly growing phenomenon that is eSports.
Headlining the day will be a keynote interview with Barbara Slater, director of BBC Sport (pictured, left). A former international gymnast, Slater is responsible for approximately 20,000 hours of global sports coverage across BBC radio, TV and online each year, including live sporting events, highlights, sports news and magazine programmes.
In the role since 2009, she works with governing bodies to retain a broad portfolio of broadcasting rights and oversees the planning and coverage of major sporting events.
At FutureSPORT, Slater will discuss recent BBC Sport broadcast and online successes and the continuing importance of free-to-air sport, and outline how the Corporation is pioneering, and responding to, changing technology and viewing habits.
Among the other FutureSPORT highlights will be a preview of next year's Rugby World Cup.
To view the FutureSPORT programme* and to register for the event please visit: https://www.svgeurope.org/future-sport-2018
FutureSPORT 2018 takes place on Thursday 29 November in Manchester
*Programme subject to change