HD Broadcast upgrades HD1 for German market with Riedel MediorNet distribution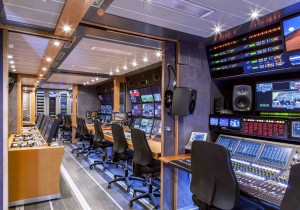 German OB provider HD Broadcast has upgraded its HD1 mobile production truck with Riedel Communications' MediorNet realtime network. Three MediorNet Compact Pro frames and six Riedel MicroN high-density media distribution network devices are connected over a 10 Gbps optical fibre network to create a redundant, decentralised routing matrix.
Working in combination with HD Broadcast's existing Riedel Artist digital matrix intercom system, the scalable new MediorNet infrastructure combines integrated signal transport, routing, and processing with pristine communications.
"We are very impressed with the flexibility and interoperability that MediorNet, MicroN, and Artist offer us. With their outstanding quality and reliability, these solutions have set the market standard for future-proof networking," said Constantin Novotny, CEO of HD Broadcast. "MediorNet's integrated signal management has enabled us to deploy decentralised router capabilities with distributed system intelligence — an ideal foundation on which to move towards an IP-based networking infrastructure and support future 4K productions."
HD Broadcast completed the networking upgrade of OB HD1 in only three days thanks to MediorNet's
ease of integration. The new MediorNet-based network infrastructure gives the production truck greater flexibility and significantly increased capacity through higher bandwidth and additional connectivity options. The fiber-based network also allows HD Broadcast to minimise cabling, setup, and logistics expenses, resulting in significant cost savings.
HD Broadcast's OB HD1 truck covers a wide range of live events, including Bundesliga games (for Sportcast, Sky, and ARD) and concert productions such as the performance by Marius Müller-Westernhagen for MTV Unplugged.