IBC 2023 in Review, Halls 9-13: Black Box, Canon, Clear-Com, EVS, Fujifilm, Grass Valley, G&D, Qvest, Riedel, Ross Video, RTS, Vizrt, and more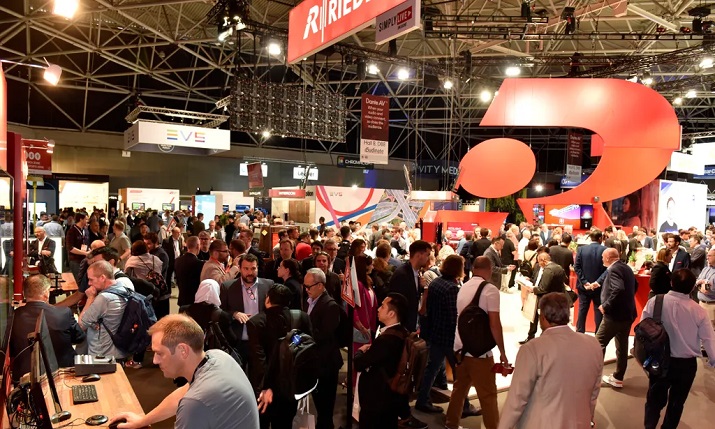 The SVG and SVGE editorial teams were out in full force at IBC 2023, covering the biggest sports-technology news and delivering daily live roundups. Here is a look at the news from exhibitors in Halls 9-13 and Meeting Rooms.
Featured in this roundup are Arista Networks, arkona technologies, ARRI, Black Box, Broadcast Solutions, Canon Europe, Christy, Clear-Com, Cobalt, Cyanview, Domo, EVS, FriendMTS, Fujifilm, Gravity Media,  Guntermann & Drunck, Hitomi Broadcast, Ikegami, Grass Valley, Leader, Mavis Broadcast, MRMC, MultiDyne, Pliant Technologies, Qvest, Riedel, Ross Video, RTS Intercom Systems, TSL, Vizrt, and XD Motion.
Arista Networks (Stand 11.C14) is featuring the further expansion of its suite of media-oriented tools that work to simplify network operations in live-production workflows. The tools comprise EOS, a single high-quality performant operating system that can run on any switch, lowering operational costs and complexities; CloudVision, a single management platform providing advanced configuration, change management, and real-time visibility; Media Control Service, a fast live-production SDN orchestration layer; and an extensive partner ecosystem, using powerful APIs to enable the most efficient broadcast workflows. "The Arista Media offering is world-class," said Arista systems engineer Gerard Phillips, "and our focus on simplicity, reliability, and visibility enables our customers to focus on their media workflows, knowing that their network will deliver what they need when they need it most."
arkona technologies (Stand 9.C01) is introducing Blade//runner Flows. Flows is a built-in tool that simplifies configuration of Blade//runner systems. Designed for Tier 1 live broadcast productions where agility and scalability are essential, the Blade//runner core infrastructure solution provides a wide variety of tools for professional productions, including audio/video routing, compression, and processing. "One of the most common requests we get from our customers is to simplify configuration so that they can quickly make changes during a production," said Erling Hedkvist, sales and business development, arkona. "Flows gives them the time they could never get back by making easy work of configuring workflows. It is a true point, click, drag, and drop tool. No fuss, just spot-on results. We're so excited to present it at IBC for the very first time." Having been announced at NAB 2023, Manifold live-production software is being demonstrated on the Arkona stand. Hedkvist said, "The thing that impresses people the most is the performance and capacity of Manifold. In one server, we process 1.6TB of media. We're working on COTS FPGA so the performance is significantly higher than when using CPU. This means the amount of processing you can do takes up very little space and very little power."
Arri (Stand 12.F21) has responded to the growing trend in live sports production for cinematic images with the Trinity Live, a wireless variation of the firm's internally recording camera-stabiliser system. "In sports, productions like to have more-emotional images of the players and fans," noted Arri camera systems sales manager Thomas Stoschek. "That's why we are increasingly seeing at soccer games, for example, one or two cameras capturing shots with a shallow depth of field. That's something which our cameras are made for. In addition to the cameras, we are now offering additional equipment like the Trinity Live stabilizer, which helps operators get closer to the players." The body-mounted stabilisation system includes an arm "like a small crane" to enable both low and high shots, plus a transmitter mounted at the bottom of the arm to act as a counterbalance. It will be available from November.
Black Box (Stand 10.F40) offers the Emerald DESKVUE receiver to give control-room users looking to create a personalized workspace all the power they need. Users tailor their workspace by connecting a single keyboard, mouse, USB 3/2 devices, audio, and up to four 4K/5K monitors to simultaneously monitor and interact with up to 16 preferred systems, whether physical, virtual, or cloud-based. It also supports 4K or 5K video on one to four screens, with instant mouse switching between sources, eliminating hotkey errors. Also on exhibit, the Black Box Emerald AV Wall facilitates display of a single source from an Emerald system on a video wall for viewing by a group. It directly supports a 2×2 video wall while allowing expansion in the number of supported monitors via additional units.
Broadcast Solutions (Stand 10.D41) has brought two of its recently completed outside-broadcast trucks to Amsterdam: a large articulated truck custom-built for SuperSport and a recent fixed-chassis 12-camera unit based on the Broadcast Solutions Streamline family to be delivered to Remotion. It is also providing demonstrations of the meshLINK wireless transmission system. SuperSport IP2 is the second unit supplied to the South African broadcaster, following IP1 in June. Intelligent design packs as many as 19 workplaces into the single-expanding trailer. It is fitted out with Sony cameras and production switcher, Calrec audio, Vizrt graphics, and EVS replays. Internally, IP2 is all IP, with Imagine Communications SNP processors for SDI/IP conversion. Like the SuperSport vehicle, the Remotion S8L is fully UHD-capable. "We are showing two outside-broadcast trucks at IBC this year, because we continue to see strong business in sport and entertainment," said Broadcast Solutions CEO Stefan Breder. "Through our Streamline products and our bespoke designs, we meet any requirement, from a simple SNG van to the biggest truck in the world."
Canon Europe (Stand 11.C41) has expanded its PTZ lineup with the CR-N100 indoor 4K pan-tilt-zoom camera. The camera features a 1/2.3-type 4K CMOS sensor, DIGIC DV6 processor, and a 20X optical zoom lens, delivering 4K UHD-resolution footage, and oversampled HD video. It offers four scene modes — Portrait, Sports, Low-light, and Spotlight — and a Hybrid Auto Focus system for precise focusing in low light. The camera supports Canon's Auto Tracking App and Multi-Camera Management App for efficient operation of up to 200 cameras. Also being introduced, the RC-IP1000 professional PTZ controller with a 7-in. LCD screen and ergonomic joystick targets broadcast and live-event needs, including IP-video monitoring for up to 200 cameras.
Video interview Canon's Ross Andrews
Clear-Com (Stand 10.D29) is bringing a new level of configuration flexibility to the Eclipse HX. According to Clear Com, VP, product management, Simon Browne, the new Role login feature allows a user to sit at any intercom panel and, via a menu in the panel, select their team (video, maintenance, etc.) and their name to automatically activate their intercom keys. "It dynamically can know which performance space or control room or what position I am in," he explains, "and I can also use Role login to log into a beltpack. The keys follow me as I walk around. You don't need to continually reprogram people's keys, and you can even have your keys on a USB drive, plug it in, and have the panel come up with your configuration." Clear-Com is also introducing Bluetooth connectivity for its wireless beltpack, allowing talent or someone else to share beltpack communications while someone else uses the wired headset.
Cobalt (Stand 10.F42) is showcasing its new Wave Routers, which are available in 64 x 64 and 32 x 32 options. Said Suzana Brady, senior vice president, worldwide sales and marketing, Cobalt Digital, "These are extremely high density, very flexible, and very easy to integrate. They are compatible with Colbalt's new Wave Control Panels. The panels also have customisable APIs so they can be used with any product, which is a great differentiator."
Video interview Cobalt's Suzana Brady
Cyanview (Stand 10.D31G) is exhibiting its new menu for the RCP-J. Said Cyanview marketing and comms manager Renaud Tilman, "We've got a totally new menu to add functionality as found on high-end cameras. such as Sony. If operators use Cyanview for high-end cameras, it will be easy for them to work with."
Domo (Stand 11.C12) is talking about its Quartz Mesh family of products. The system enables users to enjoy bidirectional IP connectivity to cameras on location, opening up new possibilities for sports broadcasters. "You need only one RF channel per location, so you can have as many cameras using Quartz as you like," said Domo head of special projects Stuart Brown. "You can browse into the camera and check settings if engineering has told you there's a fault on your camera. You can add talkback. You can control the camera remotely and even return video."
Video interview Christy Media's Christian Magill on recruiting industry talent and advocating for diversity
EVS (Stand 10.A25) has launched VIA Media Asset Platform with the aim of "reshaping the landscape of content creation and media management." VIA MAP enables a cohesive and open ecosystem by bringing live production together with distribution and review. The platform comprises a series of applications and backend engines, including a core engine for ingest, playout management, import/export capabilities, and search and browsing. Also, a data engine to optimise workflows and OpenGate API, which is described as a versatile API gateway that flawlessly integrates third-party systems. According to EVS, the introduction of VIA MAP is a direct outcome of the strategic investments the company has made in research and development resources over the past years. Said EVS CTO Alex Redfern, "The diverse applications and core engines composing the platform establish a flexible and scalable environment for our customers, enabling a seamless transition from traditional production models to a fully cohesive media environment." In addition, the company highlighted AI and the cloud today, hosting two panel discussions featuring speakers from Proximus Media House, Google Cloud, Warner Bros. Discovery, EMG, and Qvest Group. In the first session, titled "AI & Storytelling — You're Not Alone," speakers delved into the ways AI can enhance efficiency and foster creativity at various stages of the production lifecycle. Shifting the spotlight to cloud technology, the second session, titled "Cloud — Green or Grey?," explored the excitement surrounding the cloud revolution.
FriendMTS (Meeting Room 1.BS13) is sharing how a private-equity investment last year and a new CEO this year are paying dividends via an expanded R&D team, new offices, and more, ensuring that its content-security and anti-piracy services get stronger and better. FriendMTS marketing director Nik Forman noted, that more than 230 enhancements and features have been added since last year: "We now have support for SCTE-35, which allows our customers to no longer have to give us a clean feed as their reference feed for our digital-fingerprint [insertion]. That is a significant help to customers as it makes things faster and more scalable."
Fujifilm (Stand 12.B20) is showcasing the new Duvo 24-300 lens, with which it aims to take over the sports-broadcasting market. Around NAB 2023, the company launched the big brother of the 24-300, the 24-1000, which targeted the sports-broadcasting market but has instead had an impact in live events, such as music, given its focal length and depth of field. "We've had some success with the 24-1000 in sport, especially in the U.S., but it has ended up in live events and music, noted Fujifilm European product manager Luke Cartwright. "The 24-300 lens, which will start shipping in March 2024, has a good focal length, weighs under 3kg, and is just 270mm long so fits into the short-distance camera, Steadicam, and shoulder work areas really well. The goal at Fujifilm has always been to innovate on what we have and to predict future trends and technologies. Sports broadcasting as a percentage is huge, even if you compare it to theatre and live music: there's a sports event every day of the week all over the world. That's why we're directly attacking this space."
Grass Valley (Stands 9.A01, 9.C05) unveiled the LDX C150 compact version of its NextGen LDX 150 studio-camera platform during the GV Forum on Thursday evening. The latest next-generation LDX broadcast camera system features UHD/4K, 1080p HDR, and wide color gamut (WCG) modes with SDI, native IP, SMPTE ST 2110, or JPEG-XS compression.
Video interview Grass Valley chief revenue officer Tim Banks on the cloud, AMPP, and the company's new era
Guntermann & Drunck (Stand 8.B91) has expanded its Vision XS Compact KVM matrix-compatible extender lineup with a new module that allows computers to be integrated via USB-C connectors. Said Guntermann & Drunck marketing director Jessica Lange, "You have to plug in only one cable to your laptop, and you are connected to the KVM system. It makes it simple for the operators as well as the installation team." Another highlight, she added, is a personal-workspace controller that allows different display sources to be shown on one monitor: "It's flexible and very easy to operate."
Video interview Gravity Media's Ed Tischler dissects commitments to centralised production
Hitomi Broadcast (Stand 10.A42) is demonstrating MatchBox Cloud, which brings Hitomi's widely adopted lip-sync analysis products to cloud-infrastructure workflows. This gives sports broadcasters the ability to work in any kind of distributed production with a product they already know and trust, the company stated. Said James Robinson, director at Hitomi, "Software workflows bring their own unique challenges and timing issues, especially in the world of live sports production. More-complex software systems spanning the world make the need for measurement ever more important with longer processing delays. MatchBox Cloud solves these challenges in processing and latency, making sure sport arrives on screens on time and perfectly synced." Hitomi is also showcasing the seamless operation of its workflow solutions to ensuring perfect synchronisation between audio and video. At the heart of its solution suite is MatchBox for accurate lip-sync measurements. Assisting in end-to-end assessment, MatchBox Glass, a free-to-download iPhone app, streamlines the process of setting up each feed based on objective data and eliminating guesswork. Said Hitomi Broadcast director Russell Johnson, "The annoyance that lip-sync errors bring, whether it's an audio-visual mismatch of speech or delayed sports commentary, is universal. With MatchBox, we provide an exact calculation of latencies and delays so that production companies can prove that their feed is perfectly synchronised. Events like IBC allow us to demonstrate to attendees, within a matter of moments, the ease of its application."
If you love checking out new cameras, the Ikegami stand (12.A31) offers plenty to see. The company is rolling out three new lineups with a total of seven cameras the European market: UNICAM XE product family offering 4K, HD, HFR, and HDR; UNICAM HD system, HD and HDR; and UHL-Compact Series for low-light shooting in 4K, HD, and HDR. Topping the list, the UHK-X600, the latest in the famous UNICAM XE line-up, is designed for use in studio or OB applications. Incorporating three 2/3-in. oversampling UHD CMOS sensors with global shutter, it delivers 1000 TVL resolution and minimal aliasing plus a high sensitivity of F11 at 2000 lx (in 50p mode) and offrs full support of HDR (Hybrid Log Gamma) with the ability to select between BT.2020 and BT.709 colour spaces.
New for IBC on the Leader stand (10.C01) is the LT4670, a 1U full-rack-size sync generator designed to ease the migration from SDI to IP. "Customers adopting IP now have a clearer idea of the reference-generator test-pattern requirements, said "Leader European sales engineering and technical marketing manager Kevin Salvidge. "In simplest terms, they want the tools they had with SDI but in IP, and the LT4670 will give them that capability. It includes enhanced features like dual GNSS and GPS connections, providing diversity, and dual hot-swappable power supplies and fans as broadcast products more closely resemble those that would be installed in data centres." Also on show and making their European debut are the LV5600 waveform monitor and LV7600 rasterizer with JPEG XS option via software upgrade. Added Salvidge, "We're now seeing more and more live productions using JPEG XS because of its low-latency, lossless performance."
Mavis Broadcast is on the Atomos stand (11.D.25) showcasing the latest rendition of its live-cloud-production platform. Mavis 2.0 accommodates up to eight camera inputs, double VT playback, multiple output formats, and a bevy of new additions.
Video interview Nikon/MRMC's Marius Merten on the company's IBC presence
MultiDyne's (Stand 10.B40) Honey Badger stadium signal extender, a big hit at NAB 2022, is having its IBC debut. On the remote side, the 5RU rack-mountable chassis can handle up to eight cameras with return feeds, as well as Genlock extension and partyline intercom channels (and eight mic pre-inputs) as well as two isolated 1 GbE LAN extensions for IP connectivity. On the local side, a 4RU chassis has full-size BNCs for video and XLR input for audio, as well as Phoenix connectors for serial-data needs. It can also support 12 G-SDI for 4K applications.
Pliant Technologies (Stand 10.C67) has introduced a wireless beltpack that can be used in unlicensed spectrum across most of Europe (specifically the 863-865–MHz ISM band). Key features include two intercom channels and the ability to support up to six full-duplex users with unlimited listeners as well as 12-hour field-replaceable battery.
Qvest (10.C31) Qvest exhibited at IBC under the banner "Expect more", with a focus on the company's expanded range of practices, as well as new digital products with which Qvest wants to address all the requirements of international customers in the field of media and broadcasting and beyond. On show at the company's stand were digital products makalu Cloud Playout and ClipBox Studio Automation, which provide greater simplicity, productivity and scalability for broadcasters and publishers.
As part of its presence at the show this year, Qvest also offered a dedicated Product Experience Zone. Visitors were given insights into Qvest products live presentations. The integration platform for media workflows qibb, a strategic spin-off of Qvest, was also presented. qibb's focus is on automated workflows with generative artificial intelligence for media applications, integrating popular AI tools such as ChatGPT4.
In addition, visitors were able to receive information about the Qvest fields of expertise, which are now clustered into practices. The Qvest practice specialists demonstrated how the company's knowledge in areas such as Foresight & Innovation, Digital Media Supply Chain, OTT, Data & Analytics, Digital Product Development or Systems Integration enable the implementation of future-proof technology projects.
In addition, Qvest announced the acquisition of OTT sports tech company TeraVolt.
Riedel (Stand 10.A38) is showcasing its Horizon high-density converter rack unit, which bridges the worlds of SDI and IP. Riedel marketing manager, Americas, Sara Seidel described it: "It's really high density, which means, with less weight, less energy, and less space, you can have one rack unit instead of 32. It converts IP to SDI and vice versa. So, no matter where you're working, you can always connect and bridge SDI and IP."
Ross Video (Stand 9.A05) promises a new look, a new booth, and a "huge" line-up of technology to share with visitors at IBC 2023. Its stand will offer demonstrations of the next generation of Spidercam and an end-to-end XR solution featuring LED displays, robotic cameras, camera tracking, and rendering. Live XR demos will showcase how to flexibly use studio space, reduce set costs, and produce content faster. Control and configuration standard Catena — an open suite for integration of multiple systems, workflows, and enhanced orchestration that aims to ease the shift to cloud computing for live production – will also be demonstrated. On show are Ross's range of integrated LED displays and power solutions, Voyager 5.1, Carbonite Ultra 60 switcher, and the latest TouchDrive control surfaces TD3 and TD4 for larger, intricate live productions.
Video interview Ross Video's Kevin Cottam shows off new production switchers and massive LED screens
RTS Intercom Systems (Stand 11.D09) has added NMOS support to its products via RNP, which acts as a proxy between RTS OMNEO-based devices and non-RTS NMOS third-party products. "We also have the different IS standards like IS-4 (for discovery and registration), IS-5 (for device connection management), and IS-08, which is audio-channel mapping," says RTS sales director Martin Liermann. "We also have a PH Plus headset that will be available next year and is super lightweight and comfortable, inspired by one of our most successful aviation headsets. There is a dual-side version and a single-sided version, and we are already seeing that people will want to use it in other applications."
TSL (Stand 10.B41) is showcasing its new control solutions, audio-monitoring range, power-management systems, latest developments in 12G, and Universal Intelligent Infrastructure Management applications (UIIM). The company's flexible offerings are vendor-agnostic, enabling customers to augment existing infrastructure or build entirely new operations with best-in-class technology that also supports a seamless transition to IP, cloud, virtualized, and redundant workflows. Said TSL CEO Matthew Quade, "Our wide range of solutions — from entry-level to advanced — makes TSL the ideal go-to partner for reliability, quality, and affordability. We help design and facilitate a transition that reduces engineering-resource costs and optimises sustainability, all while de-risking and future-proofing facilities in a way that maximises the lifetime ROI." Among the solutions, MPA1-MIX-NET-V-R is exhibited here for the first time. The fully redundant 1U audio confidence monitor and mixer with 16 instantly recallable independent mixes is engineered in accordance with key industry standard SMPTE ST 2022-7, ensuring fully optimised network topologies that reduce customer risk and network complexity without limiting operational agility. It is designed to safeguard against disruptions and system failures, empowering broadcasters to deliver top-tier, uninterrupted broadcasting experiences. "It is increasingly clear that IP is the future," said TSL president Ian Godfrey. "To get there, we have to build products that provide a bridge to the new IP paradigm with familiar workflows and monitoring tools but will also be completely at home in an all-IP world."
If stopping by the Vizrt stand (10.A41) and checking out new TriCaster products is on your to-do list, you might want to schedule some extra time: the portfolio has expanded by 50% since last year. One cool new option for streaming sports content is TriCaster Mini Go, which is priced at $US4,995 and features USB, NDI, and SRT connectivity; four inputs; 2M/E; two layers; two keyers; and mix outputs at HD resolution. According to Vizrt, it offers creators anywhere a simple setup with a wealth of professional-level video-production features, such advanced graphics capabilities using Live Link. And real-time social-media publishing helps content creators get content out to fans as simply and quickly as possible.
XD Motion (Stand 12.B45A) is highlighting innovations in VR, AR, automation, and robotic cameras, including the latest Arcam 20 robotic camera system and IO.Bot software. The six-axis robotic arm of the Arcam provides full motion control and is designed to operate safely around people. It is programmed to move in 3D within a virtual sphere with a diameter of 2.5m (Arcam 10) or 3.5m (the new Arcam 20). An optional dolly can support the arm upside down. Said new XD Motion CCO Andrew Gordon, "Arcam 20 allows us to start addressing sports broadcasters' needs more. We've still got Arcam 10, which has a 1.3m reach and a substantial payload of 12.5kg, but, given ever increasing technology requirements and therefore additional weight requirements with the more specialised equipment that sports broadcasters use, with Arcam 20, we are now at a 20kg payload and 1.75m reach. This means sports broadcasters can use it for a significant number of different needs: [for example,] from a studio perspective, with two robots, teleportation is more possible as the payload increase, and better range of motion means that synchronisation of the subjects which are going to interact with each other is improved."