IMG Arena acquires data collection, production, and tracking provider FlightScope Services
IMG Arena, a leading sports betting service and content hub, has acquired FlightScope Services, the data collection, audio-visual production and tracking technology specialist in golf and tennis. Based out of Gliwice, Poland, FlightScope Services will be fully incorporated into the IMG ARENA offering under the continued oversight of Jacek Gronek and Wojtek Szumilas, who will join IMG ARENA along with approximately 160 employees. Gronek, joins the IMG Arena leadership team as VP, Rightsholder Services.  Szumilas is Head of Technology.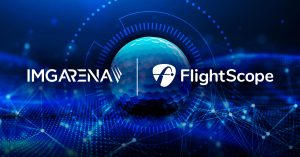 IMG Arena will invest significant funds and resource to introduce FlightScope Services' innovative technology into other sports in its portfolio, including football, basketball and volleyball and major US sports.
IMG Arena will also use the FlightScope Services' technology to introduce additional products and services to federations and rights holders under the new pillar of IMG ARENA Rightsholder Solutions.
Freddie Longe, Managing Director, IMG Arena, says, "This is a very exciting acquisition for IMG Arena. The integration of FlightScope Services technology is a fundamental part of our growth strategy and provides the foundation for the launch of our new Rightsholder Solutions. This new pillar within IMG Arena will see us enhance the services we provide to rightsholders to include automated and manual content creation, content governance and operational excellence."
He adds: "The acquisition allows IMG Arena to enrich our innovation in fan engagement via the development of data and audio-visual content, while creating new content and commercial opportunities for federations and rights holders across our portfolio."
Jacek Gronek, VP Rightsholder Services, FlightScope, says FlightScope Services joining the IMG Arena business is a natural union born out of synergies in product, customer base and, most importantly, culture and vision.
"It will enable us to leverage our knowledge, strengths and resources to deliver an enhanced range of best-in-class services and technologies across multiple sports," he says.
IMG Arena has worked extensively with FlightScope Services since 2013. The two organisations co-developed the ground-breaking data collection system used by IMG Arena to record the data from every shot played on the European Tour, through tracking and marking the ball to within millimetres of its position on the course. The state-of-the-art, live scoring capture system has delivered a wealth of previously inaccessible data and powered a range of exciting new live betting markets.
The companies also partner on producing live streaming and data collection across ATP Tour events.
FlightScope was founded by Henri Johnson in 1989. Following the sale of FlightScope Services to IMG Arena, Johnson will retain the FlightScope brand name and continue to operate professional and consumer product divisions.