Innovation will be key to meeting content demands in 2021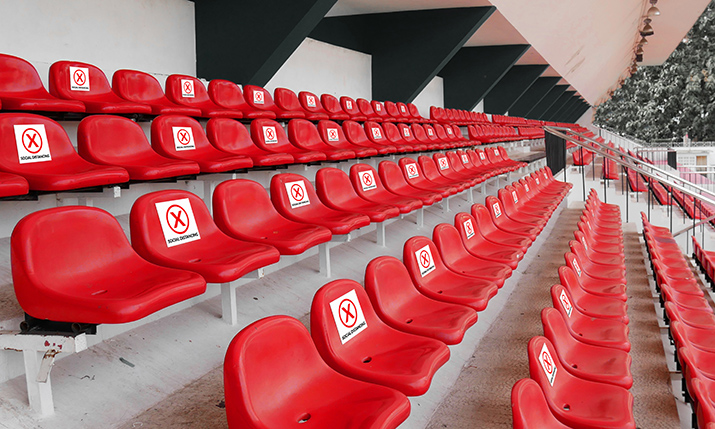 By Julien Mandel, contribution segment manager, Ateme
Technological advancements in sports broadcasting, while subject to innovation for many years, have been accelerated by the COVID-19 pandemic. With fans unable to support their teams in stadiums around the globe, over the top (OTT) platforms have begun to play a greater role in providing a unique fan experience to fill the void, with the aim of it being highly personalised in nature.
With challenges such as increased market demand, growing costs to own rights and a more saturated market, it's more pivotal than ever for broadcasters to create unique ways of attracting customers. But what impact have the events of 2020 had on the strategies that the sports broadcasting industry will look to implement this year?
Unique fan experiences
There is no doubt that the plethora of OTT platforms will continue to grow this year, following a burgeoning trend in 2020, along with a corresponding increase in content. A case in point is the increased diversity of streaming platforms that have newly bought rights to show English Premier League games, including such platforms as Amazon Prime in the UK. The league itself is even looking at the possibility of launching a Netflix-style service in overseas markets.
With this increased competition comes greater innovations on each platform in order to stand out in a saturated and fragmented market. It has now become easier to provide a memorable fan experience via OTT to help the consumer feel like they're part of an event.
Advances in technology have allowed companies to put together innovations such as 'fan walls', where videos can be shown of fans from home in order to provide an alternative atmosphere while watching sport away from a venue or stadium. This is where OTT holds an advantage over traditional means of television, and it is expected that this will continue to grow in 2021.
Providing personalisation
OTT platforms also provide the basis for offering personalised experiences. It is likely that we will see further advances in AI technology and processing which enable additional content on streams to be tailored to each viewer, such as instant replays, interactive video panning, travelling, zooming or audio options such as sports announcers and stadium sound. There is also the potential for customised highlight reels featuring the viewer's chosen sports star or favourite team, with language options depending on location.
An increasing number of consumers want to see live sport integrating with social media viewing and posting, according to Verizon research, with 24% wishing to gain control over on-screen stats, for example a certain soccer player's number of completed passes, so they can quickly see what interests them. Personalisation can also provide opportunities for increased revenue, such as tailored advertising for certain groups of viewers.
The opportunity to provide personalised content sits heavily in the potential of delayed events that are now scheduled to take place in 2021. Global sporting phenomena such as the Tokyo Olympics and Euro 2020 are now both set for this year due to the COVID-19 pandemic. Flexible, cost effective and scalable solutions will be on the cards, and it's likely that remote production will be required to minimise those 'on the ground' should social distancing measures still need to be in place.
These advances in technology will enable broadcasters to not only manage events at short notice but also enable personalisation in bigger and better ways. The rapid uptake of low latency OTT platforms as the preferred choice of video streaming will only provide greater opportunities in this area in 2021.
Ensuring security and privacy
It is expected that as the volume of content created continues to increase throughout the year, there will also be an increase in piracy. Lockdowns caused by the COVID-19 pandemic have created further avenues for pirates to attract consumers to illegal streams given they are unable to attend events in person.
As the costs to stream high value content continues to increase for broadcasters, there is a potential for increased piracy through stolen credentials, and solutions will be needed in order to protect their increased investment moving forward.
The good news for the industry is the emergence of standards and solutions such as BISS-CA for linear broadcast but also reliable internet stream transport (RIST) as an alternative to ARQ proprietary solutions, or secure reliable transport (SRT) for public internet transmission that can allow content to be protected.
Furthermore, the increased implementation of royalties on content is another avenue that broadcasters can explore to ensure their investments are protected. Broadcasters should look to react quickly to potential piracy threats with software that can be adapted and evolved at pace.
Look to the future
There is no doubt that software, rather than hardware, sits at the core of sports broadcasting innovation in 2021, with an increased shift towards IP or cloud. This is evident in the influx of OTT platforms and solutions that are rapidly becoming commonplace in how viewers consume sports content. Technology truly sits at the heart of how broadcasters can adapt to growing demand for sport across the globe, which has reached new heights due to consumers looking to access bigger and better content while in lockdowns.
There will be a greater focus on creating a personalised, unique experience to each consumer during 2021, especially with the calibre of events that are coming up this year. The onus now sits on sports broadcasters to keep fans engaged with their favourite teams or sports stars via intuitive solutions that can match the ever-growing demand for content.