INSIGHT TV harnesses the power of cricket in new 4K UHD show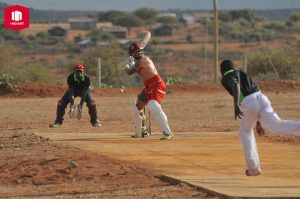 Somerset County cricketer and sports personality Peter Trego has enjoyed a highly successful career that has spanned more than twenty years, writes Arun Maljaars, INSIGHT TV's Global Content Strategy Manager. He's told tales of his cricketing life at high-profile events and has provided voiceovers for TV series. This year he makes his debut as a TV presenter on INSIGHT TV's new 4K UHD show, Beyond the Boundary.
The premise for Beyond the Boundary evolved over time. The initial concept was to make a show that portrayed communities playing cricket in unusual locations around the world. However, the more Trego and the production team discussed the shape of the programme the more they realised the enormous impact that cricket has on many people's lives, particularly across Africa and Asia. As discussions continued, the programme began to shape into a much greater narrative, telling personal stories that go way beyond traditional cricket programmes.
The series, which will be shown on 10th August on INSIGHT TV in 4K UHD across six one-hour episodes, was shot in Singapore, Sri Lanka, Rwanda, Kenya, South Africa and Dubai. The production team used Sony F55 CineAlta cameras to maximise the dynamic colour range, with a variety of lenses. They began the shoot with prime lenses and settled on high quality zoom lenses for the latter episodes to further push the dynamic quality. Because of the high spec of the UHD material, downloading during and after every shoot could be time-consuming. This coupled with often unreliable electricity supplies sometimes made the production process challenging.
Each episode follows stories of people and communities who have found that their love of cricket has enabled them to find positivity and happiness despite adversity. Trego explains, "The whole experience really touched me.  One of the shoots that had the most profound effect was the second episode, which we filmed in Rwanda." In 1994, the Rwandan genocide saw a mass slaughter of Tutsi by members of the Hutu government. Up to a million Rwandans were killed during the 100-day period from April 7 to mid-July 1994. Trego says, "More than 20 years on the country still bears horrific scars but the government has used cricket to bring these two tribes together. Listening to some of the awful stories and looking at the statistics of how many people lost their lives it's incredible to think how a small game from England is being used to bring unity and peace."
During the episode Trego visits Rwanda's home of cricket, the Kicukiro Oval, which is where a mass killing took place. "There's a memorial at the front of the ground and when I did my piece-to-camera I felt like I'd stumbled on my words but when I watched it back I think I gulped because of the terrifying events that took place. I really saw myself react to what I was witnessing and learning. The experience was a bit surreal. Given that I've spent years playing at hundreds of different cricket grounds, walking into a ground where twenty years ago 5000 people were murdered is a very poignant moment."
In Singapore and Dubai Trego met migrant workers whose living conditions are extremely tough; the only happiness that they have is their Sunday afternoon game of cricket. "I didn't realise the lengths that some people go to play the game; it's their lifeline. These guys work in construction doing 12-hour days, six days a week. They go to big cities to find work to support their families and to live the dream but the reality is very different.
Despite that every Sunday, which is their only rest day, they find the strength to get up at 4am and travel 100km at their own expense to play cricket in what is essentially a car park or a dusty field. Thousands turn out every week; they show such spirit and camaraderie. The pitch has about ten games at once with a crossover boundary and balls flying everywhere but they have a perfect system that they run to a tee. When they tell you about their lifestyles and what they do day-to-day, it's really hard to comprehend but then you put a bat and a cricket ball in the mix and their eyes light up and they just don't care what they've been doing for the last six days, they're just focussed on the game. It really made me appreciate the way that I play my cricket because I've seen the hardships these guys have to go through just to get a game in the middle of a dirt patch."
The shoot was intense and took just seven weeks to film. "It wasn't long before Somerset's pre-season training and I was jet-lagged and having gym sessions at 3am but fortunately wherever we went we met incredible people and heard amazing stories that energised the whole team.  For myself, the director, the crew and the cameraman who had the particularly difficult job of lugging around the heavy camera, it was like being on a cricket tour. We really bounced off each other and helped each other through difficult moments."
Challenging moments
As well as learning about the harsh realities that many of the people and communities featured in the show have experienced, Trego had some difficult moments of his own. In Kenya, he joined a cricket playing Maasai tribe, watched goats being slaughtered and sampled the local delicacies. In Nairobi, he and the crew were protected by security following an attempt to raid their van. There was also a hairy moment in Kenya. Trego says: "The crew sent me off to film a long shot. There was about a 1km descending road through the middle of a slum area and the director said to walk as far as I could and then he would wave and I should walk back up. It was meant to be a really pretty long shot with all the hustle and bustle in the background but then I realised that I was the only western guy there. The locals couldn't see the crew and suddenly I felt like the walls were closing in. I could see a bit of a commotion up where the crew were and then the plain clothed security came running towards me shouting and hollering to make their presence known. I think I was a bit of a sitting duck."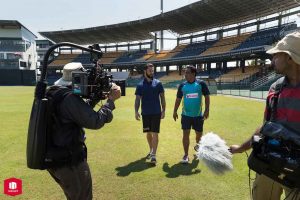 Trego also enjoyed the fact that even though he's played professional cricket all over the world for 20 years, during filming he still had to earn his stripes. "Given the remoteness of some of the places that we went to many of the people didn't really know who I was, they understood that I was a professional cricketer and they were excited about that but when you go to any new environment, what it says on a score sheet or a page of statistics means nothing. Everywhere we went I felt like I was on trial and then there would be a moment where I'd either hit some big sixes – (in Rwanda he scored over 150 in a 20 over game) and in those little moments you go from having no respect as a cricketer because you're just a name to Wow! this guy can play. It was really special for me to be able to showcase my ability as a player."
Although the show is scripted there were a lot of ad-lib moments based on situations that occurred. "I'm really proud that we were able to adapt and jump on situations as they happened," says Trego. "I played sports that I'd never played before. We went to a migrant workers camp, which is pretty much like a prison, and I ended up playing this game from Burma called Sepak takraw, which is played with a wicker ball. The best part about the experience for me was just to dive in and get on with it. We made some great relationships along the way and had a lot of fun, which comes across in the show."
What do Trego's team mates think about his new TV career? "They're obviously desperate to mock me and have a laugh. They're already talking about having a team night in to watch the screening of the first episode.  I think they will really enjoy it and if there's one statement I could say to the cricket world it's: you haven't seen anything like this before! I've watched a lot of cricket TV. This isn't about Shane Warne or Glenn McGrath, it's not about an Ashes series; this is the people's cricket."