Lawo VSM User Group convenes at YLE Finland and ERR Estonia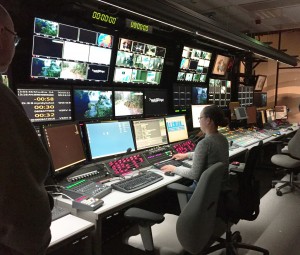 For the fourth consecutive year, VSM users and Lawo staff have convened at the VSM User Group Meeting 2016 to share ideas and thoughts on the use of the VSM control system. More than 25 attendees from across Northern Europe met for the two-day event at Finnish broadcaster YLE (Yleisradio) in Helsinki and Estonian broadcaster ERR (Eesti Rahvusringhääling) in Tallinn.
The User Group Meeting works as an important get-together for a close cooperation between customers and developers and, once again, the feedback underlines Lawo's capacity with a statement for VSM's future-proof technology.
With more than 30 installations now running across Northern Europe, the region is an important market for VSM. The long-term use of VSM in these countries and the large-scale installations controlled by VSM have inspired users to meet on a regular basis, discussing the latest innovations to, and applications of, the VSM system.
Together with guided tours of the broadcast facilities at YLE and ERR – including the VSM systems in use – topics at this year's meeting included news of migration from baseband to IP, demonstrations of how VSM is ready for this transition, and help for broadcasters making this fundamental change.
Chaired and organised by Danmarks Radio's Bent Reuss Christensen, the 2017 VSM User Group Meeting will take place in Denmark.